Apply now and start September 2020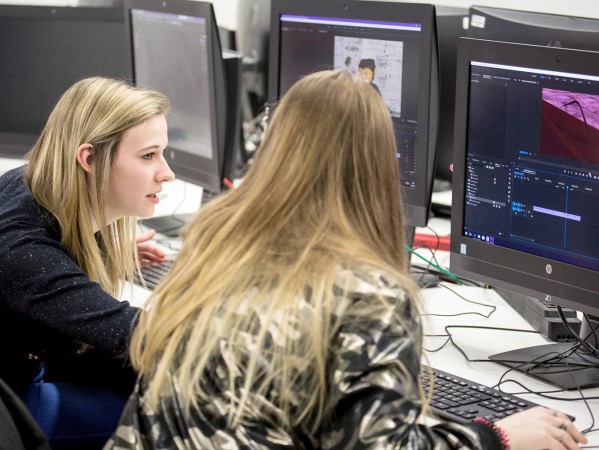 This digital media degree is an exciting package of design, production, and development modules curated to give you the creative design skills and high-level technical ability needed to make an impact. As a graduate you'll take your employer's digital media assets to the next level, in an exciting, rapidly-evolving industry.
The course will provide you with the knowledge and practical skills to develop a client brief from design concept to practical implementation. The four main themes of design, user interaction, web, and digital media run throughout this degree and are underpinned by technical and professional skills, to increase your employability upon graduation.
Year 1
You will take part in an interdisciplinary first year, where you will start to develop your creative, practical and professional skills in digital graphics techniques and software development for digital media, supplemented by collaborative and professional skills, problem-solving and modelling, and web development topics.
Year 2
You will further your design skills by studying design principles from initial concepts through to development and delivery. This will enable you to create highly interactive applications in a range of contexts incorporating 2D graphics and animation, games development and dynamic web development. There is a strong emphasis on providing real-life experience with the introduction of client-based projects.
At the end of this year, you will have the opportunity to undertake an industrial work placement, or period of Study Abroad in an optional gap year.
Year 3
You will expand your design and development skills into 3D graphics modelling and animation, underpinned by theoretical modules on prototyping, usability and project management. This will allow you to deliver expressive and engaging digital media solutions.
Year 4
In your Honours year, you will concentrate on a self-directed project in your chosen specialist area underpinned by research and concepts of human-computer interaction. You will learn specialist subjects, including advanced games development, audio-visual production and effects and immersive technology including VR and AR. You will also learn to critically evaluate your work to enhance your employability.
Modules
Modules and delivery order may change for operational purposes. The University regularly reviews its courses. Course content and structure may change over time. See our Course and module disclaimer for more information.
Detailed module information
You will be taught through lectures, tutorials, and labs and have opportunities to learn from external speakers. You will also be supported through our online virtual learning environment, Campus Moodle, with access to a wide-variety of resources. Your theoretical content will be complemented by practical work, to support your academic development and provide opportunities to engage with real-world problems.
Class size depends on the module but for Digital Media modules is typically from 20 – 40.
Lectures typically last one hour but are usually embedded in labs which may last two to three hours.
Activity Summary
Year 1
Lectures - 20 - 40 students per group, 4 hours per week
Project Supervision - 1 - 4 students per group, 4 hours per week
Practical class or workshop - 20 - 40 students per group, 8 hours per week
Independent Study
The development of self-directed learning skills is a key aim of the course. A 15-credit module represents 150 hours of study over the course of a semester. Of this, roughly two-thirds will be self-study and completion of assessments, clearly indicating the importance of self-directed learning for this course.
Staff Delivering on This Course
Many of our staff on the course have some grade of fellowship of the Higher Education Academy and feature in the annual Support and Teaching staff with Appreciation and Recognition (STAR) awards voted by the students and organised by RGU:Union.
The course is taught by experienced Academics who have a deep knowledge of Digital Media technologies, extensive experience in teaching aspects of the course and an ongoing commitment to research or scholarship in Digital Media development, web design and development, modelling and animation, or usability.
As well as academic members of staff, some teaching may be undertaken by industry experts, postgraduate research students, library staff, study skills and careers service staff.
Assessment
Typically students are assessed each semester:
1 Written Exam. Average time of exam 3 hours
2 Written Assignments, including essay
2 Project Outputs
1 Report
1 Oral Assessment
1 Dissertation
Feedback
We aim to provide you with feedback within 20 working days of hand-in for all written exams, coursework and practical exams.
---
ACADEMIC SUPPORT
The Inclusion Centre advises and supports students who disclose a sensory or mobility impairment, chronic medical condition, mental health issue, dyslexia and other specific learning differences. Applicants are encouraged to arrange a pre-entry visit to discuss any concerns and to view the facilities.
ONLINE LEARNING & SUPPORT
All undergraduate and postgraduate students, whether you are learning on-campus or by online distance learning, benefit from using our collaborative virtual learning environment, CampusMoodle. You will be provided with 24/7 online access to your learning material and resources, along with the ability to interact with your class members and tutors for discussion and support.
STUDY SKILLS SUPPORT
The Study Support Team provides training and support to all students in:
Academic writing
Study skills (note taking, exam techniques, time management, presentation)
Maths and statistics
English language
Information technology support
Library Support
The Library offers support for your course, including the books, eBooks, and journals you will need. We also offer online reading lists for many modules, workshops and drop-ins on searching skills and referencing, and much more.
Placements
Optional paid placements can be taken, either for a short-term (6 – 16 weeks) or year-long (48 weeks) duration. The credits accumulated do not contribute to the award total for your degree. You are responsible for finding a placement but will receive support from the Placement Office who compiles a list of available opportunities. There is a dedicated member of staff responsible for coordinating placement activities and an Academic Placement Supervisor in addition to your work-based Industrial Supervisor. You are strongly encouraged to look beyond the immediate locality for placement opportunities.
Study Abroad
You will have the opportunity to undertake an optional period of Erasmus or Study Abroad which is not required to progress to the next stage and the credits accumulated do not contribute to the award total. This usually takes place between Year 3 and Year 4.
Choose 1 option module from the following group:
Industrial Work Placement
Erasmus Work Placement
Erasmus Study Abroad
Job Prospects
The skills you will gain in this course will equip you for employment in many different areas, including games and film industries, training and education, data visualisation, advertising agencies, and social media, mobile application and website development.
Is Digital Media a good career choice?
Opportunities exist in designing and developing software and producing multimedia for a wide-range of digital media industry sectors. Locally there are a large range of opportunities in the oil and gas industry in these areas, for example in simulating potential rig or subsea activities.
Previous BSc Digital Media graduates of Robert Gordon University have gone on to pursue the following careers:
Graduate User Experience Designer
eContent Developer
Animation Intern
Standard Entry Requirements
SQA Higher: BBBC and two further passes to include English and Maths at National 5 grade C or above if not held at Higher.
SQA Advanced Higher Year 2 entry: BB to include Computing and another numerate subject and two further passes to include English and Maths at National 5 grade C or above if not held at Higher.
GCE A Level Year 1 entry: BCC and two further passes to include English and Maths at GCSE grade 5/C if not held at A Level.
GCE A Level Year 2 entry: ABB/BBB to include Math and another numerate subject. English at GCSE grade 5/C is required if not held at A Level.
Irish Leaving Certificate Higher: H2H3H3H3 and two further passes to include English and Maths at grade O3 or above if not held at Higher.
IB Diploma Year 1 entry: 27 to include a pass in Standard Level English and Maths at grade 4 or above if not held at Higher Level.
IB Diploma Year 2 entry: 32/30 to include Math and another numerate subject at higher level pass. Standard Level English at grade 4 or above if not held at Higher Level.
Minimum entry requirements
The minimum entry requirements for widening access applicants are:
SQA Higher: BBC/BCCC and two further passes to include English and Maths at National 5 C or above if not held at Higher.
Alternative Qualifications
We welcome applications from those with equivalent qualifications to those stated, including SVQs/NVQs, access programmes and overseas qualifications. Applications from students with non-standard qualifications or work experience will be considered on an individual basis.
Applicants from Partner Colleges
A relevant HND from one of our partner colleges will be considered for entry into Year 3.
Advanced Entry
All other applicants who are interested in applying for advanced entry will be considered on an individual basis.
International Students
International students who do not meet our direct entry requirements for this course can gain additional entry points through our International College at Robert Gordon University.
English Language Requirements
Applicants whose first language is not English should have an IELTS of 6.0 overall, with no component lower than 5.5, or an equivalent.
We accept a variety of in-country and secure English language tests, find out more:
Our Pre-Sessional English Programme (PSP) is available for students who have not yet reached the required English level and those who would like to improve their language competency.
Pre-Sessional English Programme at RGU
Please note, some courses may require a higher standard of English than stated in this page. Contact admissions@rgu.ac.uk for further information.
FOR ACADEMIC YEAR 2020/2021
Scottish/EU Students
£1,820 per academic year
£910 for a full placement year
Rest of UK Students
£6,750 per academic year
£3,375 for a full placement year
International Students
£15,040 per academic year
£1,000 for a full placement year
FOR ACADEMIC YEAR 2019/2020
Scottish/EU Students
£1,820 per academic year
£910 per full placement year
Rest of UK Students
£6,750 per academic year
£3,375 per full placement year
International Students
£13,670 per academic year
£1,000 per full placement year
Additional Costs
The following course-related costs are not included in the course fees:
The cost of books that you may wish to purchase.
Costs associated with your placement / study abroad
£50 for materials
Approximately £500 for a laptop
STUDENT FUNDING
If you are a Scottish resident or EU national you are not liable to pay fees and should apply to SAAS for funding.
Students Awards Agency for Scotland (SAAS)
Students from other parts of the UK should visit the appropriate website:
Scholarships and Financial Awards
The opportunity to work with one of the world's leading oil and gas groups reflects the strong industrial ties of this course. Find out more about scholarships:
SCHOLARSHIPS AND FINANCIAL AWARDS
Disclaimer
For new intakes course fees are reviewed and published annually for each mode of delivery. Tuition fees are fixed for the duration of a course at the rate confirmed in the offer letter. For further information see
Have a question about the course? Get in touch with our Student Admissions Team and we'll do our best to help.
+44 (0) 1224 262728
The best part about the course is that it gives you options. We studied everything including photography, web and games development, filming and 2D/3D animation. The course doesn't box you in; you gain transferable skills and experience to help determine where in the field you would like to work.
Accreditation
Accredited by the British Computer Society, The Chartered Institute for IT for the purposes of fully meeting the academic requirement for registration as a Chartered IT Professional.

Taking this course, you will have access to some of the world's best facilities.
We've invested more than £100 million in the development of our campus, new facilities and new resources.
University Wide Facilities
Apply
UCAS Code: P131
---
The university has moved to home teaching and working following official COVID-19 guidance from the Scottish Government. Our staff will continue to process applications and respond to enquiries about your course during this time.
---
All Applicants
We've got a few options for applying to our undergraduate courses for UK, EU and international applicants.
January Intake - International Applicants Only
International fee-paying students applying to start in January should apply via International College at Robert Gordon University (ICRGU)
---
Applicants for first year entry will apply to other universities as well as to RGU through a single online Universities and Colleges Admissions Service (UCAS) application.
Applicants from non-EU countries can apply direct to the University with our PDF form.