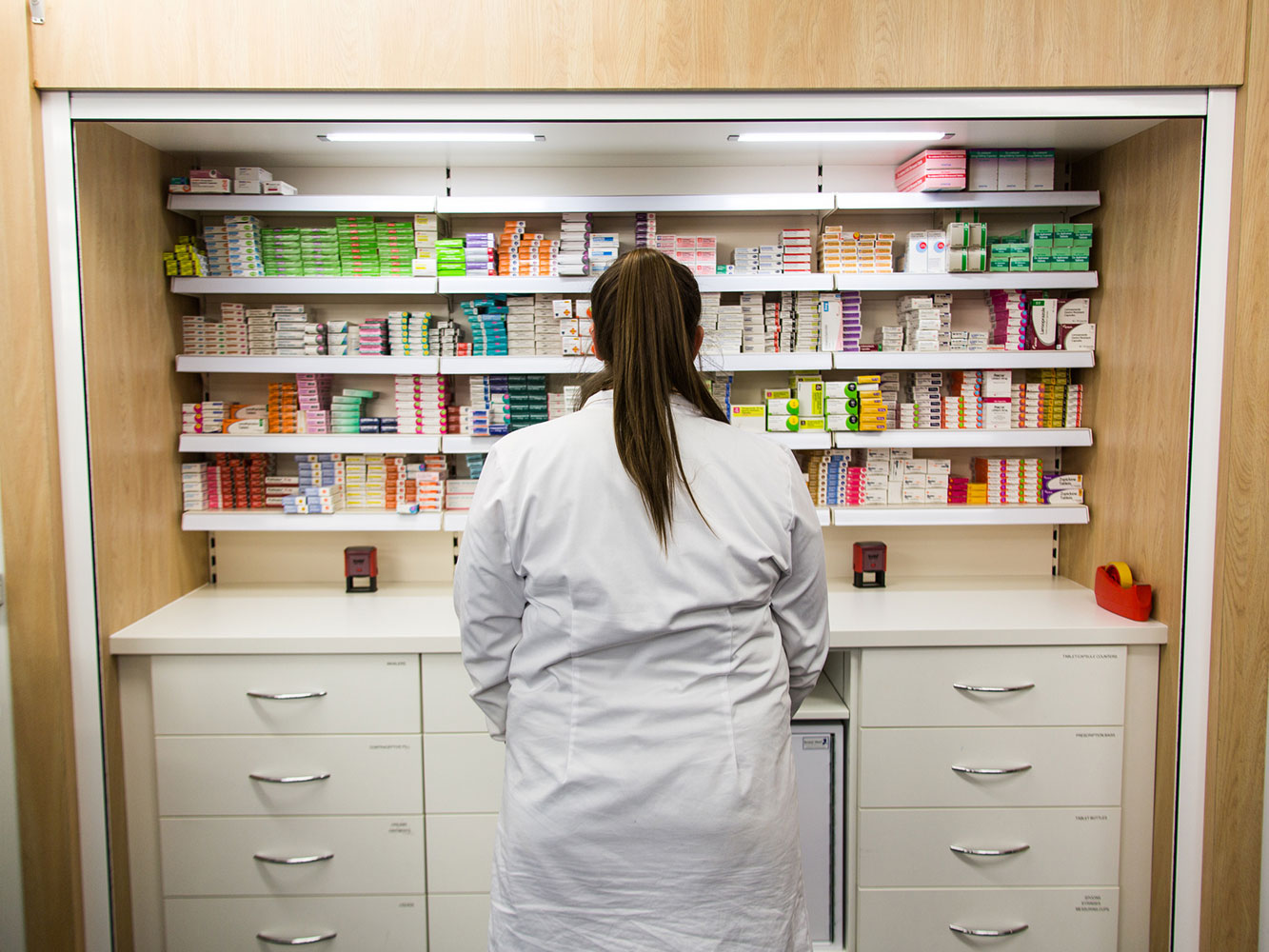 As a Pharmacist you will advise on and deliver the latest in cutting-edge treatments and medicines. You will be an integral part of the healthcare team, in a hugely varied and rewarding career with the opportunity to change lives, every day.
We produce effective practitioners with the knowledge and skills to deliver the very best pharmaceutical care for patients, underpinned by sound scientific principles. This is achieved through a student-centred approach, helping you to develop as a life-long learner and reflective practitioner.
The role of the modern Pharmacist has evolved in recent years, making it a very exciting time to join the challenging and patient-focused profession.
Our course has been ranked 1st in the UK for graduate prospects in Pharmacy and Pharmacology 
The Times Good University Guide 2018, published 2017
Year 1
The emphasis is on science relevant to pharmacy and the skills required for professional practice. An insight is provided into the profession of pharmacy covering the drug journey from discovery to pharmaceutical care and prescribing. Numeracy is developed through pharmaceutical calculations and an understanding of reflective practice.
Year 2
Science becomes more applied with the study of Biochemistry, Therapeutics, Pharmaceutical Microbiology and the design and manufacture of medicines and their supply within a professional and legal framework. This includes the importance of patient safety, decision-making, critical thinking and interpretation and evaluation of experimental data, with simulation to develop consultation skills.
YEAR 3
Through simulation and placements you will develop an approach to professional practice and promote improvement of health outcomes. Further development of Therapeutics is integrated with a strong science base to emphasise quality assurance, and you will be introduced to the skills necessary to conduct a research project.
Year 4
Integration of science into practice is through individual problem-based learning and the development of skills of supervision of others. Reflective practice is embedded to support the transition to pre-registration training as you work in a team to develop and present a pharmaceutical service bid for an NHS Board - demonstrating a range of required professional skills and competencies.
Modules
Modules and delivery order may change for operational purposes. The University regularly reviews its courses. Course content and structure may change over time. See our course and module disclaimer for more information. 
Detailed module information
Teaching and learning activities include an appropriate mix of small and large group teaching, individual and experiential learning, as well as problem-based approaches. Your individual practical skills in the Sciences will be developed as teaching design fosters your interpersonal and other professional skills. Professional experiences including interaction with patients and other Healthcare professionals will allow you to develop.
Extensive use is made of e-learning for delivery, directed and private study. The variety in approach means that the teaching and learning strategy provides you with a responsive environment to encompass your individual needs and learning style, yet also encourage group interaction.
Activity Summary
Year 4
Lectures - 120 students per group, 5 hours per week
Seminars - 120 students per group, 3 hours per week
Tutorial - 120 students per group, 2 hours per week
Project Supervision - 5 weeks full-time
Practical class or workshop - 120 students per group, 9 hours per week
External Visits - 120 students per group, 4 throughout the year
Placement / Work Based Learning - 12 students per group, 12 through year
Independent Study
You will take responsibility for your own learning. You will read widely from the provided reading lists, conduct your own research and meet with your peers to undertake allocated group work, complete tutorial assignments and work on assessments. Together with teaching activities and independent study this should equate to approximately 40 hours-per-week.
Staff Delivering on This Course
The MPharm course is delivered by a team of highly-qualified professionals who are experts in the various fields of Clinical and Professional Sciences, Pharmacy practice, and Pharmaceutical Sciences and includes a number of GPhC Registered Pharmacists. Teacher-practitioners and a number of visiting Healthcare professionals, including practicing Pharmacists are involved in the delivery of specialist elements along with e-tutors who provide online support and clinical expertise.
Our staff feature in the annual Support and Teaching staff with Appreciation and Recognition (STAR) awards voted by the students and organised by RGU:Union.
Assessment
Typically students are assessed each year:
Year 1
4 written exams of 2 hours each
2 reports
1 portfolio
1 set exercise
1 oral assessment
1 practical skills assessment
1 OSCE
Year 2
6 written exams of 2 hours each
1 report
1 portfolio
2 set exercises
1 oral assessment
1 practical skills assessment
1 OSCE
Year 3
3 written exams of 2 hours each
2 written assignments, including essays
1 report
1 portfolio
1 set exercise
1 oral assessment
2 OSCE
Year 4
2 written exams of 2 hours each
1 written assignment
2 reports
1 dissertation
1 portfolio
1 set exercise
1 oral assessment
1 OSCE
Feedback
We aim to provide you with feedback within 20 working days of hand-in for all written exams, coursework and practical exams.
---
ACADEMIC SUPPORT
The Disability & Dyslexia Centre advises and supports students who disclose a sensory or mobility impairment, chronic medical condition, mental health issue, dyslexia and other specific learning differences. Applicants are encouraged to arrange a pre-entry visit to discuss any concerns and to view the facilities.
ONLINE LEARNING & SUPPORT
All undergraduate and postgraduate students, whether you are learning on-campus or by online distance learning, benefit from using our collaborative virtual learning environment, CampusMoodle. You will be provided with 24/7 online access to your learning material and resources, along with the ability to interact with your class members and tutors for discussion and support.
STUDY SKILLS SUPPORT
The Study Support Team provides training and support to all students in:
Academic writing
Study skills (note taking, exam techniques, time management, presentation)
Maths and statistics
English language
Information technology support
Library Support
The Library offers support for your course, including the books, eBooks, and journals you will need. We also offer online reading lists for many modules, workshops and drop-ins on searching skills and referencing, and much more.
Placements
More than 70 hours of the course is spent in Practical Placement activity. This includes both compulsory and optional placements. RGU is responsible for finding the compulsory placements. You may also source your own optional summer placements but support is provided via the School and Careers service. Extensive support is also provided in finding a pre-registration place.
Find out more about our placements
Job Prospects
As a Pharmacist you will have wide and varied career options. You may focus on a clinical career and progress as a hospital clinical Pharmacist or work in a community pharmacy. You may train and register as a non-medical Prescriber, follow a management career route either within the NHS, the pharmaceutical industry or a community pharmacy company. Some of our graduates return to academia to teach and carry out research. Or you could follow a career in a more unusual area such as veterinary pharmacy, regulation, the military or health journalism.
Additional postgraduate qualifications could allow you to become an advanced practitioner in an area of specialist practice. Whatever route you choose the challenges are enjoyable and the rewards are high.
SQA Higher: AABB to include Chemistry plus two further sciences from Biology/Human Biology, Maths or Physics at grade B at first sitting. Higher English (or a written subject requiring the use of English) should be achieved at a minimum of grade C, 
GCE A Level: ABB to include Chemistry plus one further science from Biology/Human Biology, Maths or Physics at grade B or above at first sitting. English must be achieved at GCSE grade B or above and Maths at GCSE grade B or above, if not held at A Level.
Irish Leaving Certificate Higher: H1H2H2H2 to include Chemistry plus two further sciences from Biology, Maths and Physics at H2 or above at first sitting. English must be achieved at a minimum of H3.
IB Diploma: 32 to include Higher Level Chemistry at grade 6, one further science or Maths at Higher Level grade 5 and English (or a written subject requiring the use of English) at Higher Level grade 5.
Alternative Qualifications
We welcome applications from those with equivalent qualifications to those stated, including SVQs/NVQs, access programmes and overseas qualifications. Applications from students with non-standard qualifications or work experience will be considered on an individual basis.
ADDITIONAL INFORMATION
Applicants should note that General Pharmaceutical Council Fitness to Practise regulations apply to pharmacy students. Offers of a place on the MPharm course are subject to compliance with these regulations and a satisfactory Good Health and Good Character declaration. Home UK students will be required to obtain Protecting Vulnerable Groups clearance. EU or overseas students will need to obtain their country's equivalent (such as police verification of good conduct) prior to commencing the MPharm at Robert Gordon University.
International Students
International students who do not meet our direct entry requirements for this course can gain additional entry points through our International College at Robert Gordon University.
English Language Requirements
Applicants whose first language is not English should have an IELTS of 6.5 overall, with no component lower than 6.0, or an equivalent.
We accept a variety of in-country and secure English language tests, find out more:
Please note, some courses may require a higher standard of English than stated in this page. Contact ugoffice@rgu.ac.uk (undergraduate courses) or pgoffice@rgu.ac.uk (postgraduate courses) for further information.
For Academic Year 2018/2019
Scottish/EU Students
Rest of UK Students
International Students
£14,800 per academic year
FOR ACADEMIC YEAR 2019/2020
Scottish/EU Students
Rest of UK Students
International Students
£15,250 per academic year
Additional Costs
The following course-related costs are not included in the course fees:
The cost of books that you may wish to purchase.
Costs associated with your placement / study abroad
£50 Travel
£30 Materials
£55 Specialist Clothing
Disclaimer
For new intakes course fees are reviewed and published annually for each mode of delivery. Tuition fees are fixed for the duration of a course at the rate confirmed in the offer letter.  For further information see:
Student Funding
Several organisations award bursaries to Pharmacy students. These are advertised to students annually:
If you are a Scottish resident or EU national you are not liable to pay fees and should apply to SAAS for funding.
Student Awards Agency For Scotland (SAAS)
Students from other parts of the UK should visit the appropriate website:

Scholarships and Financial Awards
You may also qualify for a scholarship or financial award:
Have a question about the course? Get in touch with our Student Admissions Team and we'll do our best to help.
+44 (0) 1224 262728
I am incredibly grateful for the continued support and feedback I received from my lecturers over the years. I also have no doubt that RGU will continue to produce top Pharmacists for years to come, thanks to that same ethos and quality that first inspired me.
LARA SEYMOUR |PHARMACY GRADUATE (2015 SCOTTISH PHARMACIST AWARDS 'PHARMACIST OF THE FUTURE', 2016 SCOTTISH PHARMACY AWARDS 'STUDENT LEADERSHIP AWARD' AND 2016 ROYAL PHARMACEUTICAL SOCIETY 'STUDENT OF THE YEAR')
Accreditation
The course is accredited by the General Pharmaceutical Council (GPhC). Therefore on graduation, provided you comply with the GPhC's Fitness to Practise requirements you will be eligible to undertake a pre-registration year.
At the end of this you will have to demonstrate various competencies and pass a registration assessment to be eligible to register as a pharmacist with the General Pharmaceutical Council.
Register Now
Would you like to keep up to date with open days, scholarships and other news? Fill out our online form.
Taking this course, you will have access to some of the world's best facilities. 
We've invested more than £100 million in the development of our campus, new facilities and new resources.
University Wide Facilities
Apply
We've got a few options for applying to our undergraduate courses for UK, EU and international applicants.
Applicants for first year entry will apply to other universities as well as to RGU through a single online Universities and Colleges Admissions Service (UCAS) application.
Applicants from non-EU countries can apply direct to the University with our PDF form.
RGU accepts applications through the Common Application for those liable to pay international tuition fees.