Apply in UCAS for Sept 2020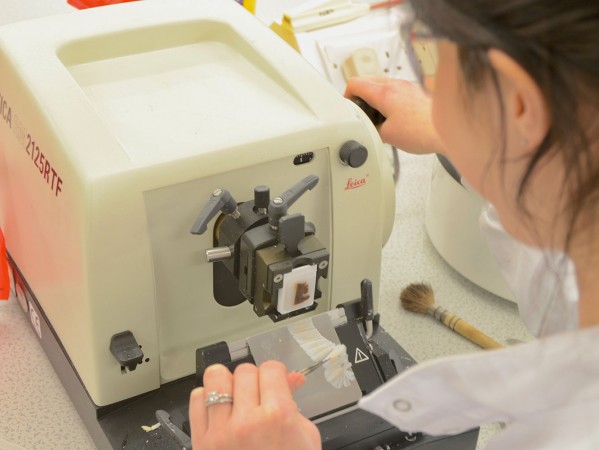 This Applied Biomedical Science degree will teach you about the diagnosis, treatment and monitoring of disease, and provide a unique laboratory training programme to give you hands-on experience in all the major hospital laboratory disciplines. You will be well-prepared for a future career in the exciting field of biomedical science.
As a Biomedical Scientist, you could work on the screening of cells and tissues for cancer, diagnosis of diabetes, the testing of blood to ensure that it is suitable for transfusion, or identification of the bacterial and viral organisms responsible for food poisoning. It is a very important profession where you will work in partnership with Doctors, Nurses and other healthcare professionals, to make a difference to people's lives.
Year 1 - Completed via BSc (Hons) Biomedical Science
You will build on your existing knowledge in Biology and Chemistry as it applies to Biomedical Science. You will also be introduced to Analytical Laboratory Science and Microbiology and gain an understanding of the Biomedical Science profession.
Year 2
You will be introduced to some of the more advanced areas of Biomedical Science and through the multi-disciplinary placement gain an appreciation of the activities of the biomedical scientist in NHS laboratories in Microbiology, Haematology, Clinical Biochemistry, Transfusion Science, Histopathology and Cytopathology.
YEAR 3
You will study more advanced diagnostic subjects as they apply to Biomedical Science and spend the whole of the Semester 2 on placement in two NHS laboratory disciplines. During this time you will meet the requirements of your IBMS registration training portfolio.
Year 4
The course culminates in the application of your specialist knowledge to the diagnosis of disease and showing how treatments for disease can be monitored for effectiveness. Your laboratory skills are tested to the full during the Research Project.
---
Modules
Modules and delivery order may change for operational purposes. The University regularly reviews its courses. Course content and structure may change over time. See our Course and module disclaimer for more information.
Detailed module information
Activity Summary
You will study up to four modules each semester with each module containing around three hours of class teaching per-week. For laboratory-based modules there will be around four hours per week of laboratory practical work. All modules provide tutorial support which usually involves an extra hour per-module per-week.
Course resources will be available on Moodle, an innovative teaching and learning environment which will enhance your learning experience and will keep you up-to-date with coursework and assignments on-the-go.
Year 4
Lectures - 20 students per group, 5 hours per week in semester 1
Seminars - 50 students per group, 1 hour per week
Tutorial - 20 students per group, 2 hours per week
Project Supervision - 1 student per group, 27 hours in semester 2
Placement - All students - 38 hours per week for 7 weeks in year 2 and 14 weeks in year 3
Independent Study
You will engage in a number of independent learning activities involving research of scientific literature or laboratory-based research.
Staff Delivering on This Course
Teaching and learning is delivered by RGU lecturers and by biomedical science professionals who are normally based in NHS laboratories. Some lectures are presented as seminars by visiting Medical Consultants or Researchers in biomedical science. Laboratory based modules are taught and demonstrated by Lecturers with support from technical teams and postgraduate research student Demonstrators. Placement activities are taught by practicing Biomedical Scientists within NHS laboratories.
Assessment
Typically students are assessed:
Year 1
5 written exams, typically for 1.5 hours
1 written assignments, including essays
3 report
1 portfolio
2 practical skills assessment
1 presentation
Year 2
5 written exams, typically for 2 hours
2 portfolios
1 presentation
Year 3
4 written exams, typically for 2.5 hours
1 written assignments, including essays
1 portfolio
1 set exercise
1 practical skills assessment
Year 4
2 written exams, typically for 2.5 hours
1 report
1 dissertation
1 project outputs
1 oral assessment
1 practical skills assessment
2 presentations
Feedback
We aim to provide you with feedback within 20 working days of hand-in for all written exams, coursework and practical exams.
---
ACADEMIC SUPPORT
The Inclusion Centre advises and supports students who disclose a sensory or mobility impairment, chronic medical condition, mental health issue, dyslexia and other specific learning differences. Applicants are encouraged to arrange a pre-entry visit to discuss any concerns and to view the facilities.
ONLINE LEARNING & SUPPORT
All undergraduate and postgraduate students, whether you are learning on-campus or by online distance learning, benefit from using our collaborative virtual learning environment, CampusMoodle. You will be provided with 24/7 online access to your learning material and resources, along with the ability to interact with your class members and tutors for discussion and support.
STUDY SKILLS SUPPORT
The Study Support Team provides training and support to all students in:
Academic writing
Study skills (note taking, exam techniques, time management, presentation)
Maths and statistics
English language
Information technology support
Library Support
The Library offers support for your course, including the books, eBooks, and journals you will need. We also offer online reading lists for many modules, workshops and drop-ins on searching skills and referencing, and much more.
Placements
This course has been designed in partnership with Biomedical Scientists within NHS Grampian, NHS Highland, and the Aberdeen and North East of Scotland Blood Transfusion Service. We work with our partners to provide a unique training programme to give you exposure to a variety of areas within biomedical science, and enhance your employability.
The placements are fully integrated into the course and are compulsory and unpaid. In year 2 you will undertake a 7-week placement, and in year 3 you will a 14-week placement. You will be well-prepared for a future career as a registered practitioner with the Health and Care Professions Council and an accredited Biomedical Scientist with the Institute of Biomedical Science.
JOB PROSPECTS
Is Applied Biomedical Science a good career choice?
The majority of the BSc Applied Biomedical Science graduates of Robert Gordon University secure employment within the NHS Laboratory Service. The course will also equip you with the relevant skills needed to work within the pharmaceutical and healthcare industries which include:
Technical and marketing departments
Forensic science laboratories
Teaching
Clinical research
These requirements relate to the first year of the BSc (Hons) Biomedical Sciences (B902). Entry to the BSc Applied Biomedical Science course is by selection at the end of stage one of BSc (Hons) Biomedical Sciences.
SQA Higher: BBBB to include Biology/Human Biology plus one from Chemistry, Maths or Physics. Chemistry, English and Maths are required at National 5 grade B or above if not held at Higher.
GCE A Level: BCC to include Biology plus one from Chemistry, Maths or Physics. Chemistry, English and Maths are required at GCSE grade 6/B or above if not held at A Level.
Irish Leaving Certificate Higher: H2H2H3H3 to include Biology plus one from Chemistry, Maths or Physics. Chemistry, English and Maths are required at grade O2 or above if not held at Higher.
IB Diploma: 28 to include Higher Level Biology plus one from Chemistry, Maths or Physics at grade 5. Standard Level English and Maths are required at grade 4 if not held at Higher Level.
Alternative Qualifications
We welcome applications from those with equivalent qualifications to those stated, including SVQs/NVQs, access programmes and overseas qualifications. Applications from students with non-standard qualifications or work experience will be considered on an individual basis.
INTERNATIONAL STUDENTS
International students who do not meet our direct entry requirements for this course can gain additional entry points through our International College at Robert Gordon University.
English Language Requirements
For applicants entering the BSc (Hons) Biomedical Sciences (B902) route and whose first language is not English should have an IELTS of 6.0 overall, with no component lower than 5.5, or an equivalent.
For applicants who transfer via the selection process to the BSc Applied Biomedical Science and whose first language is not English should have an IELTS of 7.0 overall, with no component lower than 6.5, or an equivalent. These are the requirements of the HCPC and supersede the standard University English Language requirements. The RGU English Language Test is also accepted.
We accept a variety of in-country and secure English language tests, find out more:
Our Pre-Sessional English Programme (PSP) is available for students who have not yet reached the required English level and those who would like to improve their language competency.
Pre-Sessional English Programme at RGU
Please note, some courses may require a higher standard of English than stated in this page. Contact admissions@rgu.ac.uk for further information.
FOR ACADEMIC YEAR 2020/2021
Scottish/EU Students
Rest of UK Students
International Students
£15,040 per academic year
FOR ACADEMIC YEAR 2019/2020
Scottish/EU Students
Rest of UK Students
International Students
£13,670 per academic year
Additional Costs
The following course-related costs are not included in the course fees:
The cost of books that you may wish to purchase.
Costs associated with your placement / study abroad
Disclaimer
For new intakes course fees are reviewed and published annually for each mode of delivery. Tuition fees are fixed for the duration of a course at the rate confirmed in the offer letter. For further information see:
Student Funding
If you are a Scottish resident or EU national you are not liable to pay fees and should apply to SAAS for funding.
Student Awards Agency For Scotland (SAAS)
Students from other parts of the UK should visit the appropriate website:

Scholarships and Financial Awards
You may also qualify for a scholarship or financial award:
Have a question about the course? Get in touch with our Student Admissions Team and we'll do our best to help.
+44 (0) 1224 262728
I spent my placement working in the Pathology and Haematology labs at ARI. I am a great believer in putting into action what you have learned as I find this the easiest way to understand and remember things.
Accreditation
Health and Care Professions are regulated by the Health & Care Professions Council. If you plan to train in the UK, you must undertake an approved programme to be eligible to apply to the Register. This programme is approved by the
Health & Care Professions Council
(HCPC).

Taking this course, you will have access to some of the world's best facilities.
We've invested more than £100 million in the development of our campus, new facilities and new resources.
University Wide Facilities
Apply
UCAS Code: B902
---
The university has moved to home teaching and working following official COVID-19 guidance from the Scottish Government. Our staff will continue to process applications and respond to enquiries about your course during this time.
---
We've got a few options for applying to our undergraduate courses for UK, EU and international applicants.
Applicants for first year entry will apply to other universities as well as to RGU through a single online Universities and Colleges Admissions Service (UCAS) application.
Applicants from non-EU countries can apply direct to the University with our PDF form.