Applied Psychology
PgCert | PgDip | MSc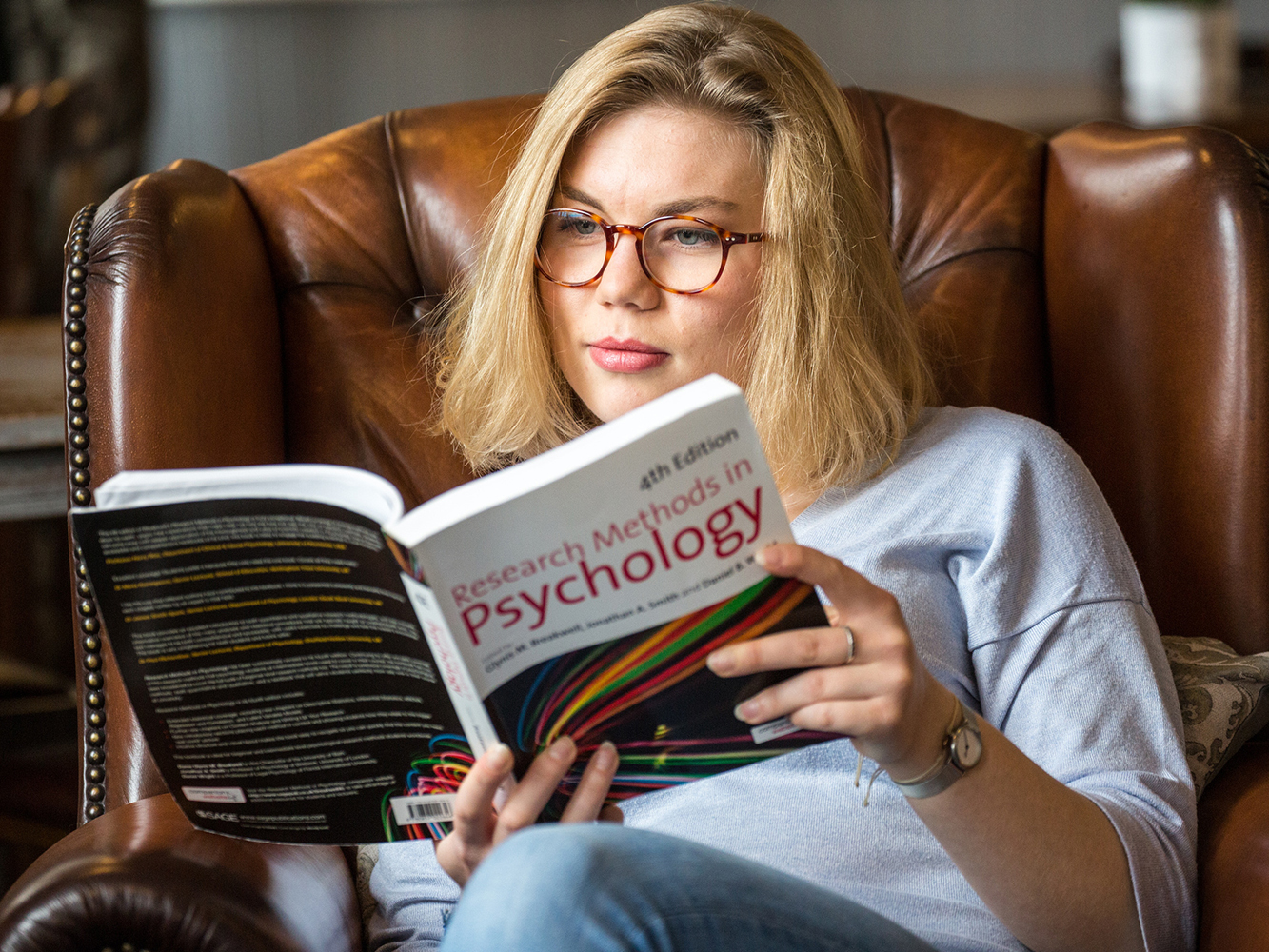 This course is designed to allow those without a psychology undergraduate degree to develop the wide-range of subject-specific and generic skills required for a career as a professional Psychologist. It will enable you to scientifically study individuals, the mind and behaviour, to make a lasting positive impact on people and society.
The flexible nature of the course makes it career-enhancing, as it is tailored to your personal needs and professional requirements. It allows you to study an elective module in an applied area of your choice, and the research project enables you to explore psychological questions in a real-world context which are relevant to your interests, experiences and future career ambitions.
The MSc Applied Psychology is highly rated by students and received 100% satisfaction rates - 2016-2017 Student Experience Questionnaire (SEQ) for Overall Course, Motivation and Engagement, and Assessment and Feedback.
This course has multiple study options
Mode of Attendance
Mode of Study
Start Date
Course Length
Start Month
September
Course Length
1 year
Start Month
September
Course Length
24 - 36 months
You'll learn how to apply your thinking to examine the theories and practices that make up the professional knowledge in Psychology and build on these skills to become an independent researcher. Rather than just working within the key issues or debates in Psychology, you will be expected to examine the edges and boundaries of Psychology and understand how knowledge is constructed.
The modules will focus on Applied Psychology; using knowledge of psychology to understand real-world problems and create changes in areas such as education, the workplace, mental health and psychological well-being, counselling, physical health and illness, behaviour change, forensic and legal settings, sport and exercise, and social problems such as prejudice and discrimination.
Modules
Modules and delivery order may change for operational purposes. The University regularly reviews its courses. Course content and structure may change over time. See our Course and module disclaimer for more information. 
Detailed module information
You'll learn via the University's virtual learning environment CampusMoodle, where you'll interact with tutors and other students. All classes and activities are delivered online and in your own time with the exception of the fortnightly online workshops.
Learning will involve online lectures, interactive discussion forums and virtual classroom sessions, as well as one-to-one support from a specialist supervisor when you begin your empirical research project. Assessment methods include online examinations, written coursework in the form of essays and reports, empirical research projects and a range of online activities.
If you remain a part-time student the course duration is 36 months but if you convert to full-time for the dissertation (after Year 2) you can complete in 24 months.
Activity Summary
Online lectures  - 4 hours per week
Online seminars - 4 hours per week
Online workshop - 40 students per group, 2 hours per fortnight
Independent Study - 42 hours per week
Students are given 1 – 2 hours of lectures per module per week; plus 1-2 hrs online activity.
Independent Study
A significant portion of this course is underpinned by independent learning, and you will be expected to be responsible for managing your coursework, reading and other learning activities appropriately.
STAFF DELIVERING ON THIS COURSE
Our school is one of the first to provide a BPS accredited MSc via distance learning. We have an expanding psychology teaching and research portfolio. Our team of lecturers have strong practice and research backgrounds, and a passion for helping you to achieve your best – whether that's online, supervising your dissertation, or providing pastoral support. With small class sizes we get to know you as an individual throughout your course. Our teaching staff will provide you with a stimulating and enjoyable education as you gain a range of skills required to add value to society in a wide-range of careers in psychology or working with people.
Assessment
Typically students are assessed each year:
Year 1
2 online written exams (full-time),1 online written exam (part-time), typically for 2 hours
7 written assignments, including essay (full-time), 4 written assignments, including essay (part-time) - both depend on electives chosen
2 reports (full-time), 1 report (part-time)
1 dissertation (full-time)
2 set exercises (full-time)
1 practical skills assessment (full-time)
Year 2
1 online written exam, typically for 2 hours (part-time)
3 written assignments, including essay (part-time, depending on electives chosen)
1 report (part-time)
2 set exercises (part-time)
1 practical skills assessment (part-time)
Year 3
1 dissertation (part-time)
Feedback
We aim to provide you with feedback within 20 working days of hand-in for all written exams, coursework and practical exams.
---
ACADEMIC SUPPORT
The Disability & Dyslexia Centre advises and supports students who disclose a sensory or mobility impairment, chronic medical condition, mental health issue, dyslexia and other specific learning differences. Applicants are encouraged to arrange a pre-entry visit to discuss any concerns and to view the facilities.
ONLINE LEARNING & SUPPORT
All undergraduate and postgraduate students, whether you are learning on-campus or by online distance learning, benefit from using our collaborative virtual learning environment, CampusMoodle. You will be provided with 24/7 online access to your learning material and resources, along with the ability to interact with your class members and tutors for discussion and support.
STUDY SKILLS SUPPORT
The Study Support Team provides training and support to all students in:
Academic writing
Study skills (note taking, exam techniques, time management, presentation)
Maths and statistics
English language
Information technology support
Library Support
The Library offers support for your course, including the books, eBooks, and journals you will need. We also offer online reading lists for many modules, workshops and drop-ins on searching skills and referencing, and much more.
JOB PROSPECTS
Successful completion of the MSc will enable you to pursue further training as a HCPC-registered and/or Chartered Psychologist in a range of psychology areas such as: clinical, counselling, education, forensic, occupational, health, sport and exercise, teaching and research.
On graduation you will be equipped with a broad range of skills including the ability to: solve problems and reason scientifically; make critical judgements and evaluations; demonstrate ethical awareness and sensitivity to contextual and interpersonal factors; communicate and collaborate successfully.
Given the distance learning nature of the course, you will also be adaptive and responsible in order to be an effective independent learner. Such soft skills are highly valued by employers for jobs across a wide range of occupations which involve work with people, and will prove invaluable if you plan to apply for further training as a HPC-registered and/or Chartered Psychologist.
Applicants should have an Honours degree with a final degree classification of at least 2:2 or international equivalent.
Degrees in areas related to the social sciences, education, health and social care, and experience in research methods are desirable.
Application closing date for September 2018 entry - 1 July 2018
English Language Requirements
Applicants whose first language is not English should have an IELTS of 6.5 overall, with no component lower than 5.5, or an equivalent.
We accept a variety of in-country and secure English language tests, find out more:
Our Pre-Sessional English Programme (PSP) is available for students who have not yet reached the required English level and those who would like to improve their language competency.
Pre-Sessional English Programme at RGU
Please note, some courses may require a higher standard of English than stated in this page. Contact admissions@rgu.ac.uk for further information.
For Academic Year 2018/2019
UK/EU Students
Distance Learning Full-time
Distance Learning Part-time
£2,440 for stage 1
£2,440 for stage 2
£1,620 for stage 3
International Students
Distance Learning Full-time
Distance Learning Part-time
£4,130 for stage 1
£4,130 for stage 2
£2,760 for stage 3
FOR ACADEMIC YEAR 2019/2020
UK/EU Students
Distance Learning Full-time
Distance Learning Part-time
£2,510 for stage 1
£2,510 for stage 2
£1,680 for stage 3
International Students
Distance Learning Full-time
Distance Learning Part-time
£4,260 for stage 1
£4,260 for stage 2
£2,830 for stage 3
Additional Costs
The following course-related costs are not included in the course fees:
The cost of books that you may wish to purchase.
Costs associated with your placement / study abroad
Alumni Discount
Robert Gordon University is delighted to offer a 20% loyalty discount on course fees for all alumni who have graduated from RGU.
Student Funding
Postgraduate students will normally make their own arrangements for payment of fees. However, there are a limited number of SAAS funded places on certain postgraduate courses.
There are also sources of funding that are applicable to categories of student.
Postgraduate Students' Funding
Scholarships and Financial Awards
You may also qualify for a scholarship or financial award:
SCHOLARSHIPS AND FINANCIAL AWARDS
DISCLAIMER
For new intakes course fees are reviewed and published annually for each mode of delivery. Tuition fees are fixed for the duration of a course at the rate confirmed in the offer letter.  For further information see:
Have a question about the course? Get in touch with our Student Admissions Team and we'll do our best to help.
+44 (0) 1224 262209
I chose this course because of the convenience of distance learning together with the BPS accreditation it confers, as well as the highly competitive fee level. I am very glad I went for RGU and have found the standard of teaching and level of support to be excellent.
SHONA HORSMAN | MSC APPLIED PSYCHOLOGY STUDENT 2017
Accreditation
This course is accredited by The British Psychological Society.
Students may be eligible for Recognition for Prior Certified Learning (RPCL) for up to three modules. An application for RPCL can only be made once students have been offered a place on the course. All applications for RPCL will be done in accordance with the University RPCL policy and must be approved by the course management team. Following approval of RPCL, course fees will be discounted on a pro rata basis.
Register Now
Would you like to keep up to date with open days, scholarships and other news? Fill out our online form.
Taking this course, you will have access to some of the world's best facilities. 
We've invested more than £100 million in the development of our campus, new facilities and new resources.
University Wide Facilities
Apply
Applications for course are now closed for 2018 entry.
Have a question about the course? Get in touch with our Student Admissions Team and we'll do our best to help.
+44 (0) 1224 262209
Would you like to keep up to date with open days, scholarships and other news? Fill out our online form.