Applied Social Sciences
BA (Hons)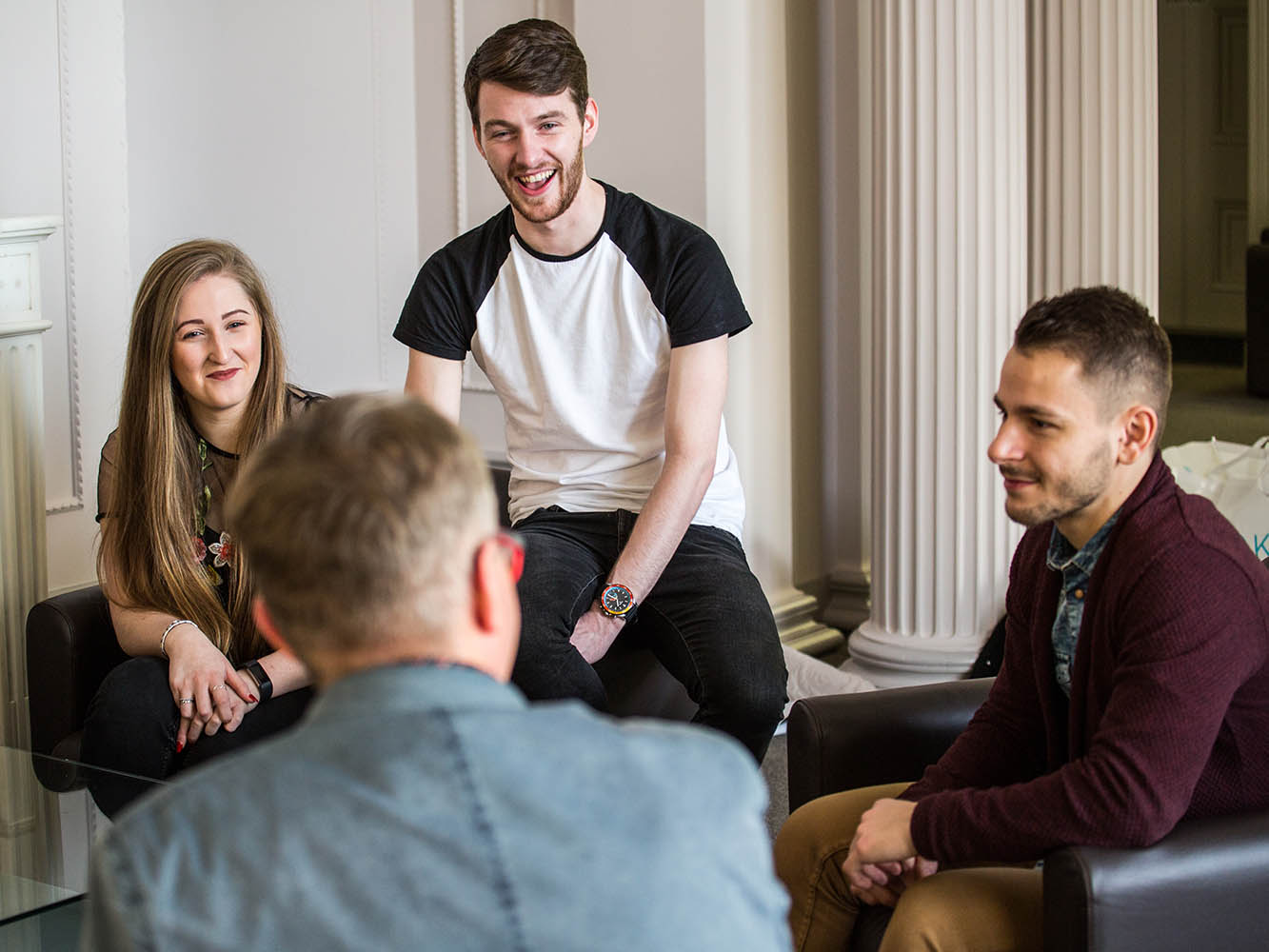 Applied social sciences involves the study of the society we live in, and the relationships people have within that society. This course is built around the core disciplines of psychology and sociology, providing the best possible launching pad for a career in these fascinating areas.
Our teaching is underpinned by research and real-world experience, so that you are prepared for a career in your chosen field. Approachable, friendly staff, and relatively small group sizes create a more informal learning environment, which is valued highly by our students. Innovative elective modules in the final years allow you to tailor your degree around your own areas of interest; preparing you for a rewarding career in your field of interest. 
This course has a 91% student satisfaction rate - Unistats, 2018.
This course has one study option
Mode of Attendance
Mode of Study
Start Date
Course Length
Year 1
The first year of this course is an opportunity to explore introductory social science theories and applications including elements of psychology, sociology, research methods and politics. Additionally you will develop generic academic skills such as writing reports, presenting and study skills.
Year 2
You will build upon the skills developed in year one, by exploring the topics in greater depth and introducing specialist modules. Academic skills will also be developed further.
YEAR 3
This year allows you to tailor your degree by choosing to study specialist modules of interest. There will be one core module that must be taken, and the other seven modules can be chosen from a range of psychology, sociology or politics modules.
Year 4
Your dissertation will be your core module and the remaining modules can be chosen from a range of varied elective choices. This is the final year of the degree and will determine 80% of your Honours classification (20% will be from your Year 3 results).
Modules
Modules and delivery order may change for operational purposes. The University regularly reviews its courses. Course content and structure may change over time. See our course and module disclaimer for more information. 
Detailed module information
You will be taught through a wide-variety of teaching methods including formal lectures, seminar activities, group work, project work and directed reading.
In Years 1 and 2 everyone studies the same modules, however in Years 3 and 4 you are given the opportunity to specialise in psychology, sociology or politics by electing to study specific modules. You can choose to specialise, or continue with all three disciplines.
Activity Summary
The activity depends on the module and includes:
Lectures
Seminars
e-Learning activites
Directed and private study.
Student led seminars.
Practical work
Class discussions
Independent Study
We encourage you to be an independent learner from the start of your course. Each module involves two to three hours of timetabled teaching each week, but you will have considerably more follow-up work beyond this.
Staff Delivering on This Course
Our class sizes are small and this, along with a high level of contact time with staff, enables us to provide a friendly and supportive learning environment.
Our team of academic staff are actively engaged in applied research which underpins the teaching in areas such as drug abuse, homelessness, Alzheimer's disease, attention deficit/hyperactivity disorder, forensic psychology, the body and political violence. Such research activity ensures that our course is kept current and relevant.
Assessment
Assessment is through a combination of exams and coursework which may be a mix of essays, reports and presentations including:
Written coursework
Portfolios
Exams
Essays
Oral presentations
Case Studies
Dissertation
Feedback
We aim to provide you with feedback within 20 working days of hand-in for all written exams, coursework and practical exams.
---
Academic Support
The Disability & Dyslexia Centre advises and supports students who disclose a sensory or mobility impairment, chronic medical condition, mental health issue, dyslexia and other specific learning differences. Applicants are encouraged to arrange a pre-entry visit to discuss any concerns and to view the facilities.
Study Skills Support
The Study Support Team provides training and support to all students in:
Academic writing
Study skills (note taking, exam techniques, time management, presentation)
Maths and statistics
English language
Information technology support
Study Abroad
During years 2 and 3 you have the opportunity to study abroad at one of our partner institutions in Poland, Cyprus, Malta, Germany, Vienna and Belgium as part of our Erasmus Exchange Programme. There is also the opportunity to study at the University of Tennessee for one semester. This allows you to enhance your personal development and confidence and benefit from studying your subject in a different culture.
Job Prospects
Undertaking a course in the social sciences keeps your career options open and offers a wide variety of routes into employment including health and social care management, human resources, the police, education, marketing and PR. Many of our graduates also undertake postgraduate study, enabling them to specialise in a variety of areas including social work, teaching, management and postgraduate research. 95% of our students are in work or study six months after finishing the course (Unistats, 2018).
SQA Higher: BBBB to include a written subject requiring the use of English.
GCE A Level: BCC to include a written subject requiring the use of English. Advanced entry may be considered for applicants with appropriate A Level subjects and grades.
Irish Leaving Certificate Higher: H2H2H3H3 to include a written subject requiring the use of English.
IB Diploma: 28 to include a Higher Level written subject requiring the use of English.
Alternative Qualifications
We welcome applications from those with equivalent qualifications to those stated, including SVQs/NVQs, access programmes and overseas qualifications. Applications from students with non-standard qualifications or work experience will be considered on an individual basis.
Applicants from Partner Colleges
A relevant HNC or HND from one of our partner colleges will be considered for entry into Year 2 or 3.
Advanced Entry
All other applicants who are interested in applying for advanced entry will be considered on an individual basis.
English Language Requirements
Applicants whose first language is not English should have an IELTS of 6.0 overall, with no component lower than 5.5.
We accept a variety of in-country and secure English language tests, find out more:
* All entry requirements listed here should be used as a guide and represent the minimum required to be considered for entry. A small number of courses require higher levels, but this will be stated explicitly on your offer letter.
For Academic Year 2018/2019
Scottish/EU Students
Rest of UK Students
International Students
£12,360 per academic year
Additional Costs
The following course-related costs are not included in the course fees:
Disclaimer
For new intakes course fees are reviewed and published annually for each mode of delivery. Tuition fees are fixed for the duration of a course at the rate confirmed in the offer letter.  For further information see:
Student Funding
If you are a Scottish resident or EU national you are not liable to pay fees and should apply to SAAS for funding.
Student Awards Agency For Scotland (SAAS)
Students from other parts of the UK should visit the appropriate website:

Scholarships and Financial Awards
You may also qualify for a scholarship or financial award:
Have a question about the course? Get in touch with UG Admissions and we'll do our best to help.
+44 (0) 1224 262728
I was given the opportunity to participate in the Erasmus Exchange Programme with Orebro University in Sweden. I was able to extend my knowledge of the functioning of various aspects of social services in Scandinavia whilst also making friends with people from all over the world.
KONRAD ZDEB, BA (HONS) APPLIED SOCIAL SCIENCES
Enquire Now
Have a question about our courses or would like to keep up to date about open days, scholarships and other news? Fill out our online enquiry form.
Apply now and start September
Apply
UCAS Code: L310
We've got a few options for applying to our undergraduate courses for UK, EU and international applicants.
Applicants for first year entry will apply to other universities as well as to RGU through a single online Universities and Colleges Admissions Service (UCAS) application.
Applicants from non-EU countries can apply direct to the University with our PDF form.
RGU accepts applications through the Common Application for those liable to pay international tuition fees.