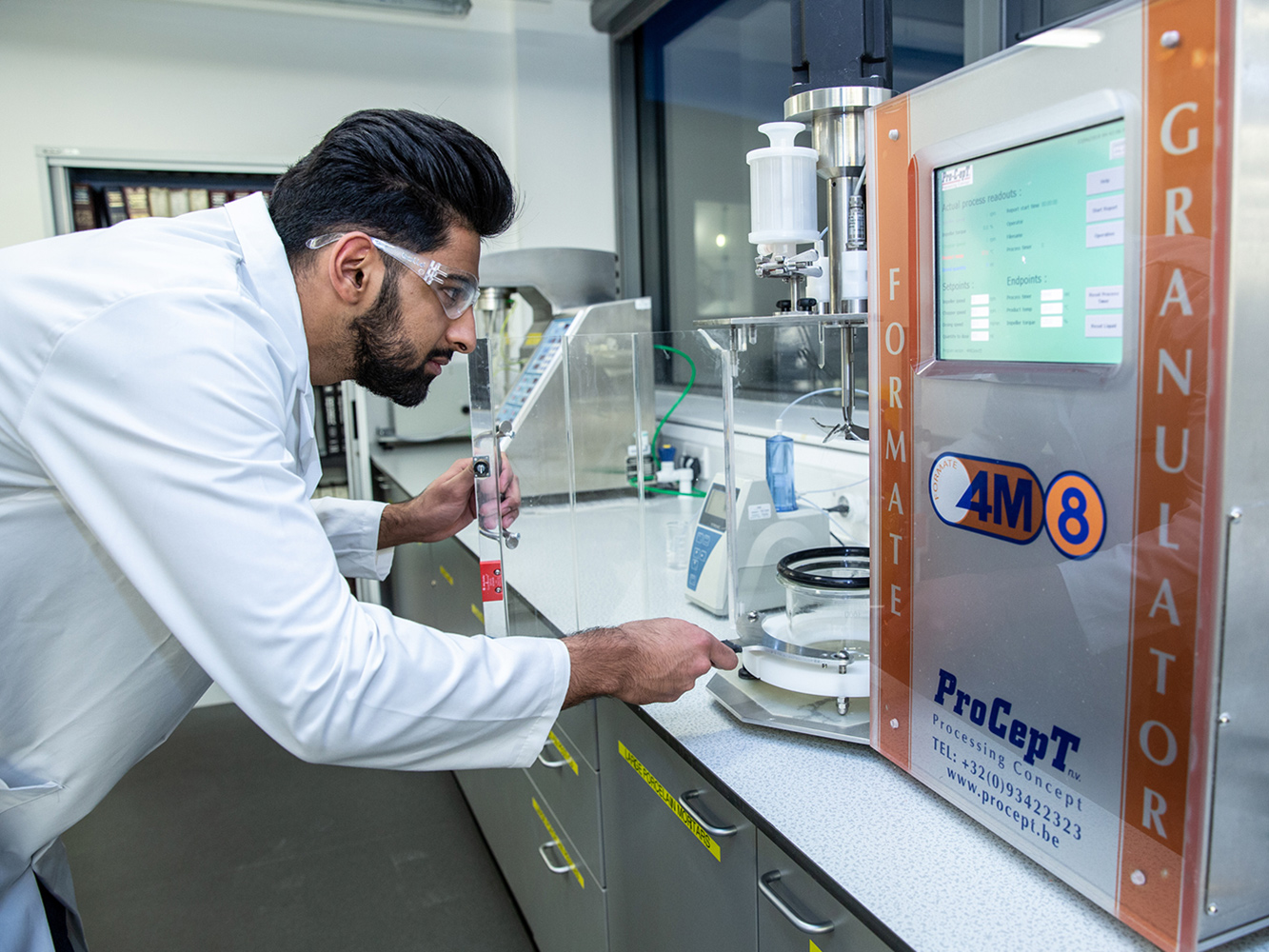 This new course will provide you with a professionally-relevant curriculum and the skills required for a successful career in an evolving field.
Our course offers a unique applied-focus, and broader curriculum including Dosage Form & Design, Pharmaceutical Analysis and Drug Discovery & Design – subjects vital to the current and future job market.
Jobs in this sector tend to require a broad skill set of chemistry, drug delivery and biomedical science. The course covers an array of subjects essential for a career in pharmaceutical science. In Semester 1 you will study Advanced Pharmaceutical Analysis and Quality Control, Drug Dosage Form and Design and Pharmacology.
In semester 2 you will study Advances in Pharmaceutical Sciences, Drug Discovery and Design and preparatory work for your project. In semester 3 you will undertake a 12 week research project. You will be industry-ready, from exposure to modern instrumentation and techniques via our broad range of state-of-the-art instrumentation and equipment.
---
Modules
Modules and delivery order may change for operational purposes. The University regularly reviews its courses. Course content and structure may change over time. See our course and module disclaimer for more information.
You will learn in lectures and tutorials, and in the well-equipped analytical science lab with an array of instrumentation. You will also learn in the pharmaceutics lab with its array of thermal analytical instrumentation, medicine manufacturing kit (e.g. tablet presses), 'Particle sizing facilities' and rheological instrumentation, in addition to the wet chemistry lab equipped for drug discovery and practical organic synthesis.
ACTIVITY SUMMARY
Lectures - Approximately 15 students per group, 8 hours per week
Tutorial - Approximately 15 students per group, 2 hours per week
Project Supervision - one-to-one, a full-week (excluding Wednesday afternoon)
Practical class or workshop - Approximately 15 students per group, 6 hours per week
INDEPENDENT STUDY
There will be directed and private study for all modules, typically 100 hours per module per semester.
STAFF DELIVERING ON THIS COURSE
Teaching staff on the course consists of industry experts, subject specialists and experienced researchers.
ASSESSMENT
Typically students are assessed each year:
6 written assignments, including essays
4 report
1 dissertation
1 project output
1 oral assessment
1 group critique
Feedback
We aim to provide you with feedback within 20 working days of hand-in for all written exams, coursework and practical exams.
---
ACADEMIC SUPPORT
The Disability & Dyslexia Centre advises and supports students who disclose a sensory or mobility impairment, chronic medical condition, mental health issue, dyslexia and other specific learning differences. Applicants are encouraged to arrange a pre-entry visit to discuss any concerns and to view the facilities.
ONLINE LEARNING & SUPPORT
All undergraduate and postgraduate students, whether you are learning on-campus or by online distance learning, benefit from using our collaborative virtual learning environment, CampusMoodle. You will be provided with 24/7 online access to your learning material and resources, along with the ability to interact with your class members and tutors for discussion and support.
STUDY SKILLS SUPPORT
The Study Support Team provides training and support to all students in:
Academic writing
Study skills (note taking, exam techniques, time management, presentation)
Maths and statistics
English language
Information technology support
Library Support
The Library offers support for your course, including the books, eBooks, and journals you will need. We also offer online reading lists for many modules, workshops and drop-ins on searching skills and referencing, and much more.
Job Prospects
It is expected that this MSc will give graduates a competitive edge when applying for jobs in the Pharmaceutical science sector.
There are several career options, some of which include:
Research in academia or the pharmaceutical/biotechnology industry
The chemical or pharmaceutical industry (research and development, production and regulatory affairs)
Government agencies such as drug licensing authorities
Applicants normally hold a 2:2 undergraduate honours degree in a relevant science subject area.
Applicants with a lower degree classification and / or relevant work experience will be considered on a case by case basis.
English Language Requirements
Applicants whose first language is not English should have an IELTS of 6.0 overall, with no component lower than 5.5, or an equivalent.
We accept a variety of in-country and secure English language tests, find out more:
INTERNATIONAL STUDENTS
International students who do not meet our direct entry requirements for this course can gain additional entry points through our International College at Robert Gordon University.
Our Pre-Sessional English Programme (PSP) is available for students who have not yet reached the required English level and those who would like to improve their language competency.
Pre-Sessional English Programme at RGU
Please note, some courses may require a higher standard of English than stated in this page. Contact admissions@rgu.ac.uk for further information.
For Academic Year 2019/2020
UK/EU Students
International Students
Additional Costs
The following course-related costs are not included in the course fees:
The cost of books that you may wish to purchase.
Costs associated with your placement / study abroad
Alumni Discount
Robert Gordon University is delighted to offer a 20% loyalty discount on course fees for all alumni who have graduated from RGU.
Student Funding
Postgraduate students will normally make their own arrangements for payment of fees. However, there are a limited number of SAAS funded places on certain postgraduate courses.
There are also sources of funding that are applicable to categories of student.
Postgraduate Students' Funding
Scholarships and Financial Awards
You may also qualify for a scholarship or financial award:
SCHOLARSHIPS AND FINANCIAL AWARDS
DISCLAIMER
For new intakes course fees are reviewed and published annually for each mode of delivery. Tuition fees are fixed for the duration of a course at the rate confirmed in the offer letter. For further information see:
Have a question about the course? Get in touch with our Student Admissions Team and we'll do our best to help.
+44 (0) 1224 262728
I can see the MSc in Pharmaceutical Science being particularly useful for Pharmacists, like myself, who work in the Pharmaceutical Industry and do not wish to practice in a community pharmacy
CALLUM CHAPMAN | GLOBAL GRADUATE ASSOCIATE, DEVELOPMENT QUALITY BIOLOGICS AT ASTRAZENECA
Taking this course, you will have access to some of the world's best facilities.
We've invested more than £100 million in the development of our campus, new facilities and new resources.
University Wide Facilities
Apply
We've got a few options for applying to our postgraduate courses for UK, EU and international applicants.
All applicants to postgraduate courses can apply direct to the university using our online application form.
Applicants from non-EU countries can apply direct to the University with our PDF form.