Nursing – Children and Young People
BSc
Applications Open - Subject to Validation*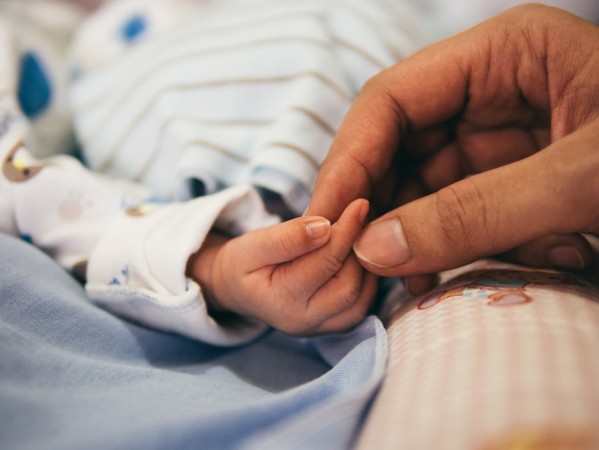 As a Children & Young People (CYP) Nurse you will work in partnership with children, young people and their families, aiming to improve and support their health and wellbeing. Our course is designed to develop you as a CYP Nurse providing holistic care across a variety of healthcare and social settings.
You will mainly work with people under the age of 16 years old however our course will provide you with a wider understanding of care for individuals across the lifespan. Initially you will learn with peers in the adult and mental health fields before you develop your professional knowledge, experience and understanding specific to CYP nursing.
This field of nursing is challenging and also extremely rewarding as you can make a positive impact on people's lives.
96% of students were satisfied with the teaching on this course - National Student Survey 2019
Year 1
You will study the core themes of nursing, sciences, health, and practice learning. You will explore values-based professional, compassionate and family-centred care, health and wellbeing across the lifespan, and learn the essential skills to deliver safe nursing practice in a variety of settings in today's multi-cultural environment.
Year 2
The core themes advance to a more complex level. Students in all fields will develop their ability to link and apply theory to practice, providing care to people who may be at any stage of life and who may have a range of mental, physical, cognitive or behavioural health challenges.
YEAR 3
The final year allows students to focus on integrating the knowledge, skills and attitudes necessary for working autonomously in their primary chosen field. The themes from years 1 and 2 will be explored at a more complex level. You will also cover management, leadership and research skills in the healthcare environment.
COURSE CONTENT
The course content was correct at the time of publishing and may be subject to change, particularly until the course is validated by the Nursing and Midwifery council (NMC).
Modules
Modules and delivery order may change for operational purposes. The University regularly reviews its courses. Course content and structure may change over time. See our course and module disclaimer for more information.
Detailed module information
The BSc Nursing (Children & Young People) degree is taught over three years and each year has three semesters, with 45 weeks of the year either in university or on placement in health and social care settings.
In each year you will study 4 modules, one practice learning module and three theory modules, which are divided up throughout the year and distributed equally in terms of time.
All modules are cumulatively assessed and must be passed to progress through the course.
Activity Summary
Lectures - 220 students per group, on campus or online, 6 hours per week
Tutorial - 30 students per group, 6 hours per week
Practical class or workshop - 30 students per group, 6 hours per week
Directed / Private Study - 18 hours per week
Placement / Work Based Learning - Students per group varies on placement, equivalent to 37.5 hours per week
Independent Study
Self-study, including learning in practice, is an important factor in your success. The modules of this course are delivered face-to-face and online. You will be expected to engage with online learning, access and complete all elements, and work independently through guided directed study. Strong organisation and self-direction skills are essential.
CLINICAL SIMULATION
A key part of the course is experiencing real-life clinical situations in a realistic and safe simulated environment. Using volunteer patients and a range of facilities across campus, you can practice your nursing care and deliver within various scenarios.
Watch our video on simulated learning:
STAFF DELIVERING ON THIS COURSE
Core modules are delivered by staff from across the school with expertise across all fields of practice and subject disciplines. The CYP Lecturing team are all registered CYP Nurses and educators, with expertise from a variety of healthcare settings and roles. Registered nurse colleagues from practice share their expert knowledge and skills, and service-users occasionally share their lived-experience. CYP from the local community work with us to deliver nurse education. Technology Enhanced Advisors support all our teaching and learning activities.
Assessment
Typically students are assessed each year:
Year 1
2 written assignments, including essays
1 practical skills assessment
1 computer aided exam
Year 2
1 written exam, typically for 2.5 hours
1 written assignment, including essays
1 oral assessment
1 practical skills assessment
Year 3
1 written exam, typically for 2.5 hours
1 written assignment, including essays
1 project output
1 practical skills assessment
Feedback
We aim to provide you with feedback within 20 working days of hand-in for all written exams, coursework and practical exams.
---
ACADEMIC SUPPORT
The Disability & Dyslexia Centre advises and supports students who disclose a sensory or mobility impairment, chronic medical condition, mental health issue, dyslexia and other specific learning differences. Applicants are encouraged to arrange a pre-entry visit to discuss any concerns and to view the facilities.
ONLINE LEARNING & SUPPORT
All undergraduate and postgraduate students, whether you are learning on-campus or by online distance learning, benefit from using our collaborative virtual learning environment, CampusMoodle. You will be provided with 24/7 online access to your learning material and resources, along with the ability to interact with your class members and tutors for discussion and support.
STUDY SKILLS SUPPORT
The Study Support Team provides training and support to all students in:
Academic writing
Study skills (note taking, exam techniques, time management, presentation)
Maths and statistics
English language
Information technology support
Library Support
The Library offers support for your course, including the books, eBooks, and journals you will need. We also offer online reading lists for many modules, workshops and drop-ins on searching skills and referencing, and much more.
Placements
You will undertake practice learning experiences from year 1 and gain an awareness of the varied and advancing nature of nursing. Practice learning will take place in a range of healthcare settings, across a range of geographical locations in Grampian, Highland, Orkney and Shetland, and each placement is the equivalent of 37.5hrs a week.
You will have the opportunity to learn within dynamic collaborative working teams which may consist of Doctors, Occupational Therapists, Physiotherapists, Pharmacists, Radiographers, Social Workers, Social Care Workers, Carers, Charities and Volunteers.
Year 1 has 3 placements
Year 2 has 3 placements
Year 3 has 2 placements
Grampian Houston Exchange
The Grampian Houston Exchange is an exchange programme providing opportunities to gain experience in Houston, USA and to host the experiences of students coming from Houston for two weeks in the summer.
Study Abroad
In years 2 and 3 there are opportunities to have an overseas experience such as an exchange visit to one of our overseas partners or attending an overseas conference. This is a perfect opportunity to experience healthcare provision and education in a different country and meet other students.
The Grampian Houston Exchange provides opportunities to gain experience in Houston, USA for two weeks in the summer.
Job Prospects
Children and Young People's Nurses are in demand throughout the UK. This field of nursing is challenging but rewarding and can make a positive impact not only on the child and young person's life but their whole family as well. You will have the potential to work in the UK as well as abroad across a range of health and social care settings such as in the community (e.g. schools, health centres, community teams, patient homes), hospitals (e.g. wards, intensive care, accident and emergency, operating theatres, clinics, Neonatal Units) social care and voluntary agencies. As a children and young people nurse you will be expected to work for the welfare and best interests of the child or young person and therefore it will be key to work in partnership with children, young people and their families in order to support their health and wellbeing. You will have a role in co-ordinating care along with other members of teams that may include Teachers, Play Therapists, Psychologists, Doctors, Specialist Nurses, Social Workers and Health Visitors.
Standard Entry Requirements
SQA Higher: CCC. Higher English and a science subject are recommended. English, Maths and a science subject are required at National 5 grade C or above if not held at Higher.
GCE A Level: CC. A Level English and a science subject are recommended. English, Maths and a science subject are required at GCSE grade 5/C or above if not held at A Level.
Irish Leaving Certificate Higher: H3H4H4. Higher English and a science subject are recommended. English, Maths and a science subject are required at grade O3 or above if not held at Higher.
IB Diploma: 24. Higher Level English and a science subject are recommended. English, Maths and a science subject are required at Standard Level grade 3 if not held at Higher.
Minimum entry requirements
The minimum entry requirements for widening access applicants are:
SQA Higher: CCC. Higher English and a Science subject are recommended. English, Maths and a Science subject are required at National 5 C if not held at Higher.
ALTERNATIVE QUALIFICATIONS
For entry to year 1 we welcome applications from those with equivalent qualifications to those stated. These include:
HNC/HND in a related subject e.g. Care and Administrative Practice, Social Care, Applied Science, Social Sciences
NC Level 6 in Health and Social Care plus 1 Higher at C or above,
QQI/FETAC level 5 – at required grade and in relevant subject area
SWAP Access – in relevant (nursing) subject area
SVQs/NVQs (level 3 and above) Accepted in combination with other qualifications
Equivalent overseas qualifications.
We welcome applications from those with equivalent qualifications to those stated, including SVQs/NVQs, access programmes and overseas qualifications. Applications from students with non-standard qualifications or work experience will be considered on an individual basis.
International Students
International students who do not meet our direct entry requirements for this course can gain additional entry points through our International College at Robert Gordon University.
English Language Requirements
All applicants whose first language is not English are required to have an Academic IELTS (International English Language Testing System) minimum score of 7.0 including 7.0 in all elements. Appropriate equivalents will be considered.
We accept a variety of in-country and secure English language tests, find out more:
Our Pre-Sessional English Programme (PSP) is available for students who have not yet reached the required English level and those who would like to improve their language competency.
Pre-Sessional English Programme at RGU
Please note, some courses may require a higher standard of English than stated in this page. Contact admissions@rgu.ac.uk for further information.
FOR ACADEMIC YEAR 2020/2021
Rest of UK Students
International Students
£13,670 per academic year
FOR ACADEMIC YEAR 2019/2020
Rest of UK Students
International Students
£13,670 per academic year
Additional Costs
The following course-related costs are not included in the course fees:
The cost of books that you may wish to purchase.
Costs associated with your placement / study abroad
Additional Cost for International Fee Paying Students
Approximately £65 for uniforms (including polo shirt for clinical skills)
Approximately £300 to £500 for occupational health checks. Actual cost will depend on the immunisations required.
£52 for Protecting Vulnerable Group (PVG) check
Disclaimer
For new intakes course fees are reviewed and published annually for each mode of delivery. Tuition fees are fixed for the duration of a course at the rate confirmed in the offer letter. For further information see:
Student Funding
If you are a Scottish resident or EU national you are not liable to pay fees and should apply to SAAS for funding.
Nursing and Midwifery students who meet the criteria are entitled to a non-income-assessed bursary which is administered through the Student Award Agency for Scotland (SAAS).Student Awards Agency For Scotland (SAAS)
Students from other parts of the UK should visit the appropriate website:

Scholarships and Financial Awards
You may also qualify for a scholarship or financial award:
Have a question about the course? Get in touch with our Student Admissions Team and we'll do our best to help.
+44 (0) 1224 262728
Really interesting, challenging and fun course with inspiring lecturers and professionals that help fully prepare you for the real world of nursing - can't imagine there's a better place to study Children and Young People Nursing.
Taking this course, you will have access to some of the world's best facilities.
We've invested more than £100 million in the development of our campus, new facilities and new resources.
University Wide Facilities
Apply
UCAS Code: B732
---
The university has moved to home teaching and working following official COVID-19 guidance from the Scottish Government. Our staff will continue to process applications and respond to enquiries about your course during this time.
---
*Please note this course is subject to validation.
We continually review our course portfolio for quality assurance and enhancement purposes. Each new course goes through a rigorous approval process known as validation, those that are listed on the website as 'subject to validation' are in the final stage of approval. Applicants should be aware that the majority of new courses will go on to be approved, however validation is not guaranteed.
How to apply
We've got a few options for applying to our undergraduate courses for UK, EU and international applicants.
Applicants for first year entry will apply to other universities as well as to RGU through a single online Universities and Colleges Admissions Service (UCAS) application.
Applicants from non-EU countries can apply direct to the University with our PDF form.