Project Management
PgCert | PgDip | MSc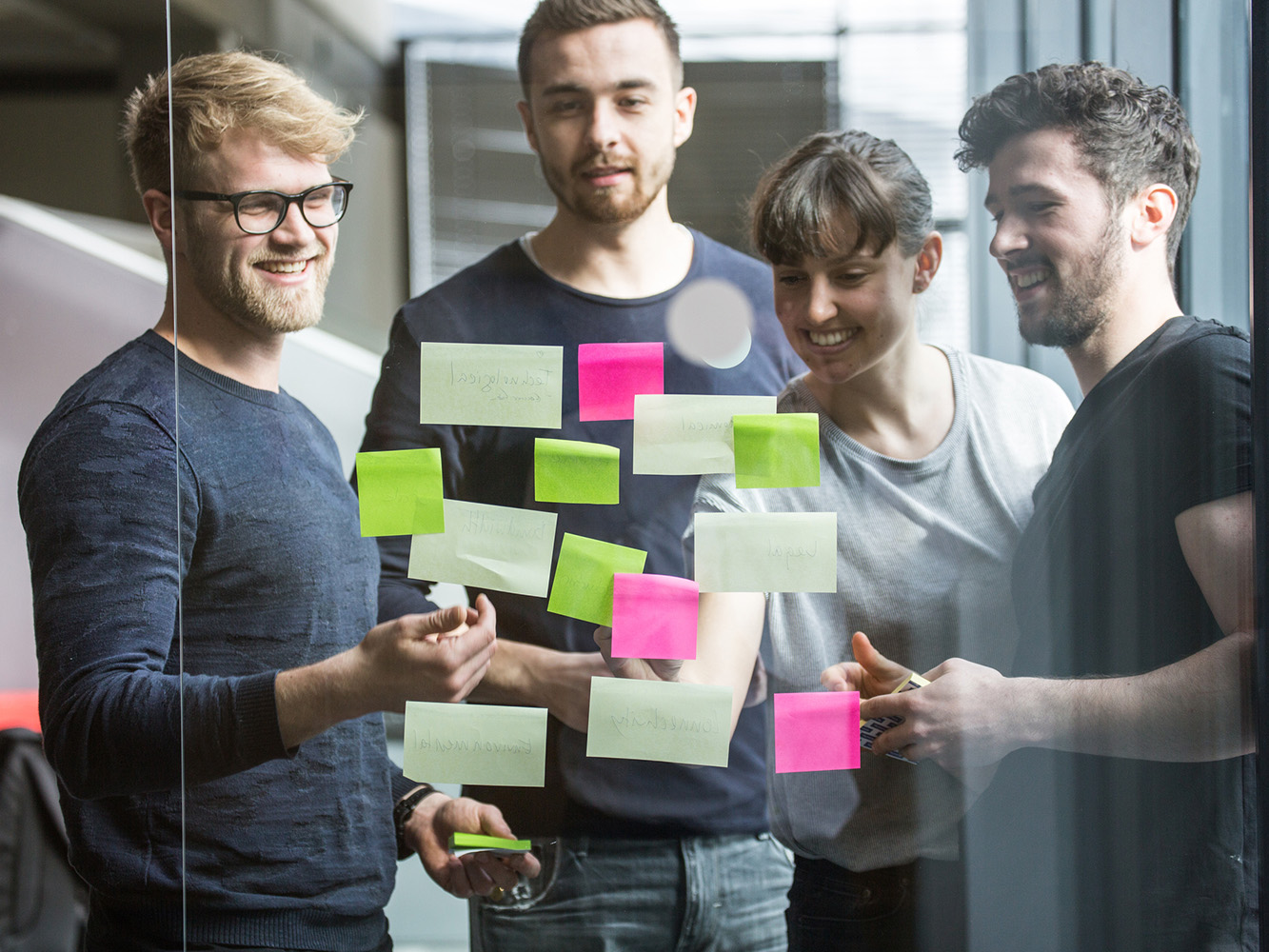 With multiple study modes, this course enables you to develop the competencies, skills and knowledge for all project management disciplines across the world. Accredited by APM and PMI, this course is suitable for those already in the profession or seeking to change direction as well as those at the start of their career.
The course is designed to meet the growing industry demand for project management professionals across a range of sectors including engineering, healthcare and energy and is developed in conjunction with diverse industry practitioners and professional bodies.
Our strong links with industry enable us to offer you practical and innovative learning experiences including the opportunity to work on real-life client based projects and case studies.
At Aberdeen Business School, we are in the business of changing your tomorrow.
stages 1+2
You will develop the technical, commercial and business knowledge, skills and competencies in key areas of project management including management of strategy, processes, project life cycle management, maturity models and project management software. Transferable skills in communication, team working and leadership will be established.
stage 3
The Capstone module is designed to provide you with an opportunity to integrate Masters level knowledge and skills by independently working on an applied academic study, a professional dissertation or, where appropriate, business consultancy project from a degree related discipline. Personal and professional skills such as research, oral presentation and teamwork will be developed.
Modules
Modules and delivery order may change for operational purposes. The University regularly reviews its courses. Course content and structure may change over time. See our course and module disclaimer for more information. 
Detailed module information
On Campus Study
You will learn through a combination of lectures, seminars and workshop sessions. These comprise of a mix of group study, discussion, simulation and presentations of findings by teams and individuals. You will work as an individual and also as part of a team on case studies, team activities, presentations and discussions. 
Access to our virtual learning environment, CampusMoodle, is also provided giving you access from home to learning materials (including videos, e-books and journals).
Online Distance Learning
Our virtual learning environment, CampusMoodle offers you flexibility of where and when you can study, offering full and open access to tutors and other class members. You have the benefit of being part of a group of learners with the invaluable opportunity to participate in active, group-related learning within a supportive online community setting. The online campus provides you with lectures and course materials, discussion forums and live chat.  
Activity Summary
The below represents full-time on-campus delivery, distance learning and part-time delivery may differ.
Lectures - 10-30 students per group, 96 hours per semester
Tutorial - 10-30 students per group, 48 hours per semester
Project Supervision - 1-4 students per group, 12 hours per semester
Independent Study - 456 hours per semester
Independent Study
The course encourages you to work autonomously and to take responsibility for your own learning and professional development. The main vehicle for independent learning is the Capstone Project where you will develop your learning in many aspects: the nature of research, writing a proposal, sourcing relevant information, data collection and analysis, research ethics and presenting work.
Staff Delivering on This Course
Academic staff who teach on this course have worked in a range of professional backgrounds, are 'business-connected' and use professional networks and their academic research to ensure teaching is professionally relevant.
Our staff have either achieved Fellowship of the Higher Education Academy, or are working towards this. This is a professional recognition of lecturer practice, impact and leadership in teaching and learning. In addition, many have featured in the annual Support and Teaching staff with Appreciation and Recognition (STAR) awards voted by the students and organised by RGU:Union.
We have a proactive Industry Liaison Group who provide input to course redesign and may contribute to classes through guest lectures and masterclasses.
Assessment
Please note the below represent full-time on-campus delivery, distance learning and part-time delivery will differ.
Typically students are assessed each year:
2 written assignments, including essays
2 reports
1 dissertation
3 practical skills assessments
1 presentation
Feedback
We aim to provide you with feedback within 20 working days of hand-in for all written exams, coursework and practical exams.
---
Academic Support
The Disability & Dyslexia Centre advises and supports students who disclose a sensory or mobility impairment, chronic medical condition, mental health issue, dyslexia and other specific learning differences. Applicants are encouraged to arrange a pre-entry visit to discuss any concerns and to view the facilities.
Study Skills Support
The Study Support Team provides training and support to all students in:
Academic writing
Study skills (note taking, exam techniques, time management, presentation)
Maths and statistics
English language
Information technology support
JOB PROSPECTS
You will have the opportunity to take up membership with the APM and PMI during your studies which will provide excellent networking and career opportunities.
Project Management is very flexible, with the project management process being able to be applied globally and cross sector. The subject are encompasses competencies, skills and knowledge required for most management roles and you can build on these to meet your own career aspirations.
Previous graduates have gone on to successful careers in a variety of industry sector including energy, engineering, built environment, construction, education, film, research and development, local government and financial services. Typical roles include project engineer, quality manager, finance manager, web design manager, contracting manager, procurement /purchasing manager and project/programme coordinator. 
English Language Requirements
Applicants whose first language is not English should have an IELTS of 6.5 overall, with no component lower than 5.5, or an equivalent.
We accept a variety of in-country and secure English language tests, find out more:
International Students 
International students who do not meet our direct entry requirements for this course can gain additional entry points through our International College at Robert Gordon University.
* All entry requirements listed here should be used as a guide and represent the minimum required to be considered for entry. A small number of courses require higher levels, but this will be stated explicitly on your offer letter.
For Academic Year 2018/2019
Additional Costs
The following course-related costs are not included in the course fees:
The cost of books that you may wish to purchase.
Find your reading list by module.
Costs associated with your placement / study abroad
You can join the PMI as a student member at a cost of c. £30
Alumni Discount
Robert Gordon University is delighted to offer a 20% loyalty discount on course fees for all alumni who have graduated from RGU.
Student Funding
Postgraduate students will normally make their own arrangements for payment of fees. However, there are a limited number of SAAS funded places on certain postgraduate courses.
There are also sources of funding that are applicable to categories of student.
Postgraduate Students' Funding
Scholarships and Financial Awards
You may also qualify for a scholarship or financial award:
SCHOLARSHIPS AND FINANCIAL AWARDS
DISCLAIMER
For new intakes course fees are reviewed and published annually for each mode of delivery. Tuition fees are fixed for the duration of a course at the rate confirmed in the offer letter.  For further information see:
Have a question about the course? Get in touch with PG Admissions and we'll do our best to help.
+44 (0) 1224 262209
The program strives in every way to bridge the gap between taught theory and real-life practice. The class is interested in many different industries, and equips us for our next career steps, learning to think critically and creatively in any project situation instead of just applying a formula. It is obvious that all of the tutors and the ABS team are committed to see students succeed.
KATIE NEWBERGER, MSC PROJECT MANAGEMENT STUDENT
Accreditation
This degree is fully accredited by the Association for Project Management (APM) and also by the PMI Global Accreditation Centre for Project Management Education Programs (GAC). You will have the opportunity to take up membership with the APM and PMI during your studies and this can provide excellent networking and career opportunities.
Aberdeen Business School is also recognised by the Project Management Institute (PMI) as a Global Registered Provider. We are one of only three UK universities to be recognised as a Registered Education Providers. These are organisations who are approved by PMI to offer project management training for Professional Development Units (PDU).
Enquire Now
Have a question about our courses or would like to keep up to date about open days, scholarships and other news? Fill out our online enquiry form.
Apply
We've got a few options for applying to our postgraduate courses for UK, EU and international applicants.
All applicants to postgraduate courses can apply direct to the university using our online application form.
All applicants can apply direct to the University with our PDF form.