Data Science
PgCert | PgDip | MSc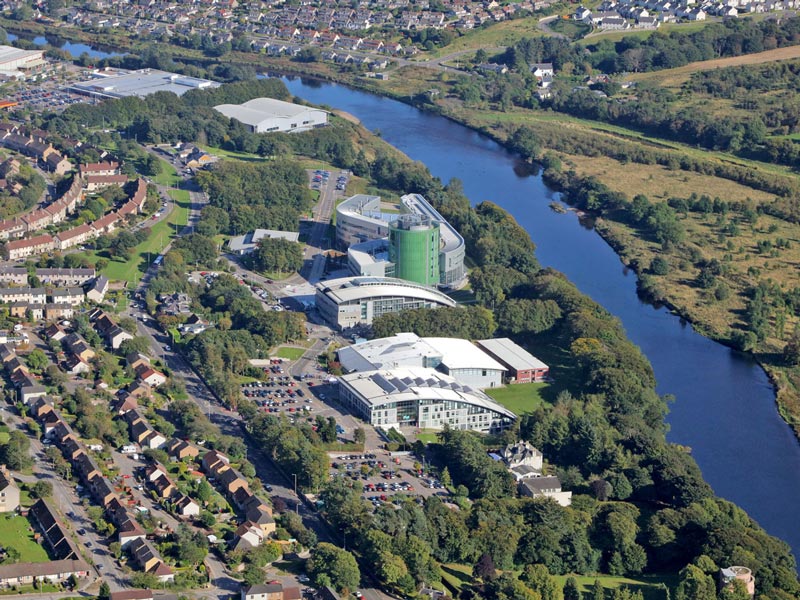 This course produces specialist Data Scientists who can design and implement computer-analytics and visualisation solutions for industry. With an emphasis on Big Data, you will gain an understanding of the needs of businesses and how to manage requirements in this emerging international area of focus for companies, governments and economies.
The course focuses on Big Data, traditional and unconventional data management, including acquisition, storage, warehousing, analytics and visualisation tools and techniques. You'll put these skills into practice in our state-of-the-art facilities.
Importantly, the course satisfies industry's demand for Data Scientists who have the ability to relate key performance indicators, and contribute to business decision-making at a high level – giving you an advantage in the job market.
Throughout the course, content is complemented by practical work, allowing you to support your theoretical knowledge with practical experience in data storage, mining, warehousing, visualisation and analysis as well as transferrable skills.
The individual project provides an opportunity for applying specialist knowledge together with analytic, problem-solving, managerial and communication skills to a particular area of interest within data science. Working with the full support and guidance of an allocated Project Supervisor, you will propose, plan, specify, develop, evaluate, and present a substantial project.
Modules
Modules and delivery order may change for operational purposes. The University regularly reviews its courses. Course content and structure may change over time. See our course and module disclaimer for more information.
Detailed module information
You will be taught through a mixture of lectures, tutorials, labs.  You will be invited to attend talks presented by highly-experienced researchers, speakers from industry, and members of the BCS (British Computer Society) on a wide range of industry-related topics. You will also be supported through our online virtual learning environment where you can access a wide variety of resources and other support materials.
Part-time September start students
A) Part-time September start students who would like to work on their project during the summer start their project in May of their second year and complete in December of their third year. (Approximately 28 months)
B) Part-time September start students who would like to avoid working on their project during the summer start their project in September of their third year and complete in May that year.  (Approximately 33 months)
Part-time January start students
C) Part-time January start students who would like to work on their project during the summer will start their project in January of their third year complete their project in August that year. (Approximately 32 months)
D) Part-time January start students who would like to avoid working on their project during the summer will start their project in January of their third year, have a break during the summer semester and continue their project September-December that year. (Approximately 36 months)
Activity Summary
Lectures - 30 students per group, 24 hours over two months
Tutorial - 30 students per group, 24 hours over two months
Independent Study
A significant portion of this courses is underpinned by independent learning, and you will be expected to be responsible for managing your coursework, reading and other learning activities appropriately.
STAFF DELIVERING ON THIS COURSE
Our staff members feature in the annual Support and Teaching staff with Appreciation and Recognition (STAR) awards voted by the students and organised by RGU:Union. Recently we have been awarded two Lecturer of the Year awards and an award for Continued Excellence.
Many of our academic staff are Fellows or Senior Fellows of the Higher Education Academy or are working towards this accolade. This is a professional recognition of practice, impact and leadership of teaching and learning.
Staff on this course could also include: visiting lecturers, visiting Distinguished Researchers, library staff and industry experts and postgraduate researchers.
Assessment
Typically students are assessed each year:
Year 1
4 written exams, typically for 3-4 hours
2 reports
1 dissertation (final year project)
1 oral assessment
8 practical skills assessment
1 group critique
Feedback
We aim to provide you with feedback within 20 working days of hand-in for all written exams, coursework and practical exams.
---
Academic Support
The Disability & Dyslexia Centre advises and supports students who disclose a sensory or mobility impairment, chronic medical condition, mental health issue, dyslexia and other specific learning differences. Applicants are encouraged to arrange a pre-entry visit to discuss any concerns and to view the facilities.
Study Skills Support
The Study Support Team provides training and support to all students in:
Academic writing
Study skills (note taking, exam techniques, time management, presentation)
Maths and statistics
English language
Information technology support
Placements
Students who perform particularly well during their first semester of studies will be invited to apply for any long-term placement opportunities (40-45 weeks) found by the Placement Office. Alternatively, you can seek your own long placement or a short placement. Note that permission to undertake a placement is at the discretion of the School and students who optionally go on placement also need to pay a £1000 fee.
Job Prospects
The opportunity to exploit Big Data is recognised world-wide, and it is included in government economic strategies. The UK Government and Scottish Governments highlight it as an emerging opportunity for growth. The course prepares you for a career in Data Science or in Big Data. Job openings include: Data Scientist, Data Analyst, Data Visualisation Specialist, Data Manager, Database Designer/Manager, Data Mining Expert and Big Data Scientist. The course also prepares students for research careers by providing the skills necessary of an effective researcher. Suitable MSc graduates may continue to PhD programmes within the school.
Aberdeen is home to many multinational oil and gas companies and associated suppliers such as mainstream software houses, IT providers to major oil-related companies, specialist software consultancies, and venture capital start-ups, so graduates can seek employment locally. RGU is also involved in a number of commercial collaborations on a local, national and international scale with organisations such as BP, British Geological Survey, Wood Group PSN, Accenture, WIPRO and many Aberdeen-based software development companies, and you may benefit from the university's links with some of these companies when it comes to securing placements or employment.
English Language Requirements
Applicants whose first language is not English should have an IELTS of 6.0 overall, with no component lower than 5.5, or an equivalent.
We accept a variety of in-country and secure English language tests, find out more:
International Students 
International students who do not meet our direct entry requirements for this course can gain additional entry points through our International College at Robert Gordon University.
* All entry requirements listed here should be used as a guide and represent the minimum required to be considered for entry. A small number of courses require higher levels, but this will be stated explicitly on your offer letter.
For Academic Year 2018/2019
Additional Costs
The following course-related costs are not included in the course fees:
The cost of books that you may wish to purchase.
Find your reading list by module
Costs associated with your placement / study abroad
£1,000 for optional long placement
£320 for optional short placement
Alumni Discount
Robert Gordon University is delighted to offer a 20% loyalty discount on course fees for all alumni who have graduated from RGU.
Student Funding
Postgraduate students will normally make their own arrangements for payment of fees. However, there are a limited number of SAAS funded places on certain postgraduate courses.
There are also sources of funding that are applicable to categories of student.
Postgraduate Students' Funding
Scholarships and Financial Awards
You may also qualify for a scholarship or financial award:
SCHOLARSHIPS AND FINANCIAL AWARDS
DISCLAIMER
For new intakes course fees are reviewed and published annually for each mode of delivery. Tuition fees are fixed for the duration of a course at the rate confirmed in the offer letter.  For further information see:
Have a question about the course? Get in touch with PG Admissions and we'll do our best to help.
+44 (0) 1224 262209
Enquire Now
Have a question about our courses or would like to keep up to date about open days, scholarships and other news? Fill out our online enquiry form.
Apply
We've got a few options for applying to our postgraduate courses for UK, EU and international applicants.
All applicants to postgraduate courses can apply direct to the university using our online application form.
All applicants can apply direct to the University with our PDF form.