Advanced Pharmacy Practice
PgCert | PgDip | MSc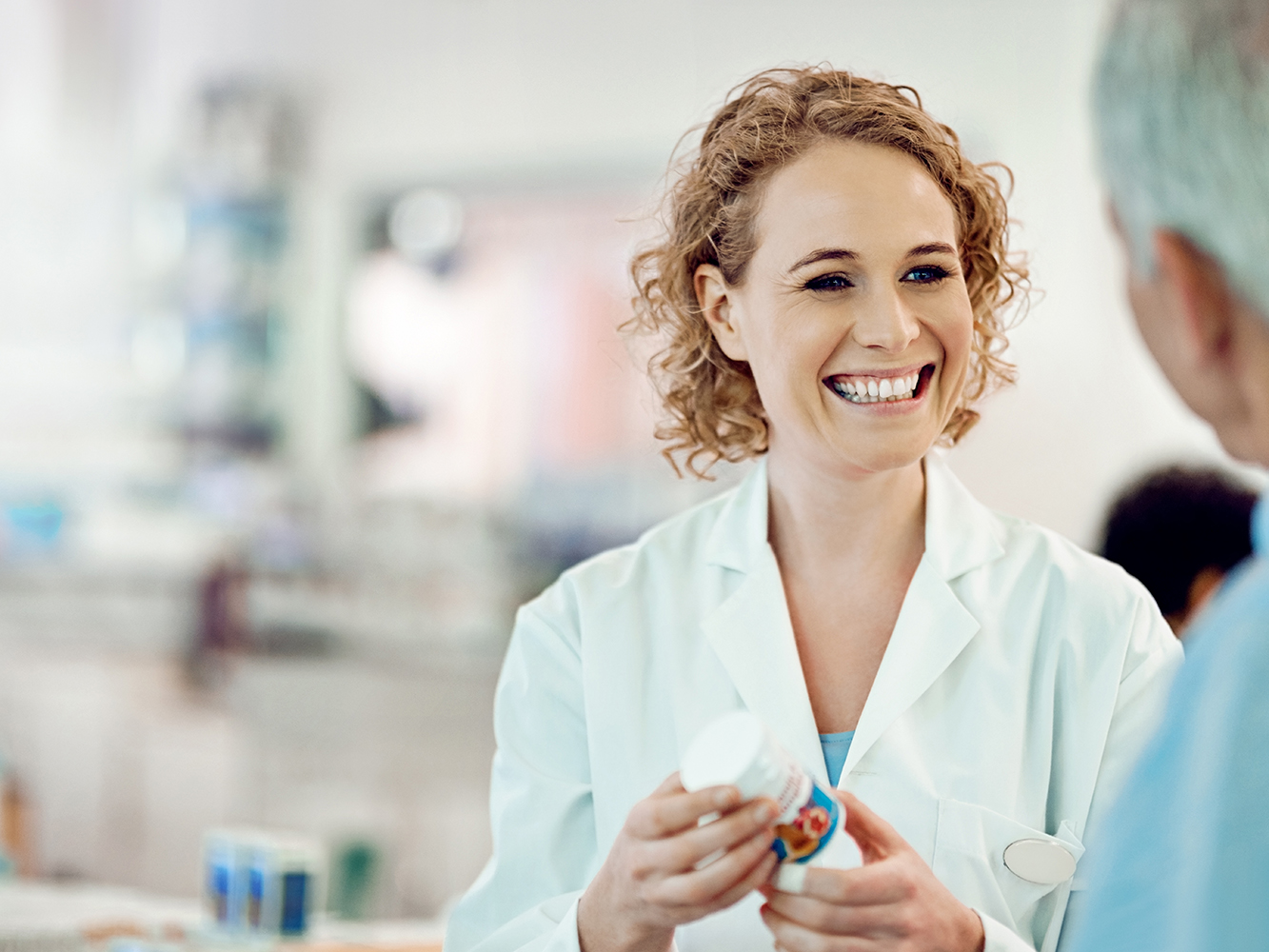 This is a career-enhancing course that will equip you with the necessary knowledge, skills, attitude and competencies required for effective advanced pharmacy practice.
This course has been designed to deliver a focused education on all competencies, skills and attitudes required to become an Advanced Practitioner.  You will have many opportunities to use experience of professional practice, enabling you to reflect analytically and self−critically. This is a career-enhancing course, throughout which you'll become an independent and reflective life-long learner with the ability to make a positive impact on patient's lives. (This course is pending validation.)
PgCert stage (stage 1) - 30 weeks, Jan – Aug
The first two modules are common and are studied over 2 semesters. Pharmaceutical Care Planning (30 credits) focuses on the development and implementation of evidence-based pharmaceutical care plans for patients and Therapeutics (30 credits) covers a wide-range of therapeutic topics.
PgDip Stage (stage 2) - 60 WEEKS, Sep - June
You will complete 60 credits – 30 of which will be Pharmacist Independent Prescribing with a compulsory 5-day residential period at RGU in Aberdeen. On completion of this module Pharmacists will be eligible for annotation as Pharmacist Independent Prescribers by the General Pharmaceutical Council.
You will also undertake a choice of two modules from:
Prescribing Decision Making (15 credits)
Clinical Practice Elective (Pharmacy) (15 credits)
Advanced Therapeutics and Personalised Medicine (15 credits)
Safety and Quality in Medicine Use (15 credits)
Managing Long Term Conditions (15 credits)
Advanced Concepts of Improving Health and Wellbeing (15 credits) 
Clinical History Taking and Examination Skills for Advanced Practice (15 credits)
MSc Stage (stage 3) - 90 WEEKS, July - April
You will undertake an MSc by portfolio in the Advanced Pharmacy Practice module (60 credits). The content is mapped with the RPS Advanced Pharmacy Framework clusters enabling you to develop the relevant knowledge, skills, attitudes and competencies required for effective advanced pharmacy practice.
---
Modules
Modules and delivery order may change for operational purposes. The University regularly reviews its courses. Course content and structure may change over time. See our course and module disclaimer for more information. 
You will be taught part-time via our virtual learning environment Campus Moodle, allowing you to develop all necessary knowledge, skills, attitude and competencies while you remain in employment. The Course Leader is a central point for information and support with regard to the delivery of the course. It is also recommended (but not mandatory) that you have a work-placed mentor to provide local support and encouragement.
Activity Summary
Independent Study - 600h per stage, 10-15hrs per week
Placement / Work Based Learning - 90 hours
Independent Study
All your materials will be provided online and are designed to allow self-assessment of learning needs.
STAFF DELIVERING ON THIS COURSE
Staff delivering this course are practiced academics, with active links to national and international industry bodies including the Royal Pharmaceutical Society, General Pharmaceutical Council, Canadian Pharmaceutical Association, Royal Pharmaceutical Society Faculty, and the Chamber of Pharmacist of Austria and Germany.
The Course Leader is your central point for information and support with regard to the delivery of the course. You will be supported by e-tutors who are all practicing clinical pharmacy practitioners. They review the learning materials, provide real-life case scenarios and participate in the marking of practice related assessments. They facilitate discussion and learning within the modules and bring a unique practice-related perspective to learning.
Assessment
You will be assessed by continuous assessment based on your acquisition and application of knowledge in practice-related problem-based scenarios and activities including: responding to case studies, developing care plans and essay responses to specific topics and contribution to online discussion forums, formative peer-assessed essays, short answer problem/case study questions and multiple-choice questions. In addition there is a compulsory 5-day residential period during which you will complete an Objective structured clinical examination (OSCE) assessment.
Typically students are assessed each year:
6 written assignments, including essays
1 dissertation
4 portfolio
1 set exercises
1 oral assessment
1 practical skills assessment
Feedback
We aim to provide you with feedback within 20 working days of hand-in for all written exams, coursework and practical exams.
---
ACADEMIC SUPPORT
The Disability & Dyslexia Centre advises and supports students who disclose a sensory or mobility impairment, chronic medical condition, mental health issue, dyslexia and other specific learning differences. Applicants are encouraged to arrange a pre-entry visit to discuss any concerns and to view the facilities.
ONLINE LEARNING & SUPPORT
All undergraduate and postgraduate students, whether you are learning on-campus or by online distance learning, benefit from using our collaborative virtual learning environment, CampusMoodle. You will be provided with 24/7 online access to your learning material and resources, along with the ability to interact with your class members and tutors for discussion and support.
STUDY SKILLS SUPPORT
The Study Support Team provides training and support to all students in:
Academic writing
Study skills (note taking, exam techniques, time management, presentation)
Maths and statistics
English language
Information technology support
Library Support
The Library offers support for your course, including the books, eBooks, and journals you will need. We also offer online reading lists for many modules, workshops and drop-ins on searching skills and referencing, and much more.
JOB PROSPECTS
Your employer will benefit from your completion of this course as it is designed to enable you to develop in the key competency areas for advanced practice. This course has been designed in collaboration with employers in both primary and secondary care to ensure that the course is kept up-to-date and in line with current practice and the demands of the workplace. The multi-disciplinary nature of the course enhances its appeal to employers and as a result, career prospects are excellent.
Applicants should have an undergraduate degree in pharmacy from a UK university or overseas equivalent, at a minimum of honours level and one years post-registration experience OR an integrated masters degree in pharmacy (MPharm) and professional registration OR in consultation with the course leader.
English Language Requirements
Please be aware that any applications made too close to the closing date, requiring an IELTS test may result in deferment of the offer until the following academic year (Starting date January)
We accept a variety of in-country and secure English language tests, find out more:
Please note, some courses may require a higher standard of English than stated in this page. Contact admissions@rgu.ac.uk for further information.
International Students 
International students who do not meet our direct entry requirements for this course can gain additional entry points through our International College at Robert Gordon University.
Our Pre-Sessional English Programme (PSP) is available for students who have not yet reached the required English level and those who would like to improve their language competency.
For Academic Year 2018/2019
UK/EU Students
£2,440 for stage 1
£2,440 for stage 2
£1,620 for stage 3
International Students
£4,130 for stage 1
£4,130 for stage 2
£2,760 for stage 3
FOR ACADEMIC YEAR 2019/2020
UK/EU Students
£2,510 for stage 1
£2,510 for stage 2
£1,680 for stage 3
International Students
£4,260 for stage 1
£4,260 for stage 2
£2,830 for stage 3
Additional Costs
The following course-related costs are not included in the course fees:
The cost of books that you may wish to purchase.
Costs associated with your placement / study abroad
Alumni Discount
Robert Gordon University is delighted to offer a 20% loyalty discount on course fees for all alumni who have graduated from RGU.
Student Funding
Postgraduate students will normally make their own arrangements for payment of fees. However, there are a limited number of SAAS funded places on certain postgraduate courses.
There are also sources of funding that are applicable to categories of student.
Postgraduate Students' Funding
Scholarships and Financial Awards
You may also qualify for a scholarship or financial award:
SCHOLARSHIPS AND FINANCIAL AWARDS
DISCLAIMER
For new intakes course fees are reviewed and published annually for each mode of delivery. Tuition fees are fixed for the duration of a course at the rate confirmed in the offer letter.  For further information see:
Have a question about the course? Get in touch with our Student Admissions Team and we'll do our best to help.
+44 (0) 1224 262209
Accreditation
The course has been developed to be compatible with competency clusters outlined in the Royal Pharmaceutical Society Advanced Pharmacy Framework; is mapped to core dimensions within the NHS Knowledge and Skills Framework; and subject to University quality assurance procedures.
Register Now
Would you like to keep up to date with open days, scholarships and other news? Fill out our online form.
Taking this course, you will have access to some of the world's best facilities. 
We've invested more than £100 million in the development of our campus, new facilities and new resources.
University Wide Facilities
Apply
We've got a few options for applying to our postgraduate courses for UK, EU and international applicants.
All applicants to postgraduate courses can apply direct to the university using our online application form.
All applicants can apply direct to the University with our PDF form.