Apply now and start September 2020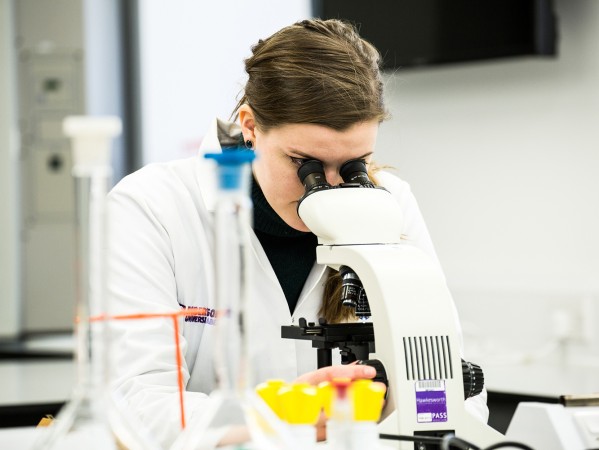 This course will prepare you for a career in the exciting field of bioscience. You will gain the essential knowledge and laboratory skills for an evolving profession where you can work on solving the biggest challenges currently faced by people and the planet – fighting disease, protecting the environment, and feeding our growing population.
As a graduate, you will be suitably qualified to enter a range of professions due to the study of a wide-variety of topics, including microbiology, biotechnology, bioanalysis, molecular biology and genetics, plant biology and environmental science. Because of the highly-practical nature of the course you will be well-prepared for the working world, and have the skills to adapt to changes throughout your career.
Applied Bioscience students will study plants, animals and microorganisms, examining how they function at both the cellular and whole-organism level. Subjects include anatomy and physiology, biochemistry, genetics and molecular biology. Students will also learn about ecology and examine challenges for biodiversity and societies globally, including climate change and public health. The applications of bioscience to society and industry is also a key aspect of the learning experience on the course, including applications of synthetic biology and bioinformatics to bioscience, regulations governing the bioscience industry and developing skills in communicating bioscience to the public.
In state-of-the-art laboratory facilities you will gain valuable hands-on experience, from microbiology to bioanalytical work and cell culture; skills which are essential to any Bioscientist. The course also covers aspects of ethics in science as well as the communication of science to the public - a government priority.
Year 1
You will be introduced to the general principles of biology, chemistry, microbiology and ecology. You will also develop basic analytical skills by undertaking experimental work in the laboratory.
YEAR 2
You will learn about the function of various forms of life, including microbes, plants and animals, including their anatomy, physiology, biochemical pathways and genetics. You will also further develop your understanding of bioanalytical techniques used in the bioscience industry.
Year 3
You will study the application of bioscience to industry, including regulations and procedures governing industry; the use of bioscientific databases and data mining in bioinformatics; and examine reducing disease risk in public health. You will develop skills in communicating science to different sectors.
Year 4
In your final year you will develop skills in experimental design and statistical analysis before undertaking an individual research project independently. You will also examine emerging areas of the bioscience industry, such as biotechnology, omics and synthetic biology.
Modules
Modules and delivery order may change for operational purposes. The University regularly reviews its courses. Course content and structure may change over time. See our course and module disclaimer for more information.
Detailed module information
Activity Summary
Lectures - 25 students per group, 50 hours per semester
Seminars - 25 students per group, 20 hours per semester
Tutorial - 25 students per group, 10 hours per semester
Project Supervision - 25 students per group, 50 hours per semester
Practical class or workshop - 25 students per group, 30 hours per semester
Independent Study - 25 students per group, 300 hours per semester
Assessment
Typically students are assessed each year:
Year 1
5 written exams, typically for 1.5 - 2 hours
3 written assignments, including essays
1 oral assessment
2 practical skills assessments
Year 2
5 written exams, typically for 1.5 - 2 hours
4 written assignments, including essays
1 oral assessment
Year 3
5 written exams, typically for 2.5 - 3 hours
4 written assignments, including essays
1 oral assessment
1 dissertation
Year 4
3 written exams, typically for 2.5 - 3 hours
2 written assignments, including essays
2 oral assessments
2 practical skills assessments
Feedback
We aim to provide you with feedback within 20 working days of hand-in for all written exams, coursework and practical exams.
Independent Study
In addition to scheduled class time and practical classes, you are expected to read widely from the provided reading lists, conduct your own research and meet with your peers to undertake allocated group work, complete tutorial assignments, and work on assessments. Together, the scheduled teaching activities and independent study equates to approximately 40 hours-per-week.
Staff Delivering on This Course
The teaching staff includes research-active individuals in a wider-range of disciplines (environmental science, microbiology, molecular and cellular biology) as well as academics who are registered with professional bodies such as the Institute of Biomedical Sciences and the Royal Society of Biology. This allows us to provide you with a course which is highly relevant to prospective employers, enhancing your employability prospects.
---
ACADEMIC SUPPORT
The Inclusion Centre advises and supports students who disclose a sensory or mobility impairment, chronic medical condition, mental health issue, dyslexia and other specific learning differences. Applicants are encouraged to arrange a pre-entry visit to discuss any concerns and to view the facilities.
ONLINE LEARNING & SUPPORT
All undergraduate and postgraduate students, whether you are learning on-campus or by online distance learning, benefit from using our collaborative virtual learning environment, CampusMoodle. You will be provided with 24/7 online access to your learning material and resources, along with the ability to interact with your class members and tutors for discussion and support.
STUDY SKILLS SUPPORT
The Study Support Team provides training and support to all students in:
Academic writing
Study skills (note taking, exam techniques, time management, presentation)
Maths and statistics
English language
Information technology support
Library Support
The Library offers support for your course, including the books, eBooks, and journals you will need. We also offer online reading lists for many modules, workshops and drop-ins on searching skills and referencing, and much more.
Study Abroad
The course provides an opportunity for you to study abroad under the Erasmus programme: this takes place in the final year of study as part of a 12-week research project in a European country such as Germany, Spain, Portugal or Italy.
Job Prospects
You will find Bioscientists working all over the world in a diverse range of settings including research and development laboratories (for example microbiology, marine science and immunology), biotechnology companies, classrooms, sales representatives and the food and drink industry.
Is Applied Bioscience a good career choice?
On completion of the course you will have a wide-range of career options in the field of biosciences. Many of our graduates find employment within private or public sector research. This could be within university, government, NHS, commercial or charity-funded laboratories.
Previous BSc Applied Bioscience graduates of Robert Gordon University have also gone on to pursue the following careers:
Forensic analysis
Environmental consultancy
Scientific publishing
Secondary school teaching.
You may also decide to continue your studies and specialise with a Master's degree, or develop your research skills with a PhD.
Standard Entry Requirements
SQA Higher: BBCC including Biology/Human Biology, plus one other science such as Environmental Science/Physics/Chemistry. English, Maths and Chemistry, are required at National 5 level Grade B if not held at Higher.
GCE A Level: CCC to include Biology plus one other science such as Environmental Science/Physics/Chemistry. English, Maths and Chemistry, are required at GCSE Grade B or above if not held at A Level.
Irish Leaving Certificate Higher: H3H3H3H3 to include Biology plus one other science. Chemistry, English and Maths are required at Ordinary Level Grade B or above if not held at Higher.
IB Diploma: 26 to include Higher Level in Biology at Grade 5 and one further science. Standard Level English and Maths and is required at Grade 4 if not held at Higher Level.
Minimum entry requirements
The minimum entry requirements for widening access applicants are:
SQA Higher: BCC/CCCC including Biology/Human Biology, plus one other science such as Environmental Science. Chemistry, English and Maths are required at National 5 B if not held at Higher
Alternative Qualifications
Equivalent overseas qualifications, SQA, BTEC, S/NVQs and some Access programmes will be considered.
Applicants from Partner Colleges
A relevant HNC from one of our partner colleges will be considered for entry into Year 2.
International Students
International students who do not meet our direct entry requirements for this course can gain additional entry points through our International College at Robert Gordon University.
English Language Requirements
Applicants whose first language is not English should have an IELTS of 6.0 overall, with no component lower than 5.5, or an equivalent.
We accept a variety of in-country and secure English language tests, find out more:
Our Pre-Sessional English Programme (PSP) is available for students who have not yet reached the required English level and those who would like to improve their language competency.
Pre-Sessional English Programme at RGU
Please note, some courses may require a higher standard of English than stated in this page. Contact admissions@rgu.ac.uk for further information.
FOR ACADEMIC YEAR 2020/2021
Scottish/EU Students
Rest of UK Students
International Students
£15,040 per academic year
FOR ACADEMIC YEAR 2019/2020
Scottish/EU Students
Rest of UK Students
International Students
£13,670 per academic year
Additional Costs
The following course-related costs are not included in the course fees:
The cost of books that you may wish to purchase.
Costs associated with your placement / study abroad
Disclaimer
For new intakes course fees are reviewed and published annually for each mode of delivery. Tuition fees are fixed for the duration of a course at the rate confirmed in the offer letter. For further information see:
Student Funding
If you are a Scottish resident or EU national you are not liable to pay fees and should apply to SAAS for funding.
Student Awards Agency For Scotland (SAAS)
Students from other parts of the UK should visit the appropriate website:

Scholarships and Financial Awards
You may also qualify for a scholarship or financial award:
Have a question about the course? Get in touch with our Student Admissions Team and we'll do our best to help.
+44 (0) 1224 262728
My degree at RGU gave me the vocational skills and the confidence I needed to pursue a PhD in Biochemistry. I now work part-time at a university as a lead demonstrator in undergraduate practical sessions. I'm also project coordinator for a science outreach programme to help promote science to young people.
Accreditation
This course is accredited by the Royal Society of Biology.

Taking this course, you will have access to some of the world's best facilities.
We've invested more than £100 million in the development of our campus, new facilities and new resources.
University Wide Facilities
Apply
UCAS Code: C9B9
---
The university has moved to home teaching and working following official COVID-19 guidance from the Scottish Government. Our staff will continue to process applications and respond to enquiries about your course during this time.
---
We've got a few options for applying to our undergraduate courses for UK, EU and international applicants.
Applicants for first year entry will apply to other universities as well as to RGU through a single online Universities and Colleges Admissions Service (UCAS) application.
Applicants from non-EU countries can apply direct to the University with our PDF form.