Holly Grant - BSc (Hons) Applied Biomedical Science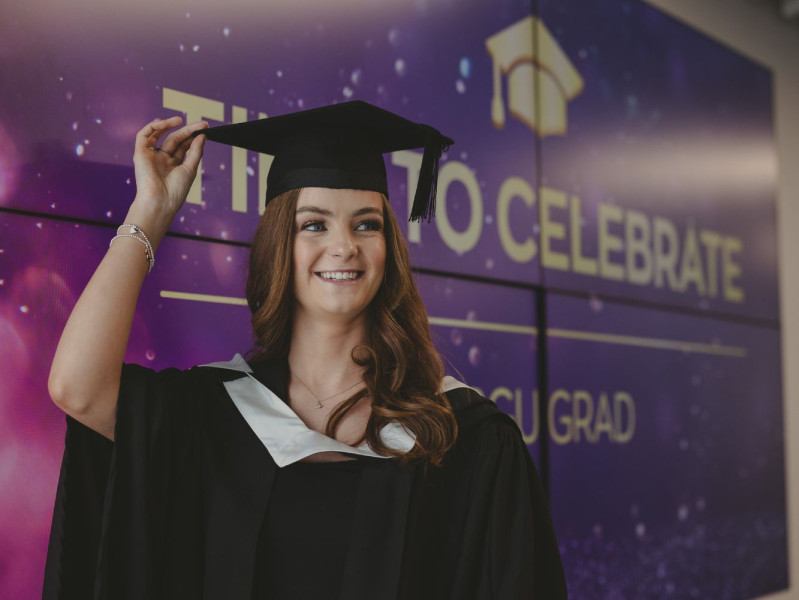 Having taken a year out between her studies to work at her local distillery and be closer to family during the pandemic, a Moray student is delighted to have now graduated and crossed the stage at Robert Gordon University's Summer graduation ceremonies.
Holly Grant, from Dufftown, went straight to university having done her due diligence prior to finishing S5 at Speyside High School in Aberlour.
"I loved chemistry in school so looked into doing a chemistry degree. I found out about biomedical science on the RGU website and after attending an Open Day, seeing the campus, and learning more about the opportunities and career paths in biomed it became my first choice."
Key to her choice also included the placement opportunities on offer and the potential to work in hospital laboratories. The Applied Biomedical Science degree is also IBMS accredited and was recently ranked 2nd in the UK for overall student satisfaction in Biomedical Sciences (NSS 2022).
Holly completed a six-week multidisciplinary placement in her second year as well as two seven-week placements in her third which helped her to understand what she could see herself doing in the future as well as network with potential employers.
"The placements we undertook plus the registration training portfolio really set us up for working in the NHS and gave us a good idea of what working in a lab is like, as well as experience in booking in samples, running analysers, quality control, interpreting results etc."
The Moray graduate didn't have it easy. Like so many students, Covid hugely interrupted her university experience.
"The pandemic struck halfway through my second year. When we went into lockdown in March 2020 lectures, tutorials and exams all went online. This was really challenging but I am grateful as it gave me something to do during lockdown!
"After the summer, although everything was still online, I moved back to Aberdeen for third year. I found this much harder than being at my family home as I felt lonely, like so many others, without my family and very cooped up in my small flat compared to my parents house with a garden."
With this in mind, Holly made the brave decision to suspend her studies for a year during after that first semester by making use of the options afforded to students at RGU.
"I am so glad I had the flexibility to be able to do this as it gave me the time and space I needed to be at home with family and make some money.
"I worked as a Distillery Tour Guide during that year which really helped me to build my confidence and get some general life experience. I grew up a lot and gained invaluable transferrable skills like team working and communication.
"More importantly, it made me all the more determined to complete my degree and become a biomedical scientist as I didn't want to be a tour guide forever.
"I'm so grateful that RGU accommodated me taking a break and being able to come back and finish my degree when things were a bit more back to normal - if it wasn't for that I would've just given up!"
As well as being able to take a year out, Holly also made use of the Careers Support services available at the University.
"Careers have been amazing all through uni', doing lectures and explaining our career options to us, giving CV writing and interview tips. I have been in for one-to-one meetings with Gayle [Scott, within RGU's Careers & Employability Hub] too and she was super helpful giving guidance on where to look for jobs.
"She also set up mock interviews for us with potential employers from NHS Grampian and NHS Highland which was unbelievably helpful in showing us what sort of questions would be asked in an interview and things to include in your answers. It was also just great interview practice in general."
With her scroll now in possession there's only time for brief reflection before looking towards where her career can go from here.
"There were many times throughout my degree that I doubted myself and contemplated dropping out so to have made it to the end and be graduating with a 2:1 I am so proud of myself and can't wait to see what the future holds!
"I'm currently working in hospitality but hoping to find work as a biomedical scientist in an NHS laboratory. My areas of interest are haematology and immunology so I'd ideally like to work in and complete my specialist portfolio in one of these labs."