Fashion Management
PgCert | PgDip | MSc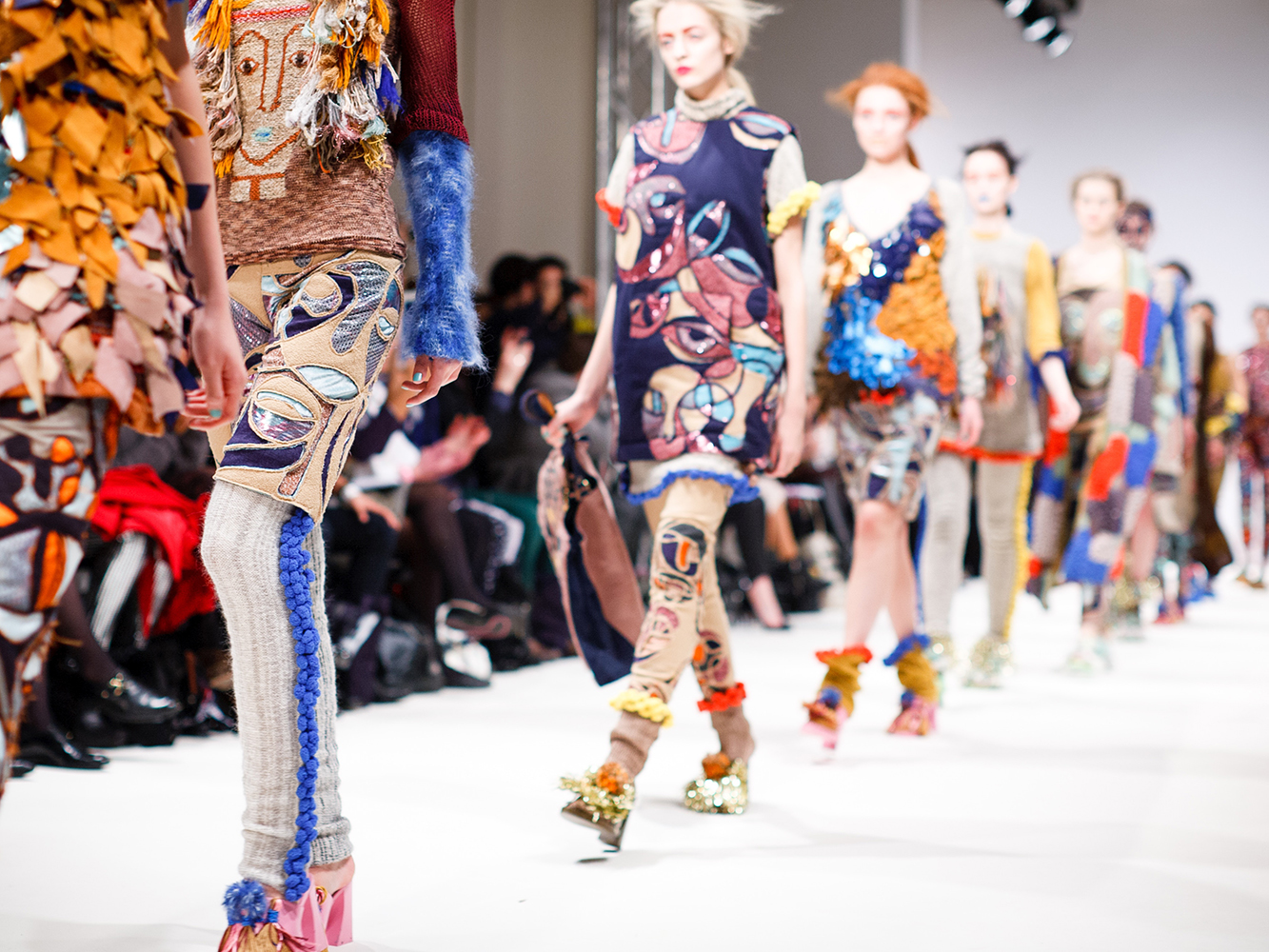 This fashion business course covers the creative, managerial and commercial aspects of the global fashion industry. You will learn through projects which are based on case study scenarios, simulate real-life practice, and incorporate group interaction, ensuring you are equipped with the relevant knowledge and skills for a rewarding head office career.
A key feature of the course is digital literacy, including strategic digital communications and analytics. You will also develop an understanding of fashion brand management, including luxury branding, and will explore the ways in which consumers respond to fashion and how their needs are anticipated, identified and satisfied.
Specific fashion strategies relating to trend forecasting, positioning and pricing, supply chain, marketing, retailing, internationalisation and ethical issues will also be taught.
Stages 1 & 2
You will develop your knowledge and understanding of the key areas of fashion management including fashion branding, the fashion business environment, fashion forecasting, buying and merchandising and global fashion strategy. You will also gain communication, management and digital strategy skills. A four week period of professional industry experience is undertaken at the end of the taught modules for September starts, or between stage 1 and 2 for January starts.
stage 3
You will work independently but under tutorial supervision, to undertake research and prepare a 15,000 word dissertation on a fashion related topic within a relevant field. This provides you with the opportunity to integrate and synthesise your knowledge and understanding of fashion management. A practical project or professional consultancy option is available as an alternative to the traditional written dissertation.
Modules
Modules and delivery order may change for operational purposes. The University regularly reviews its courses. Course content and structure may change over time. See our Course and module disclaimer for more information. 
Detailed module information
You will learn through a combination of lectures, tutorials and workshop sessions. These comprise of a mix of group study, discussion, simulation and presentations of findings by groups and individuals. You will work as an individual and also as part of a team on case studies, projects, study trips, presentations and discussions. 
You will gain experience using industry specific software including Lectra's Kaledo fashion software, Adobe Photoshop, the Retailer Business Simulation package and WGSN, the leading online trend-analysis and research service.
Access to our virtual learning environment, CampusMoodle, is also provided giving you access from home to learning materials (including videos, e-books and journals).
Activity Summary
Lectures - 10-20 students per group, 3 hours per week
Tutorial - 10-20 students per group, 3 hours per week
Practical class or workshop - 10-20 students per group, 4 hours per week
Independent Study - 30 hours per week
Placement / Work Based Learning - Individual, 100 (minimum) hours per year
Independent Study
The course requires you to become independent 'open learners' and take responsibility for when, where and how your learning occurs. You will spend approximately 30 hours per week working on your own, undertaking prescribed reading, preparing for group activities and researching and writing course assessments.
Staff Delivering on This Course
All the MSc Fashion Management teaching staff have worked in a variety of roles in industry such as fashion design and garment development, visual merchandising, fabric design, marketing and events management. 
All staff have teaching qualifications, including fellowship or senior fellowship of the Higher Education Academy, recognising their practice, impact and leadership in teaching and learning.
Other staff members include fashion industry experts, media technicians and subject experts in supporting disciplines of Communication, Media, Marketing and Management.
Assessment
Typically students are assessed each year:
6 reports
1 dissertation
2 portfolios
2 project outputs
2 oral assessments
We aim to provide you with feedback within 20 working days of hand-in for all written exams, coursework and practical exams.
---
Academic Support
The Disability & Dyslexia Centre advises and supports students who disclose a sensory or mobility impairment, chronic medical condition, mental health issue, dyslexia and other specific learning differences. Applicants are encouraged to arrange a pre-entry visit to discuss any concerns and to view the facilities.
Study Skills Support
The Study Support Team provides training and support to all students in:
Academic writing
Study skills (note taking, exam techniques, time management, presentation)
Maths and statistics
English language
Information technology support
Placements
You will undertake a 4 week (generally unpaid) professional placement or consultancy project in a fashion-related company, which will enable you to put into practice the knowledge and skills developed throughout the course. For September starts, this placement opportunity takes place at the end of Semester 2. For January starts, the placement takes place between Semesters 1 and 2.
You will have access to our Employment and Professional Enrichment Hub, who will support you in sourcing and validating a suitable placement position.
Previous placements include Zara, Hugo Boss, John Lewis, Ferregamo, Johnston's of Elgin and Debenhams.
Job Prospects
Fashion is a multi-disciplinary business activity and the fashion industry recognises a need for those with both management and digital skills.
On completion of this course, you will be ready to make a valuable contribution within the regional, national and global fashion business sector and its wider community.
Opportunities exist in head office roles, often located in fashion capitals such as London, in fashion buying, financial merchandising and allocation, brand management, marketing and digital content creation.
Roles held by our graduates include Content Manager for Amazon in London, PR and Events Assistant for Michael Kors in Italy, Merchandiser for Gucci Group in Hong Kong, Merchandiser at ASOS in London, Buyer at Lifestyle Sports in Ireland.
English Language Requirements
Applicants whose first language is not English should have an IELTS of 6.5 overall, with no component lower than 5.5, or an equivalent.
We accept a variety of in-country and secure English language tests, find out more:
International Students
International students who do not meet our direct entry requirements for this course can gain additional entry points through our International College at Robert Gordon University.
* All entry requirements listed here should be used as a guide and represent the minimum required to be considered for entry. A small number of courses require higher levels, but this will be stated explicitly on your offer letter.
For Academic Year 2018/2019
Additional Costs
The following course-related costs are not included in the course fees:
The cost of books that you may wish to purchase.
Find your reading list by module
Costs associated with your placement / study abroad
£50-£80 dissertation print costs
Disclaimer
For new intakes course fees are reviewed and published annually for each mode of delivery. Tuition fees are fixed for the duration of a course at the rate confirmed in the offer letter.  For further information see:
Student Funding
Postgraduate students will normally make their own arrangements for payment of fees. However, there are a limited number of SAAS funded places on certain postgraduate courses.
There are also sources of funding that are applicable to categories of student.
Postgraduate Students' Funding
Alumni Discount
Robert Gordon University is delighted to offer a 20% loyalty discount on course fees for all alumni who have graduated from RGU.
Scholarships and Financial Awards
You may also qualify for a scholarship or financial award:
Have a question about the course? Get in touch with PG Admissions and we'll do our best to help.
+44 (0) 1224 262209
I have never encountered lecturers who care so much, and are willing to take so much time out of their day to help you understand and gain valuable experience. I have proven to stand as an impressive candidate for any role; and I truly believe this is down to the time spent on the MSc Fashion Management course.
DYLAN MACKENZIE, MSC FASHION MANAGEMENT GRADUATE
Enquire Now
Have a question about our courses or would like to keep up to date about open days, scholarships and other news? Fill out our online enquiry form.
Apply
We've got a few options for applying to our postgraduate courses for UK, EU and international applicants.
All applicants to postgraduate courses can apply direct to the university using our online application form.
All applicants can apply direct to the University with our PDF form.