Management with Human Resource Management
BA (Hons)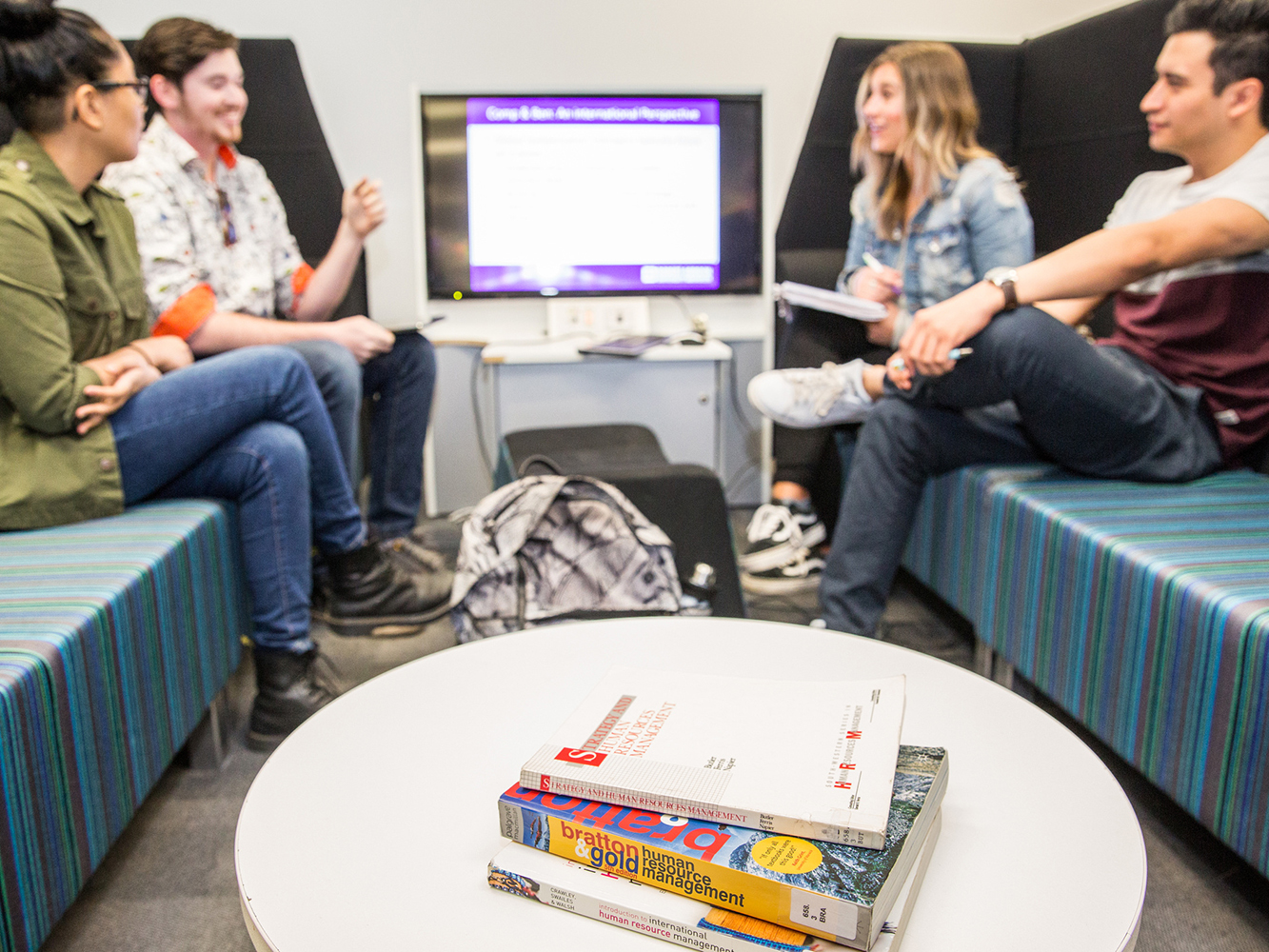 The BA (Hons) Management with Human Resource Management course explores the theoretical and practical aspects of the subject, with an emphasis on the vital contribution to business success made by the people of an organisation. This course will provide you with the relevant HR knowledge and management skills to be successful in the industry or other similar industries.
You will learn the key disciplines through a unique blend of modules including Operations Management and Policy and Practice. Our strong industry relationships ensure the course is constantly developing in line with industry demand. Within the penultimate years of the course, you will be able to tailor your study to your own interests and career aspirations and have the opportunity to participate in short term management and enterprise projects.
At Aberdeen Business School, we are in the business of changing your tomorrow.
Ranked 1st in Scotland for sustained employment, further study or both three years after graduation in Business and Administrative Studies
Longitudinal Education Outcomes 2017
Year 1
You will be introduced to the key business functions of Marketing, Finance, Accounting and Human Resource Management in Year 1. Through studying a range of modules you will develop the intellectual and practical skills you will need to form the foundation for your degree.
YEAR 3
In Year 3 you have four options, a year-long placement, an academic year at one of our partner institutions abroad, a taught route at Aberdeen Business School, or the 'Connect to Business' route, offering you flexibility to tailor your study to your own interests and career aspirations.
Year 2
You will choose whether to continue studying at RGU or spend either Semester 1 or 2 studying abroad. Modules will build on the foundation business functions learned in Year 1 and contain a number of HR specific modules including People, Policy and Practice and Managing in Changing Organisations.
Year 4
Year 4 is the pinnacle of your course. You will study core business modules in Corporate Ethics, Global Leadership and Business Strategy as well as more specialised HR related modules covering Employment Law and International Human Resource Management. You will also undertake a significant piece of independent HR research in the form of a thesis. 
Modules
Modules and delivery order may change for operational purposes. The University regularly reviews its courses. Course content and structure may change over time. See our course and module disclaimer for more information. 
Detailed module information
Throughout this course, it is typical that a quarter of your time will be spent learning in large groups and three quarters of the time you will be taught in a small group tutorial environment.
In Year 2 you will have the opportunity to build on your business creativity through exploring how to generate and develop viable commercial ideas in the Business Ideas and Opportunities module. You will work in multidisciplinary teams, develop your creativity skills and showcase your ideas as part of an annual Trade Fair held on-campus.
Our Year 3, Connect to Business option allows you to undertake short term management and enterprise projects with a range of different organisations. This will help develop your employability skills through an exciting and flexible programme of work related experiences.
Activity Summary
Year 4
Lectures - 80 students per group, 3-6 hours per week
Seminars - 25 students per group, 4 hours per week
Tutorial - 25 students per group, 6 hours per week
Project Supervision - 1 students per group, 2 hours per week 
Independent Study
In addition to lectures and tutorials, you will spend approximately 20 hours per week outside of the class working on your own. This involves undertaking prescribed reading, preparing for tutorial assignments, team meetings and researching and writing course reports.
Staff Delivering on This Course
Academic staff who teach on this course have worked in a range of professional backgrounds, are 'business-connected' and use professional networks and their academic research to ensure teaching is professionally relevant and cutting edge.
Our staff have either achieved Fellowship of the Higher Education Academy, or are working towards this.  This is a professional recognition of lecturer practice, impact and leadership in teaching and learning. In addition, many have featured in the annual Support and Teaching staff with Appreciation and Recognition (STAR) awards voted by the students and organised by RGU:Union.
Other staff members include local business owners and industry professionals who offer you the opportunity to learn through business-led workshops, guest lectures and masterclasses.
Assessment
Typically students are assessed each year:
Year 1
6 written exams, typically for 2 hours
4 written assignments, including essays
Year 2
4 written exams, typically for 2 hours
4 written assignments, including essays
Year 3
4 written exams, typically for 2 hours (Continuing students and Direct Entry students, no exams for Connect to Business or Placement Routes)
4 written assignments, including essays (Continuing students and Direct Entry students, no assignments for Connect to Business Route)
2 portfolios (Connect to Business Route)
1 oral assessment (Continuing students and Direct Entry students)
Year 4
1 written exam, typically for 2 hours
5 written assignments, including essays
1 dissertation
Feedback
We aim to provide you with feedback within 20 working days of hand-in for all written exams, coursework and practical exams.
---
Academic Support
The Disability & Dyslexia Centre advises and supports students who disclose a sensory or mobility impairment, chronic medical condition, mental health issue, dyslexia and other specific learning differences. Applicants are encouraged to arrange a pre-entry visit to discuss any concerns and to view the facilities.
Study Skills Support
The Study Support Team provides training and support to all students in:
Academic writing
Study skills (note taking, exam techniques, time management, presentation)
Maths and statistics
English language
Information technology support
Placements
In Year 3, you will have the opportunity to undertake a one-year salaried work placement or 12 week unpaid placement on 'Connect to Business' route.
It is an opportunity to consolidate and apply the learning you have gained in Years 1 and 2, and to acquire real world business experience that further develops your professional skills and business acumen. During your placement you can expect to work in the UK or abroad and report to a Manager who will assess your performance on a regular basis. You also continue your academic learning by compiling a portfolio to provide evidence of your employability.
Previous students who have completed the Business Ideas and Opportunities module have opted to run their own company instead of participating in a traditional placement, with support from staff in our Centre for Entrepreneurship and an industry mentor.
Study Abroad
You have the opportunity to study abroad for one semester of Year 2 or both semesters of Year 3. If you have a real taste for travel, you can study abroad in Year 2 and undertake a placement abroad in Year 3. Study abroad destination include Europe, Asia, USA, and Canada. .
Job Prospects
This course will prepare you for a human resource management or managerial career in business or the public sector. Career options include general HR roles where you gain exposure to a range of HR issues and areas, or specialist HR roles in a particular area such as recruitment or training. Specific careers include Recruitment Consultant, Employee Relations Officer, Training and Development Officer, HR Officer, and Talent and Learning Specialist.
SQA Higher: ABBB
GCE A Level - Year 1 entry: BBC
GCE A Level - Year 2 entry: ABB
Irish Leaving Certificate Higher: H2H2H2H3
IB Diploma: 29
Alternative Qualifications
We welcome applications from those with equivalent qualifications to those stated, including SVQs/NVQs, access programmes and overseas qualifications. Applications from students with non-standard qualifications or work experience will be considered on an individual basis.
Applicants from Partner Colleges
IA relevant HNC or HND from one of our partner colleges will be considered for entry into Year 2 or 3. Students entering Year 3 of the course will follow the class based taught route as an alternative to a placement.
Advanced Entry
All other applicants who are interested in applying for advanced entry will be considered on an individual basis.
International Students 
International students who do not meet our direct entry requirements for this course can gain additional entry points through our International College at Robert Gordon University.
English Language Requirements
Applicants whose first language is not English should have an IELTS of 6.0 overall, with no component lower than 5.5, or an equivalent.
We accept a variety of in-country and secure English language tests, find out more:
* All entry requirements listed here should be used as a guide and represent the minimum required to be considered for entry. A small number of courses require higher levels, but this will be stated explicitly on your offer letter.
For Academic Year 2018/2019
Scottish/EU Students
Rest of UK Students
International Students
£12,360 per academic year
Additional Costs
The following course-related costs are not included in the course fees:
Disclaimer
For new intakes course fees are reviewed and published annually for each mode of delivery. Tuition fees are fixed for the duration of a course at the rate confirmed in the offer letter.  For further information see:
Student Funding
If you are a Scottish resident or EU national you are not liable to pay fees and should apply to SAAS for funding.
Student Awards Agency For ScotlanD (SAAS)
Students from other parts of the UK should visit the appropriate website:
Scholarships and Financial Awards
You may also qualify for a scholarship or financial award:
Have a question about the course? Get in touch with UG Admissions and we'll do our best to help.
+44 (0) 1224 262728
The opportunity to secure an HR related placement with Subsea 7 gave me invaluable work experience and provided the basis for my final year thesis. The breadth of my degree course gave me confidence to diversify away from HR and I have recently been successful in applying for an HSEQ graduate position back with my placement company in London. I would strongly recommend RGU as a place to study, as the combination of academic and practical skills gained creates great opportunities to progress in many areas.
ASHLEIGH BROWN | BA (HONS) MANAGEMENT WITH HRM GRADUATE
Enquire Now
Have a question about our courses or would like to keep up to date about open days, scholarships and other news? Fill out our online enquiry form.
Apply
UCAS Code: N2N6
We've got a few options for applying to our undergraduate courses for UK, EU and international applicants.
Applicants for first year entry will apply to other universities as well as to RGU through a single online Universities and Colleges Admissions Service (UCAS) application.
Applicants from non-EU countries can apply direct to the University with our PDF form.
RGU accepts applications through the Common Application for those liable to pay international tuition fees.