Academic Schools
Aberdeen Business School
Academic Schools
Aberdeen Business School
Aberdeen Business School has been named Business School of the Year (Times Higher Education 2020 Awards) in recognition of our work-based learning, teaching and the innovative approaches of our staff, to ensure we provide all our students with an outstanding business education and produce top quality industry-ready graduates.

Aberdeen Business School is accredited by AACSB International (AACSB), an accolade achieved by only 5% of global Business Schools.
We develop professional thinkers and innovative contributors through business connected learning, award winning teaching and internationally recognised impactful research
Our vision is to empower and inspire, create opportunity, and equip you with the ability to drive change to transform your communities. If you study with us you are assured of an outstanding opportunity for knowledge acquisition.
We offer a range of undergraduate, postgraduate and research degree programmes across a number of business areas such as management and international business and more specialist academic areas including;
Accounting and Finance
Oil and Gas Accounting and Finance
Human Resource Management
Health, Safety and Risk Management
Procurement and Supply Chain Management
Quality Management
Project Management
Energy Management
FLEXIBLE LEARNING
We offer on-campus, online and blended learning (on-campus and online) study, and many of our courses are available both in full-time and part-time modes. This range of provision gives you the opportunity to swap between different modes if your circumstances change.
At Aberdeen Business School we pride ourselves on our accessibility and flexibility. We treat you as an individual and work collectively to design the most appropriate route to maximise each your individual career capital.
CREATE AND INNOVATE
We strive to provide you with an education that will equip you with the skills and capabilities for your future career or indeed your career development. We recognise the importance of creativity and innovation in business education and all our students are exposed to a variety of business creation, innovation and entrepreneurial related modules.
For example, all our full-time, on campus undergraduate students undertake a Business ideas and Opportunities module which provides you with the opportunity to develop your business creativity by working in multidisciplinary teams. You have the opportunity to further develop these ideas in the third year of your programme by spending time in the University Accelerator unit.
INDUSTRY CONNECTIONS
Our courses are practical, relevant and designed in partnership with industry and relevant professional bodies to ensure you are equipped with professionally relevant skills that employers are seeking. Our Industry Liaison Groups provides a forum for dialogue between employers and staff members and to co-ordinate employer input to course development and design.
All our undergraduate courses give you the opportunity to spend a year working as an integral part of your degree programme. This gives you a leading edge when seeking graduate opportunities and many students return to their placement provider on graduation. If you are on the Management suite of programmes but do not go on placement, you have an alternative opportunity to undertake short-term management and enterprise projects with a range of different organisations through our unique Connect to Business study route.
All our Master's students are exposed to a variety of masterclasses by leading business professionals on contemporary business topics and there are various opportunities to interact and network with business experts in your chosen field of study. In addition, you will complete your postgraduate qualification with an innovative Capstone module which provides you with a variety of options most suited to your career aspirations including a business consultancy project.
Extending your horizons
Many of our undergraduate courses offer you the opportunity to spend a Term abroad in Europe, North America and South East Asia and we in turn welcome students from around the globe. A Term abroad is extremely rewarding and will help develop your knowledge and skills by learning in a different social and cultural context.
Combining a term abroad with a fully paid placement enables you to stand out from the crowd.
We will nurture your potential, expand your talent and ensure you have the edge when it comes to your career opportunities.
At Aberdeen Business School, we are in the business of changing your tomorrow.
Virtual Tour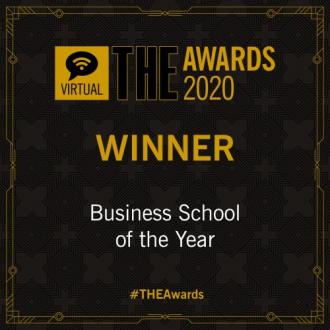 The Aberdeen Business School building offers a number of superb student facilities including independent study stations, group study pods and excellent lecture theatres and IT services.
PLACEMENTS
A year long, paid placement is an integral part of our undergraduate degree programmes. We also offer a 12 month placement on all of our full time on campus MSc courses with a 2 year Extended Master's route.
Your placement gives you the opportunity to take on the role of a graduate trainee within a business setting where you will see the workplace from an informed perspective and put into practice the theories, strategies and skills you've studied. In addition, many of our students are offered permanent positions within their placement company on graduation.
We have a dedicated Placement Office who help to find relevant placement opportunities at local, national and sometimes international organisations.
"I spent my third year in Colorado, working for a global technology company. This experience allowed me to cross-train in different departments, significantly enhancing my skillset. My placement year was outstanding and definitely increased my employability as a graduate. I have just been offered a position as Marketing Executive with The Scottish Salmon Company Ltd., after impressing my interviewers with my knowledge and expertise acquired during placement."

Alexandra Stasulli, BA (Hons) International Business Management Graduate

AACSB
Aberdeen Business School is accredited by AACSB International (AACSB) joining an elite group of business schools around the world to be accredited by the global body.

AACSB International - The Association to Advance Collegiate Schools of Business, is the longest-serving global accrediting body for business schools, and the largest business education network connecting students, educators and businesses worldwide.
We are one of only four institutions in Scotland to hold AACSB accreditation, with the accreditation only being earned by less than 5% of the world's business schools.
Our undergraduate, master's, and doctorate degree programs have passed rigorous standards for quality.
AACSB-accredited schools are considered to have better programs, better students, more employers that recruit from them, and graduates that receive better salaries.
Business Graduates Association
Aberdeen Business School is accredited by the Business Graduates Association (BGA).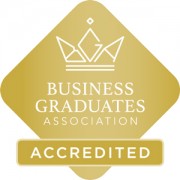 The BGA is an international membership and quality assurance body of world-leading and high-potential Business Schools who share a commitment for responsible management practices and lifelong learning, and are looking to provide positive impact on their students, communities, and the economy as a whole.
ACCREDITATIONS
Our courses are accredited by a range of professional bodies including:
INDUSTRY LINKS
Business led workshops and guest lectures are an integral part of our courses and give you the opportunity to interact, engage with and listen to a wide range of leading industry speakers from a variety of national and international business perspectives.
We are proud to be associated with the following leading organisations who offer a number of scholarship opportunities to our students:
CNR International
CNR provides scholarship opportunities to the university's School of Engineering and Aberdeen Business School students.
OPITO
The Offshore Training Foundation in partnership with OPITO, has founded a scholarship opportunity to the university's Aberdeen Business School students as a memorial to the Piper Alpha disaster. The scholarship provides a long lasting and positive legacy, focusing on the health and safety improvements which can be made in the offshore energy sector.
Institute for Chartered Accountants of Scotland (ICAS)
ICAS provide scholarship opportunities for Accounting and Finance students.
EDUCATIONAL INSTITUTIONS
We have developed strong relationships with educational institutions across the globe.
BVS Business School (Zurich, Switzerland)
BVS, part of the Benedict Education Group, offer a number of RGU validated business courses:
Graduate Certificate Business Administration
Aberdeen Business School hosts a vibrant research community and is active in a number of applied research projects. We offer doctoral research opportunities and expertise in a wide range of business subject areas including accounting and finance, management and people, organisations and practice.
We are particularly interested in applications in the following areas:
Entrepreneurship and small business – particular interest in family business and the creative sectors
Financial support mechanisms, the planning environment, ownership models and the social acceptance of major energy infrastructure developments
We are also interested in the following broad subject areas:
Accounting, Finance and Economics
Business Management
Human Resources
Public Policy
Our Research Staff
---
Academic staff in the School include departmental full-time and part-time academic staff including Professors, Teaching and Research Fellows.
Recognised internationally for excellence in this area of education, our teaching staff have both established academic expertise and professional experience in the accounting sector.
Staff teach a range of subjects including Business Management and Entrepreneurship.
Staff have both academic expertise and professional experience in subjects such as Human Resource Management and Project Management.
The Academic Support and Administration staff teams provide support to both academic staff and to our students.