Daisy McCran - BA (Hons) Media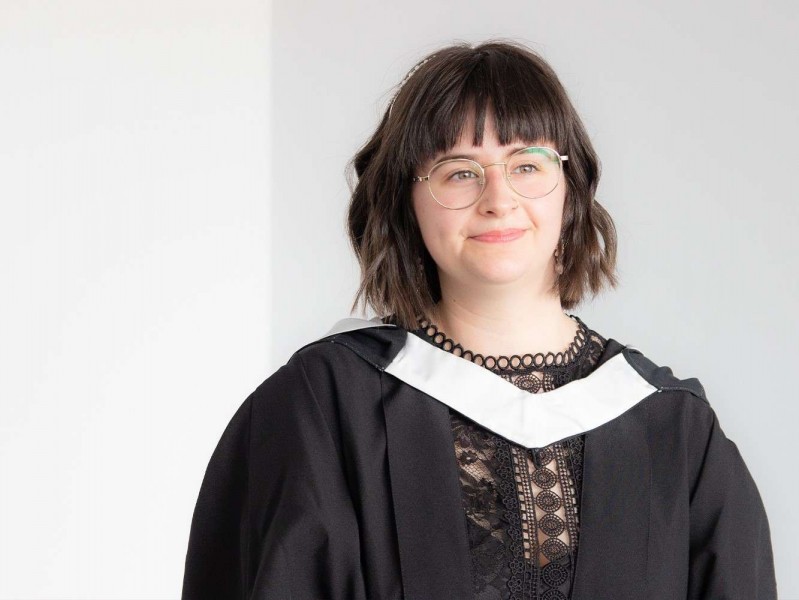 From the age of 11, Daisy McCran wanted to study Media at university. On Wednesday 13 July, she graduated with honours as a Bachelor of Arts in Media from Robert Gordon University (RGU).
Daisy crossed RGU's graduation stage at Aberdeen's P&J Live in front of family and friends, joining the University's influential global network of more than 90,000 alumni.
"I am excited to see where my degree takes me next," says Daisy. "I am incredibly lucky that I got my photo taken with my dissertation at the University and that my graduation is going ahead as planned. I am only 21, after starting college at 17, I suppose I am one of the youngest to graduate."
Daisy fast-tracked her way into the second year of the University's BA (Hons) Media course, after completing an HNC in Media Analysis and Production with North East Scotland College (NESCOL).
"I studied at Elgin Academy, having lived in Elgin since 2007," says Daisy. "I left after my higher exams to study an HNC Media Analysis and Production at NESCOL. I was only 17 at the time, so I travelled from home on the train every day, instead of staying in student accommodation.
"RGU was praised by several lecturers at the college because it made the transition from college to university easier. I attended an open day with my parents, and we were impressed. When I started at RGU, I had to agree with the NESCOL lecturers."
After moving to Woolmanhill Flats in September of 2019, her time making lifelong friends in the facilities was cut short due to the rise of the global coronavirus pandemic in March 2020.
"The University did an impeccable job of making it as easy to adjust to as possible," adds Daisy. "The support from the University was important in boosting morale for not just me, but also my peers and lecturers.
"I was home for the two lockdowns. During the second, my grandad sadly passed away. The charity I volunteered at for my placement was extremely understanding, as was the University, and responded with empathy when I explained my situation regarding an extension.
"I was so glad to have had Dr Fiona Smith as my Head of Year, lecturer in a couple of modules, and my dissertation supervisor. Many of my lecturers were supportive during a time of uncertainty, but she stood out the most.
For Daisy's placement, she volunteered as a media coordinator for Miscarriage Support Scotland and was asked to continue working for the charity beyond her placement, which she did for a further six months.
"I learned valuable skills, which I could only ever gain through practical experience," says Daisy. "My third-year placement was extremely beneficial to my learning. Despite working remotely during the second lockdown, and being in England while looking after my grandad, I am extremely grateful to have had the opportunity."
Daisy benefitted from attending many extra-curricular events during her time at RGU, such as guest speakers and employability workshops from RGU's Employability Hub.
"Guest speakers varied from industry professionals to past graduates and were invaluable for motivation and progress, particularly during the pandemic," says Daisy. "The CV workshops were particularly beneficial as they were run by professionals, and I found they aided me in modernising my CV."
Daisy's mother has been the assistant manager of Elgin's Cancer Research shop for 14 years. It was through volunteering with her and the supportive encouragement of her father that Daisy managed to secure a voluntary radio show slot at Dr Gray's Hospital, which she kept for three years. During that time, she also grabbed the opportunity to complete work experience for her local newspaper as a music and entertainment reporter.
Daisy adds: "The university prepared me for my next steps through graduate events and workshops. My Head of Year sessions in my final year covered a different subject each week regarding leaving university and finding work. I have many options thanks to RGU."