This location is about 5 minute walk to Belmont Street, 10 minute walk to Union Street and 20 minutes by bus to campus. A co-op and a Sainsbury's Local are within a 5 minute walk.
There are 600 standard rooms and 135 ensuite rooms in eleven five-storey blocks around a main carpark, with nine or ten flats in each block.
There is one main site entrance, including access to car park, from John Street. There is is no lift. Flats accommodate between 5 and 8 residents. There are four x 5-bed flats, 56 x 6-bed flats (10 of which are ensuite) and 47 x 8-bed flats (9 of which are ensuite).
---
Exclusive Offer - 25% Discount
If you choose a standard single room within our Woolmanhill Flats in January 2020, you could save more than £500.*
---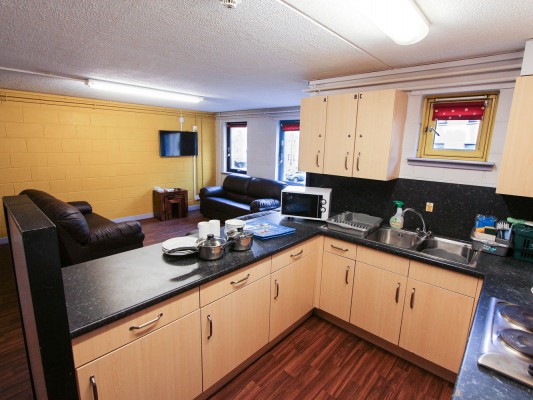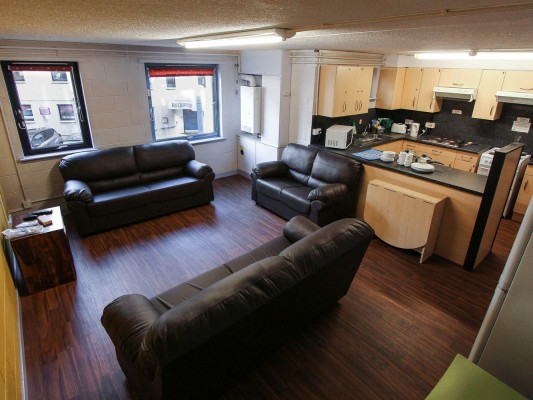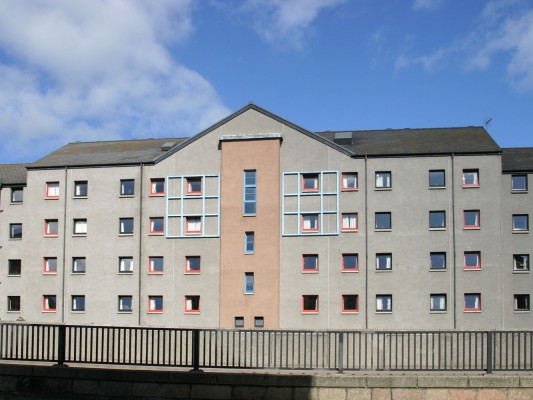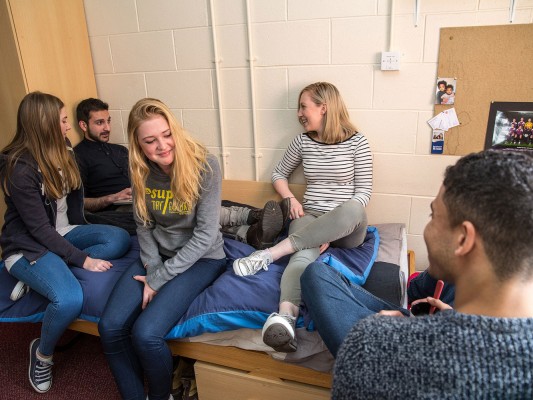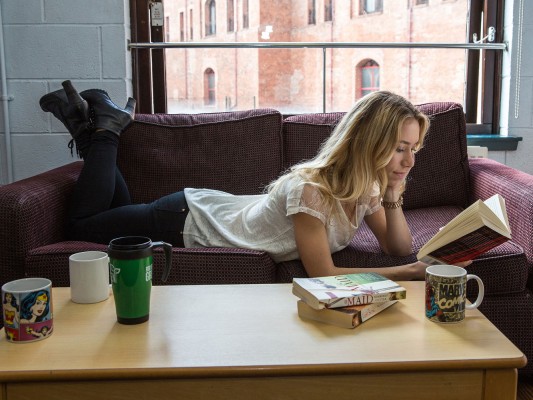 Costs & Lease
Our costs include a rent advance of £250 which is required to be paid at the time of accepting the accommodation. This is included within the total price.
Woolmanhill Accommodation Prices 2019 - 20
*25% discount offer
All you need to do is meet all the conditions of your offer and apply for your accommodation in our Woolmanhill Flats for January 2020.
All accommodation discounts/offers are subject to availability and for leases ending on 6 June 2020 only. A small number of rooms at other sites may also qualify for a 25% discount, subject to verification by Accommodation Services. Saving based on a standard January lease of 21 weeks. Terms and Conditions apply.
Single Standard Room
39 weeks lease, £98 per week, Total £3,822
Single Standard Room (Small double bed)
39 weeks lease, £103 per week, Total £4,017
Single Ensuite Room
39 weeks lease, £131 per week, Total £5,109
Maps & Transport
Buses & Parking
Bus routes 1 and 2 from nearby Union Street direct to campus, 20 minutes. Occasional buses direct from/to Woolmanhill or Schoolhill at peak times.
Onsite car park for residents only, accessed by parking barrier. Parking permits required and cost £240 for the whole academic year (which can be paid in two instalments in September and January) plus a £5 deposit for the parking barrier. If space is available, parking for visitors or short term stays may be available at a cost of £2 per night plus £5 deposit for the barrier card – a temporary permit must be purchased from the site office.
Limited number of bike storage pods are available on a first come first served basis costing £10 for the full lease period, payable at the site office.
Plan your route on Google Maps
Facilities
Each flat has Communal kitchen and lounge in each flat. Standard flats have two toilets and two shower rooms with toilet and sink (8 bed flats have an extra shower room). Ensuite flats have no communal toilets or bathrooms. Smart TV (with TV licence) for residents' use in lounge.
This is a great location if you're on a budget as Woolmanhill standard rooms are the cheapest in our portfolio yet still offer a comfortable and convenient place to stay.
A site exclusively for RGU students, there are plenty of opportunities to get to know other students and the Reslife team hold several social activities here.
RGU has recently installed new Smart TVs in the lounge of each flat and has provided a TV licence so you can watch TV with flatmates, connect your console or use services such as Netflix if you have a subscription.
For early risers, there are three buses to campus direct from Woolmanhill each morning between 8am and 8.30am.
There is an on-site office open 24 hours a day where you can report any maintenance issues, collect parcels or ask general questions about the area, and the site has overnight security staff for additional security and to provide assistance where needed.
Local Area
The campus is about 55 minutes walk and the city centre is nearby, with all the major night life and social venues in Aberdeen on your doorstep.
Contact Details
Address
Woolmanhill Flats
134 John Street
Aberdeen
AB25 1LE
Contact Numbers
+44 (0) 1224 263091
Monday-Friday: 7.30am-7pm based at Woolmanhill Site Office
Saturday and Sunday : 7am-7pm based at Woolmanhill Site Office

+44 (0) 7773 385158 and +44 (0) 7769 726187: RGU: ResLife Emergency Out-of-Hours (All other times)