What Our Students Say
Elaine Ferrao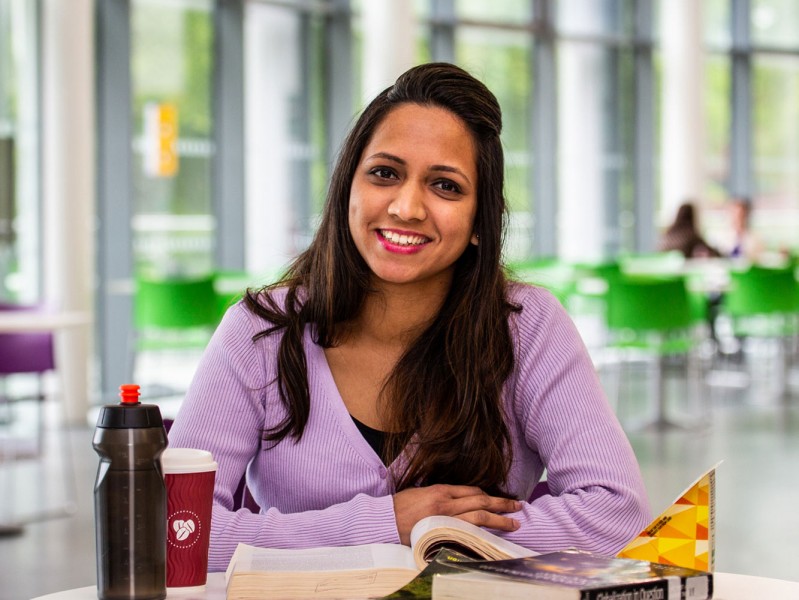 MSc Construction Project Management student from India
What attracted you to your course at RGU?
Initially I wasn't aware about RGU; however, since RGU had the course that I was looking for, the facilities the university offers and its high employability rate compelled me to apply here. Secondly, RGU being situated in Aberdeen had made the perfect combination as the standard of living in Aberdeen is comparatively affordable to the rest of the UK. Third and most importantly, the course that I am studying for is also recognised by RICS, CIOB and CABE which are some of the professional bodies recognised world-wide.
Before coming to RGU, what was your expectation of it - and how has the reality been?
I was nervous as I was unsure about how my experience would turn out considering it is a new place and somewhere I am not familiar with. As I completed my first semester, I could happily say that I love being here. Lectures are fun because they are very interactive. I spent my weeks during my assessments in the library as that was the most peaceful and underrated place known in the entire university, like a hidden gem. The facilities and computers in the library helped me work on my assignments, along with being able to easily access any books associated with my assessment topics made it easier for me to figure out things. The view from the librarywas definitely the cherry on the cake.
What's the best thing about being an RGU student?
RGU is well-known due to the quality of students graduating from here. I am proud to be associated with RGU and gladly recommend RGU to prospective students. The university also has some great options for grabbing a bite such as Costa Coffee, etc. Compared to my friends in other universities in the UK, I am to have access to facilities such as CampusMoodle and the MyRGU app, as they not only provide students and lecturers a digital platform to connect, but also access to support in health and wellbeing, and accessing Careers Counsellors. RGU feels more like a way of life than just about studies at a university.
Describe your favourite memory of RGU so far?
I have a couple of fond memories associated with RGU. One afternoon while sitting in the library studying for my assessments, I looked across river Dee and saw two deer running along the river. I was in awe of the kind of a location the university is situated in and felt privileged to be experiencing such a moment. I also love using the free facilities RGU Sport has to offer and plan to take up swimming in my summer term break.
Tell us about your most challenging/rewarding project/assignment/module. What did you like/ dislike about it and how has it helped you?
My most challenging assignment was called "Procurement and Contracts". It was challenging for me because this was the first time I've studied this topic. However, our module co-ordinator was patient enough to pay more attention to those who were studying this module for the first time and made sure we understood everything about the module. I was graded an overall 'B' in this module, so I feel really pleased at this achievement.
What is your favourite way to spend your time when you are not studying? Why is that important to you?
When I am not studying I play hockey. I've been playing hockey since I was about 9 years old and I'm fortunate that RGU has a hockey team too. Playing hockey once a week helps me feel motivated and energetic throughout the week, while boosting my self-esteem.
What would you say to someone considering studying at RGU? Any advice you would share?
RGU has a lot to offer, so while studying I would advise students to make use of every facility in order to have a fulfilling experience, as RGU memories last a lifetime. I know a lot of students coming into the UK to study talk about studying in London as it is better and has a lot of jobs to offer; however, from my personal experience, I can share that London is too expensive for students, is a very crowded city and the cost of living is enormously high. Coming to Aberdeen will make your experience more fulfilling as it is such a clean and peaceful place, and there are plenty of part-time jobs available for students who wish to balance their studies with one.