Apply now and start September 2020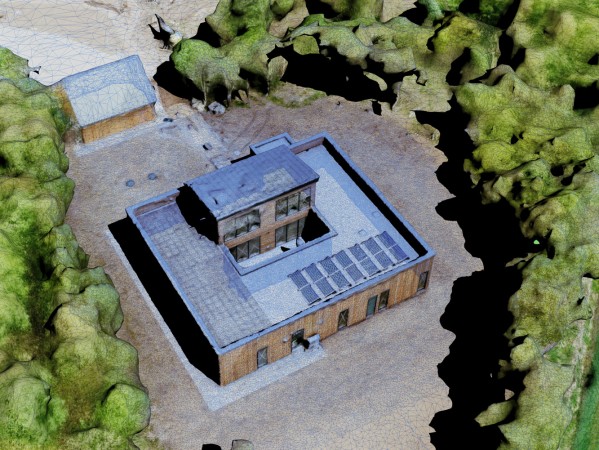 This 12 month research-led master's course will prepare you to become a leader and innovator in contemporary practice. It will equip you with the skills and knowledge that will enable you to develop innovative yet contextually appropriate solutions to challenges of major consequence and complexity.
The course will focus on how new technologies such as UAVs and drones will change and affect buildings and architecture of the future. You will develop project management, BIM and digital design skills and work with your peers to design buildings that address the future need for transportation through air.
Real world issues will be explored including zero-energy housing, contemporary urban design and healthy and resilient cities.
It has been developed to encourage the sharing of international and cultural experiences to enrich understanding, and to equip you to respond appropriately to different design contexts.
semester 1
You will study one research-based module which integrates 4 core strands of contemporary architectural design and production. These include low energy/low carbon design, the sustainable development of the contemporary city, the use of data in an increasingly digital industry and contemporary project management.
SEMESTER 2
You will develop a thorough understanding of innovative approaches to architectural and urban design by applying theoretical knowledge and consideration to a project in a UK setting. The brief for the semester will ask you to apply innovative technologies such as UAVs or blockchain technologies in a studio or research setting. You will develop in parallel your research skills and methodologies to underpin your final thesis project in Semester 3.
SEMESTER 3
Your final semester is focused on the Architectural Thesis Project, which is expected to reference the core strands of the course in some form. The project should address an architectural or urban problem of significant complexity and should be of relevant context to you home country or intended global destination. This semester will also combine your desired studio or research directives on how you will consolidate your thesis, continuing to apply innovative technologies.
Modules
Modules and delivery order may change for operational purposes. The University regularly reviews its courses. Course content and structure may change over time. See our course and module disclaimer for more information.
Detailed module information
Throughout this course, the approach to learning is not instructive, but is centered on discourse and dialogue, and the fertile exchange of ideas and thinking.
You will learn by a mixture of studio-based activity, tutorials, lectures and seminars. The studio space dedicated to the course provides you with an appropriately equipped place to undertake self-directed study and form your own architectonic positions.
Whilst Semester 1 introduces theoretical ideas, and in doing so ensures a common level of understanding across the cohort, Semesters 2 and 3 are predominantly research-focused and are driven by independent learning.
Activity Summary
Lectures - 20 students per group, 4 hours per week (Semesters 1 & 2)
Seminars - 10 students per group, 2-3 hours per week depending on modules chosen
Webinar - 20 students per group, 2-6 hours per week depending on modules chosen
Practical class or workshop - 10-20 students per group, 2 hours per 2 weeks (Semesters 1 & 2)
Supervised time in studio / workshop - 10-20 students per group, 6-8 hours per week (Semesters 1 & 2)
Independent Study - 10-20 students per group, 500 hours per semester
Field Work - 10-20 students per group, hours depending on Thesis chosen, per semester
External Visits - 10-20 students per group, depending on arrangements with offices/venues per semester
Independent Study
You are expected to be active participants in the learning process and to extend your learning from formally delivered materials through wider reading, research and self-directed enquiry. You will be encouraged to regularly reflect on your learning and take ownership of your studies. Defining your personal objectives for learning.
Staff Delivering on This Course
The course is delivered by award winning industry experts, globally recognised researchers and academics with relevant industry experience across the fields of Architecture, Urbanism and Project Management.
Assessment
Typically students are assessed each year:
2 reports
1 dissertation
1 portfolio
1 project output
3 oral assessments
1 group critique
Feedback
We aim to provide you with feedback within 20 working days of hand-in for all written exams, coursework and practical exams.
ACADEMIC SUPPORT
The Disability & Dyslexia Centre advises and supports students who disclose a sensory or mobility impairment, chronic medical condition, mental health issue, dyslexia and other specific learning differences. Applicants are encouraged to arrange a pre-entry visit to discuss any concerns and to view the facilities.
ONLINE LEARNING & SUPPORT
All undergraduate and postgraduate students, whether you are learning on-campus or by online distance learning, benefit from using our collaborative virtual learning environment, CampusMoodle. You will be provided with 24/7 online access to your learning material and resources, along with the ability to interact with your class members and tutors for discussion and support.
STUDY SKILLS SUPPORT
The Study Support Team provides training and support to all students in:
Academic writing
Study skills (note taking, exam techniques, time management, presentation)
Maths and statistics
English language
Information technology support
Library Support
The Library offers support for your course, including the books, eBooks, and journals you will need. We also offer online reading lists for many modules, workshops and drop-ins on searching skills and referencing, and much more.
JOB PROSPECTS
On completion of this course, you will be equipped with high level innovative tools to tackle complicated architectural problems and be able to work in architecture offices across the world.
Career options include working in Architecture firms or various other parts of the AEC industry acting as strategic designers or champions of design within multi-disciplinary teams.
Applicants normally hold a 2:2 undergraduate honours degree or its equivalent, in one of the following subject areas: Architecture, Architectural Design, Architectural Technology, Design Management, Sustainable Building Design, Urban Design / Planning.
Applicants with a lower degree classification and / or relevant work experience will be considered on a case by case basis.
English Language Requirements
Applicants whose first language is not English should have an IELTS of 6.5 overall, with no component lower than 5.5, or equivalent.
We accept a variety of in-country and secure English language tests, find out more:
Our Pre-Sessional English Programme (PSP) is available for students who have not yet reached the required English level and those who would like to improve their language competency.
Pre-Sessional English Programme at RGU
Please note, some courses may require a higher standard of English than stated in this page. Contact admissions@rgu.ac.uk for further information.
FOR ACADEMIC YEAR 2020/2021
UK/EU Students
International Students
Additional Costs
The following course-related costs are not included in the course fees:
The cost of books that you may wish to purchase.
Costs associated with your placement / study abroad
£100-£150 material costs per semester
£800 - £1000 laptop is recommended but not required
£100 local travel per Semester (approximate) International travel is not required, but dependant on the choices of the students.
Alumni Discount
Robert Gordon University is delighted to offer a 20% loyalty discount on course fees for all alumni who have graduated from RGU.
Student Funding
Postgraduate students will normally make their own arrangements for payment of fees. However, there are a limited number of SAAS funded places on certain postgraduate courses.
There are also sources of funding that are applicable to categories of student.
Postgraduate Students' Funding
Scholarships and Financial Awards
You may also qualify for a scholarship or financial award:
SCHOLARSHIPS AND FINANCIAL AWARDS
DISCLAIMER
For new intakes course fees are reviewed and published annually for each mode of delivery. Tuition fees are fixed for the duration of a course at the rate confirmed in the offer letter. For further information see:
Have a question about the course? Get in touch with our Student Admissions Team and we'll do our best to help.
+44 (0) 1224 262728
The School provides great opportunities on how to learn to communicate with the private and public domain and work as a team. Through lectures and studio time, we are discovering for whom we are designing, responding to the client and presenting to audiences. It's not just about ideas, it's not just about design, it's about making ideas happen.
​Taking this course, you will have access to some of the world's best facilities.
We've invested more than £100 million in the development of our campus, new facilities and new resources.
University Wide Facilities
Apply
We've got a few options for applying to our postgraduate courses for UK, EU and international applicants.
All applicants to postgraduate courses can apply direct to the university using our online application form.
All applicants can apply direct to the University with our PDF form.