Energy Transition for Engineers
Short Course - 15 credits at SCQF level 11
This course will demonstrate critical awareness of the ongoing worldwide energy transition while looking into the challenges and economics of operating such renewable energy systems.
The course will demonstrate critical understanding of the advanced technologies implemented in such transition, this includes the transformation of the different renewable energy resources into electricity, the transportation of this electricity, and the energy storage technologies used to address the challenges to the renewables' integration into the electricity network.
On completion of this module, participants are expected to be able to:
Demonstrate critical understanding of the current energy transition and the application of renewable energy technologies as the sources of sustainable energy.
Demonstrate extensive awareness and understanding of the fundamentals, prospects, operation, and applications of the different renewable energy technologies while identifying the challenges around their integration into the electricity network and the role of energy storage systems in addressing this.
Demonstrate extensive and detailed awareness and understanding of the advanced technologies applied in the transportation of the renewably generated electricity and its integration to the electricity network.
Demonstrate knowledge and understanding of the economics of operating renewable-based electrical power systems.
Topics
An energy outlook: energy classification, statistics, consumption, environmental concerns, and the electricity market reform.
Energy transition and the renewable energy technologies fundamentals, operation, and challenges.
Transportation of the renewably generated electrical power.
Challenges to the integration of large-scale renewable energy generation into the electricity grid and strategies to offset them.
Role of Energy Storage.
Economics of operating renewable energy systems.
Guest Lecture by Energy Transition Industry Expert
Upskilling Courses
In partnership with the Scottish Funding Council (SFC), our online upskilling short courses have been developed in response to feedback from businesses regarding their people and skills needs and are therefore helpful for individuals considering their employment options as well as organisations looking to upskill their employees. Find out more: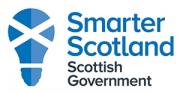 Disclaimer
Modules and delivery order may change for operational purposes. The University regularly reviews its courses. Course content and structure may change over time. See our course and module disclaimer for more information.
Learning Methods
The course will be delivered online using the University's virtual learning environment, CampusMoodle.
This a 10-week course with 7 weeks for teaching and 2 weeks for working on the assessment and submission and final week for the presentation.
Teaching will be online using a mix of articulate presentations, power point slides, recordings, lecture notes and guest lectures. Participants will be expected to engage in online forum discussions. The course will be assessed by a group project report and an oral presentation (virtual).
There will be 2 live online sessions – one at the beginning to introduce the course (induction) and another to introduce the group project. There will be a number of optional live drop-in sessions to allow students to interact with each other and staff and ask questions.
Independent Study
This course is completed through online independent study. It is expected that you will spend a minimum of 150 hours study over 10 weeks of the module, including preparation and submission of your assessment (group project/presentation). Your academic tutor will be there to support you through the module.
Assessment
This course is assessed through reports and an oral assessment.
Staff Delivering on This Course
This course has been developed by a team of academic and professional staff with extensive expertise in energy transitions. The team comprise of tutor from School of Engineering and experts from the Energy Transition Industry.
Dr Dallia Ali, is a Chartered Engineer, Fellow of Higher Education Academy, Course Leader for MSc Solar Energy Systems at Robert Gordon University, Expert for the European Commission Innovation and Networks Executive Agency (INEA), and her expertise is included in the ETP Scotland's HEI hydrogen capability document to support the Scottish Government's Hydrogen Policy and feed into their upcoming Hydrogen Action Plan. Her research interests include zero-carbon technologies, energy management and storage, implementing renewable energy technologies and green hydrogen technology for decarbonizing the energy, heat and transport sectors carbon footprint. She has a submission in the Energy Transitions to the UK Universities COP26 Network's Innovation Showcase. Prior to RGU she was Visiting Associate Professor at Texas A &M University in Qatar and HBKU (Qatar Foundation) and Chair of R&D for Monsson Middle East.
---
Academic Support
The Inclusion Centre advises and supports students who disclose a sensory or mobility impairment, chronic medical condition, mental health issue, dyslexia and other specific learning differences. Applicants are encouraged to arrange a pre-entry visit to discuss any concerns and to view the facilities.
Online Learning & Support
All online learning students, benefit from using our collaborative virtual learning environment, CampusMoodle. You will be provided with 24/7 online access to your learning material and resources, along with the ability to interact with your class members and tutors for discussion and support.
Study Skills Support
The Study Support Team provides training and support to all students in:
Academic writing
Study skills (note taking, exam techniques, time management, presentation)
Maths and statistics
English language
Information technology support
Library Support
The Library offers support for your course, including the books, eBooks, and journals you will need. We also offer online reading lists for many modules, workshops and drop-ins on searching skills and referencing, and much more.
Applicants should have a background in engineering. There are no academic pre-requisites for this course.
Academic Year 2022/2023
Course fees will be met in full for students who qualify for Scottish Funding Council funding. To qualify for SFC funding applicants must be resident in Scotland.
£350 entire course - Applicants who are not eligible for SFC funding or are currently receiving SAAS/SFC funding for other courses.
Additional Costs
The following course-related costs are not included in the course fees:
The cost of books that you may wish to purchase.
Costs associated with your placement / study abroad
Disclaimer
For new intakes course fees are reviewed and published annually for each mode of delivery. Tuition fees are fixed for the duration of a course at the rate confirmed in the offer letter. For further information see:
Have a question about the course? Get in touch with the team and we'll do our best to help.
Get in touch