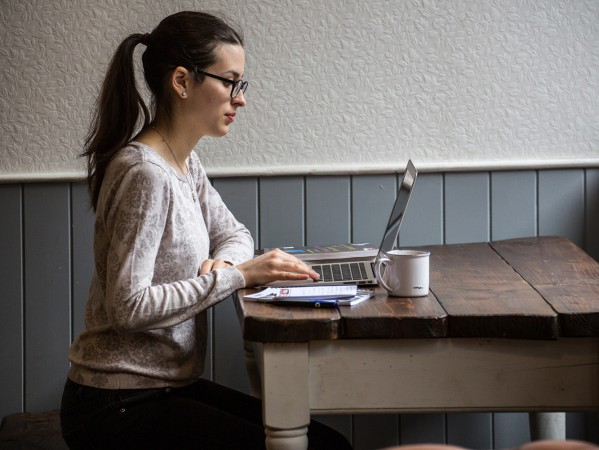 The four-year BSc (Hons) Graduate Apprenticeship has an industry-driven approach, where students work full-time for a partner employer while studying towards a degree.
This course is designed to integrate student learning with suitable workplace projects in collaboration and partnership with their employer. It provides the student with graduate level expertise in the development and management of secure and reliable business software systems and knowledge of the supporting computing technologies which can be applied to problems in a commercial or industrial context. The apprenticeship combines workplace learning with a programme of education designed to meet students' career ambitions.
YEAR 1
Knowledge and skills in software engineering and software architecture and introduction to the full software development lifecycle; principles of object oriented programming; principles of information systems, including information architecture and the development of web-based information systems; introduction to the fundamental functionality and organisation of the main components in computer systems.
YEAR 2
Object oriented programming including modelling, design, implementation and testing of systems; database design principles and developing a relational database; security threats against information systems and the legal and ethical considerations as well as the role of human factors around storing data; finance and accounting principles and techniques used in business decision-making regarding acquisition, control, and allocation of assets and resources in companies; the understanding and application of ethical theories and regulation to the IT business environment.
YEAR 3
Project management within a software project development group, enhancing team working skills; develop business ideas from conception to commercialisation with exploration of creative idea generation, innovation and competitor and customer analysis. Develop skills for recognition, exploration and evaluation of viable business opportunities; developing effective security measures and cryptographic techniques using appropriate software tools; evaluation of change management drivers and techniques within an IT business context.
YEAR 4
Undertake a substantial professional computing project with a strong software development component, developing technical, problem−solving, innovation skills and creativity and conforms to university codes of practice and ethical requirements; user interaction for digital products and services; developing and implementing high-level business strategy, vision, and objectives relating to internal and external drivers in the IT sector; state-of-the-art Artificial Intelligence and Big Data analytics techniques and tools.
---
The IT Management for Business course equips students with a background in the technical skills required for developing software products to meet customer needs.
Adopting a practical approach to developing students' professional skills, emphasis is placed on the business skills necessary to manage finances and people in a business environment geared to the development of software products.
Modules
Modules and delivery order may change for operational purposes. The University regularly reviews its courses. Course content and structure may change over time. See our course and module disclaimer for more information.
Our Graduate Apprenticeship courses are designed to meet the national frameworks developed by Skills Development Scotland, the subject frameworks of the QAA and the skill and knowledge areas identified as crucial by industry.
To be eligible for this course students must be recruited/employed by a partner employer of the university.
Activity Summary
30 apprentices per cohort (15 IT Management for Business, 15 Software Development)
Online Distance Learning (ODL) delivery using Virtual Learning Environment (VLE) for Blackboard Collaborate sessions for a minimum of 3 hours per week along with captured lectures and additional enhancement materials.
Approximately 30 contact hours per module
Modules are 10 weeks in length running sequentially for 40 weeks (4 x modules per year) and do not adhere to the traditional semester calendar.
Independent Study
Most independent study will be done with the employer in the workplace, however apprentices have full access to library, labs, and support services.
STAFF DELIVERING ON THIS COURSE
Staff are lecturers from traditional courses taught currently at RGU along with the potential for recorded guest lectures delivered by industry experts.
Assessment
Typically students are assessed each year:
Year 1
written assignments, including essays
reports
portfolios
set exercises
oral assessments
practical skills assessments
group critiques
Year 2
written assignments, including essays
reports
portfolios
set exercises
oral assessments
practical skills assessments
group critiques
Year 3
written assignments, including essays
reports
portfolios
set exercises
project outputs
oral assessments
practical skills assessments
group critiques
Year 4
written assignments, including essays
reports
dissertation
portfolios
set exercises
project outputs
oral assessments
practical skills assessments
group critiques
Feedback
We aim to provide feedback within 20 working days of hand-in for all written exams, coursework and practical exams.
---
ACADEMIC SUPPORT
The Disability & Dyslexia Centre advises and supports students who disclose a sensory or mobility impairment, chronic medical condition, mental health issue, dyslexia and other specific learning differences. Applicants are encouraged to arrange a pre-entry visit to discuss any concerns and to view the facilities.
ONLINE LEARNING & SUPPORT
All undergraduate and postgraduate students, whether learning on-campus or by online distance learning, benefit from using our collaborative virtual learning environment, CampusMoodle. Students will be provided with 24/7 online access to learning material and resources, along with the ability to interact with class members and tutors for discussion and support.
STUDY SKILLS SUPPORT
The Study Support Team provides training and support to all students in:
Academic writing
Study skills (note taking, exam techniques, time management, presentation)
Maths and statistics
English language
Information technology support
Library Support
The Library offers support for the course, including the books, eBooks, and journals the student will need. We also offer online reading lists for many modules, workshops and drop-ins on searching skills and referencing, and much more.
Placements
There is no placement; apprentices must be employed in order to participate.
Job Prospects
A Graduate Apprenticeship synchronises theoretical learning with practical experience. With each course tailored to the company, the GA programme offers benefits to both the employee and the employer, meeting the long term development needs of both business and student.
Students exiting with a Graduate Apprenticeship degree qualification will be on route to employment in the following areas:
IT Consultancy
IT System Operation
IT System Management
IT Network Planning and Control
IT Project Management
Employment: All applicants must be employed full-time in a role related to the course of study, must have the right to live and work in Scotland and be working in Scotland. The employer must commit to providing a suitable workplace environment and to offering guidance and mentoring support to the apprentice. In addition, the company must be willing to partner with the university via a Collaboration Agreement to create a setting in which the student will be able to achieve the required experience and learning outcomes.
SQA Higher: BBBC
Alternative Qualifications
We welcome applications from those with equivalent qualifications or work experience which equip them with an equivalent starting point for the course. For those applicants who do not meet our Standard Course Entry Requirements, applications may be considered from those who possess one years' relevant work experience and where the applicant has demonstrated the development of key skills evidenced through a detailed CV. Applications from students with non- standard qualifications (including Foundation Apprenticeships, Modern Apprenticeships, SVQs/NVQs and access programmes) or work experience will be considered on an individual basis.
Advanced Entry
Applicants who are interested in applying for advanced (or flexible) entry will be considered on an individual basis. Attention is drawn to the university's process for Recognition of Prior Learning (RPL).
Fees are covered by Skills Development Scotland.
Additional Costs
The following course-related costs are not included in the course fees:
The cost of books that you may wish to purchase.
Costs associated with your placement / study abroad
Employers pay for travel and accommodation for on-campus events which may be up to 4 times per year (once per module).
Disclaimer
For new intakes course fees are reviewed and published annually for each mode of delivery. Tuition fees are fixed for the duration of a course at the rate confirmed in the offer letter. For further information see:
Student Funding
A number of fully-funded places are available for this course.
Have a question about the course? Get in touch with the Graduate Apprenticeship team and they'll do their best to help.
Accreditation
The ITMB course content has been validated by RGU for honours degree award.
Graduate Apprenticeship students will have full RGU University student status and may make use of the University's excellent physical facilities when they wish.
We've invested more than £100 million in the development of our campus, new facilities and new resources.
University Wide Facilities
Apply
Have a question about the course? Get in touch with the Graduate Apprenticeship team and they'll do their best to help.
Have an employee who would like to take this course? Contact the Graduate Apprenticeship team for further information.
Are you an individual who is not currently employed, but you're still interested in this Graduate Apprenticeship?