Gray's Graduates in Residence exhibition 'Emergent' celebrates new beginnings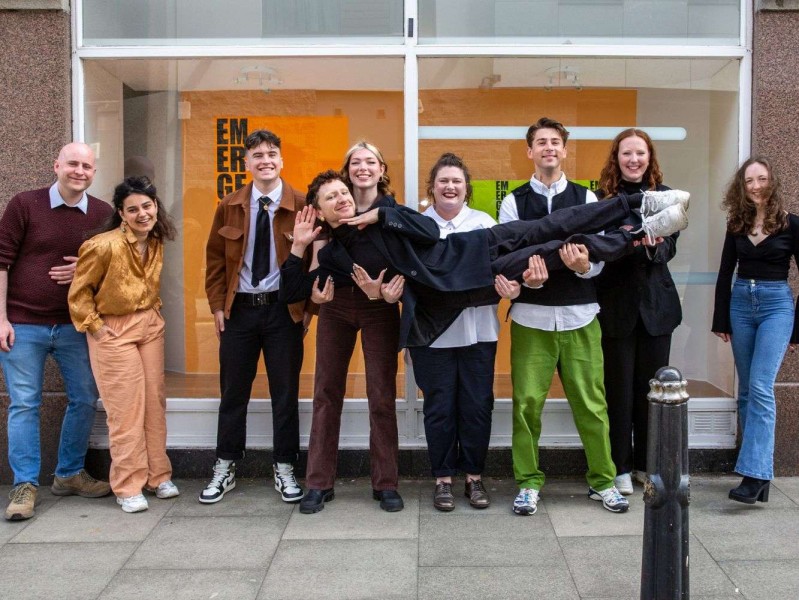 A dynamic exhibition from Gray's School of Art's Graduates in Residence, 'Emergent' opens at the Look Again Project Space, Aberdeen on Saturday 11 June.
'Emergent' coincides with Gray's School of Art Degree Show, 'Welcome to the Real World', and celebrates the work of nine Graduates in Residence who are part of Gray's unique development programme for graduates in Contemporary Art Practice, Painting, 3D Design, Fashion & Textiles, and Curatorial Studies.
This stunning exhibition, which is free to visit and open to all, features an innovative collection of work from artists, designers and makers who have responded to artefacts held within RGU Art & Heritage Collections to create new pieces of work. Each new work explores the past and presents it in the now, by exploring growth and experimentation within their individual research themes and practices.
Two of the Graduates in Residents in Contemporary Art Practice include collaborative duo, Joe Morris and Claudia Sneddon. They present their drag personas 'Olive and Anya' and explore the ongoing relationship between popular culture and technology, as well as crossing boundaries, investigating gender fluidity and the way we fashion identity, through memory, class and nostalgia.
Joe Morris, said: "It's great to be showcasing our work at the Look Again Project Space. This is first time we've had the chance to be part of a physical exhibition as we all graduated during lockdown. It means so much and our exhibition really celebrates optimism and a sense of new beginnings for all of us.
"As Graduates in Residence, we work as ambassadors for Gray's which supports our overall development and opens up new opportunities. There's such an inclusive environment at Gray's and our role as a Graduates in Residence helps foster this sense of community."
Dean of Gray's School of Art, Libby Curtis said: "I'm delighted that our talented Graduates in Residence are exhibiting in the city to kick start this year's Degree Show events. 'Emergent' promises to showcase a thought-provoking collection of work that will celebrate growth and experimentation in response to the heritage of Robert Gordon University.
"Our Graduates in Residence are such an integral part of Gray's community and serve as a link between staff and students. Gray's is committed to supporting student development and the creative sector in the North-East, and our unique graduate development programme offers a nurturing environment for our graduates, as they establish themselves as creatives. I can't wait to see their work and would encourage everyone to come along to see for themselves."
The exhibition includes a stunning collection of weaves and knits from textile designer, Kirsty Robertson, who encourages us to consider how we think about the past, present and future. Graduate in Residence Maria Roman, explores continuity and connections through a map of networks. Contemporary Art Practice Graduate in Residence, Iris Walker-Reid and Painting Graduate in Residence Marcus Murison, explore overlooked objects and places, unearthing buildings and up-cycling material.
Fashion & Textiles Graduate in Resident, Cameron Lyall draws inspiration from his unisex clothing collection, inspired by his imaginary 'No Place' and the need to escape the day-to-day mundanity of everyday life. His work is inspired by a deep interest in future thinking and the relationship between science and creative experiment
Ceramicist, Jo Northedge, presents an inspiring collection that listens to materials in responsive and improvised ways. Photographer Ben Cairns uses mapping and landscape photography to encourage visitors to think about their perception of the environment and sense of time and place.
A launch night will take place for friends and family at the Look Again Project Space on Thursday 9 June from 5-8pm. Also on display will be artefacts from RGU Art & Heritage Collections that inspired the new work by each Graduate in Residence.
The event will open with an in-conversation discussion at Aberdeen Art Gallery at 3.15pm on Thursday 9 June led by Dr Judith Winter, Lecturer from Gray's School of Art, who will explore the opportunities open to creatives in the North East, post Covid.
Emergent opens fully on 11 June and runs until 3 July, opening on Saturdays and Sundays 11am – 4pm.
Learn more:
To apply for the next Gray's Graduate in Residence programme, send your application to GraysAdmin@rgu.ac.uk by 4pm on Friday 17 June 2022. Find out more about the scheme: