Glen Wright - BSc Software Development for Business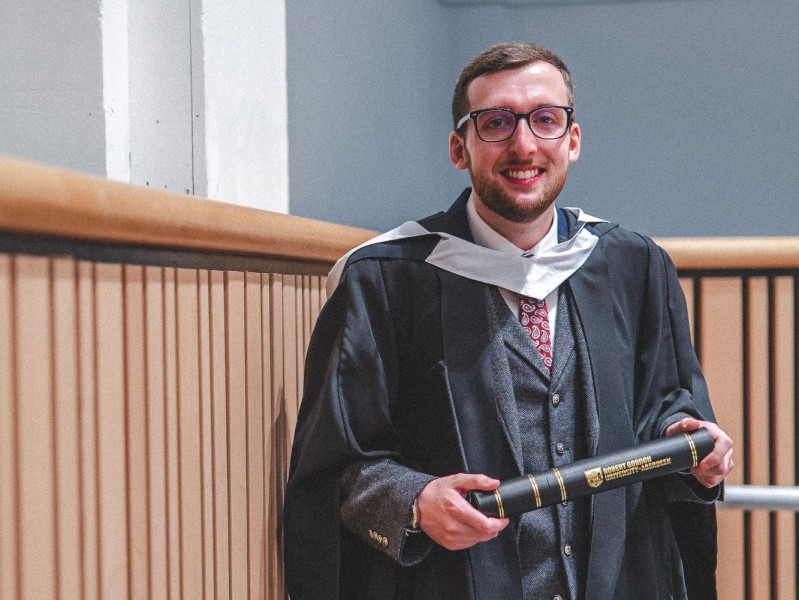 A 24-year-old from Aberdeen was able to pursue his career goals in software development despite a global pandemic as part of the first cohort of a new graduate apprenticeship scheme, while also becoming an alumnus of the Scottish University of the Year 2021.
Glen Wright took to Robert Gordon University's graduation stage at the Music Hall in Aberdeen—in front of friends, family, and peers—to accept his BSc in Software Development for Business on Wednesday 8 December.
"I'm very proud and pleased that four years of hard work and study have paid off," said Glen. "Juggling work and study was difficult at times, especially with the pandemic toward the end of the course.
"My family, friends, work colleagues—and the company I work for—have supported me throughout and especially so during the pandemic. This support network has been instrumental in my academic success."
Glen undertook his degree as a graduate apprentice, where students can work full-time with partner employers while studying toward their degree. Students receive integrated learning through suitable workplace experience and projects as a collaborative effort between university and employer, while also satisfying the career ambitions of the student.
Glen said: "Software development was always something I wanted to specialise in. I went straight from secondary school into work, so I didn't have the further education for pursuing a development role. I was self-taught in a couple of programming languages, but a formal qualification goes a long way to securing more competitive roles.
"The graduate apprenticeship opportunity was brought to my attention by my employer. It allowed me to partly complete my degree while at work. Had this not been an option, I wouldn't have been able to pursue further education due to time constraints."
The Graduate Apprenticeship uses a blended learning approach to study, including online, work-based, and on-campus education, supporting students' work-life balance and maintaining their contribution to the economy and industry.
"I thoroughly enjoyed blended learning," said Glen. "With most of the course being delivered online—with an on-campus day per module—this allowed me to easily balance the demands of my job and ensure I didn't fall behind with lectures or coursework."
Through the Graduate Apprenticeship programme, Glen has been able to progress his career with his current employer, Sparrows Group, and has since attained an elevated position.
Glen adds: "This course has allowed me to progress internally at work, having given me the necessary exposure and prerequisite skills to transition from a service desk role into a development one."
With the success of his promotion and graduation, Glen chose to return to RGU to continue his higher education journey through the Graduate Apprenticeship scheme and in September 2021 began his Master's in Cyber Security.