James Alexander - BSc (Hons) Architectural Technology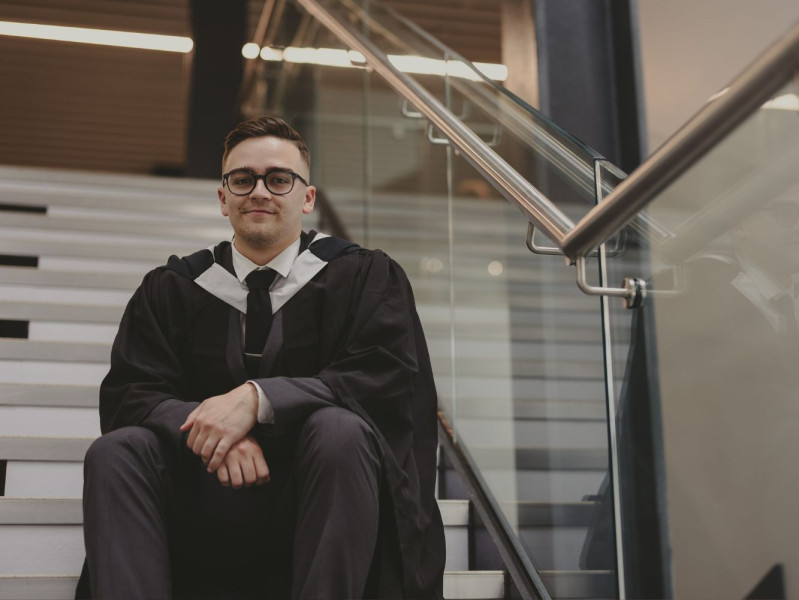 Building on the success of his third-year placement, James has already secured his first job with a national housebuilder as an Architectural Technologist.
Whilst a secondary school pupil at Thurso High School, James developed a keen interest in Art and Engineering. He decided to combine them both and is now graduating with a first class honours BSc in Architectural Technology from the Scott Sutherland School of Architecture and Built Environment.
James was impressed by the Scott Sutherland School of Architecture and Built Environment's reputation, having heard first-hand about the experience from alumni.
"I was interested to learn more about architecture, the profession, the design process and building performance. Architectural Technology appealed because it brought together architecture, science, technology and engineering. The course also involved problem solving and learning new building technologies and construction methods which I thought would help my employability. I was also impressed that the course brought in a wide range of professionals through networking events organised by the local chapter of the Chartered Institute of Architectural Technologists (CIAT)."
With a passion for sustainable architecture, James is committed to creating affordable designs, using locally sourced material and technologies with a low environmental impact. For his final year project, James particularly enjoyed designing a sustainable and affordable housing scheme as part of the Inverness harbour development.
By using locally sourced materials, incorporating natural light to maximise thermal gain and a low energy building system, James successfully designed a sustainable collection of one-and two-bedroom flats with a shared foyer area, café, rooftop garden to so people could grow their own fruit and veg, study area and a shared laundrette to minimize the amount of energy usage throughout.
Affordability was at the heart of James's project and by using a modular style timber kit system, and researching alternative timber frame systems that could be disassembled, such as Japanese Joinery, he gave his clients the option to customize the layout of their homes, should their needs change. The project gave James industry insight and developed his technical skills across all aspects of the design process.
James says his experience at the Scott Sutherland School has been positive despite the challenges of study during the Covid pandemic.
"I initially found it challenging adjusting from face-to-face teaching to online learning and working in groups and presenting online, but I subsequently learnt new skills, such as Revit and Illustrator, and enjoyed LinkedIn learning provided by the University and online tutorials.
"I also enjoyed speaking to alumni during studio projects and professionals, which gave me an insight into working in practice and advice about their experiences."
James says he also benefitted from advice from RGU's Careers Support Service and course tutors who helped him with his CV and Portfolio, and taught him the skills he'd need for working in practice.
A particular highlight for James was a third-year placement at Kirkwood Homes which gave him hands on experience in the construction sector and brought to live all the skills he'd learnt at University.
"My third-year placement at Kirkwood Homes, allowed me to develop my skills in AutoCAD, and gave me the opportunity to meet others in industry and to learn more about the profession first hand. During my final year, Kirkwood Homes offered me part time job and I'm now working there as a Graduate Architectural Technologist which I'm really enjoying.
"RGU has prepared me very well for the next steps of my career and I'm looking forward to developing my portfolio further and to gaining more skills to become chartered in the future."