Keir Smith - MEng Mechanical Engineering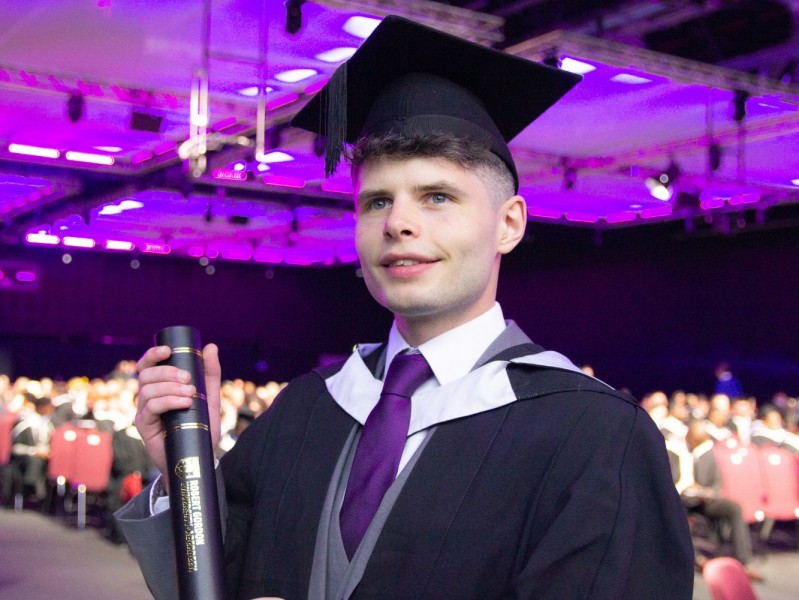 With a passion for engineering and a family history in the profession, 23-year-old Keir Smith not only graduates from his MEng Mechanical Engineering course with distinction but does so with four job offers to choose from.
Keir, from Aberdeen, crossed Robert Gordon University's (RGU's) graduation stage in front of family and the University's supportive community on Friday 15 July, exiting on the other side as a Master of Mechanical Engineering with distinction.
"My final year was by far my most rewarding at University, and it was a true lesson in getting out what you put in," says Keir. "I gave my fifth and final year my full attention and commitment. The result was straight A's for the whole year, which is something I've never achieved before."
In his final year, Keir had the opportunity to be involved in the design and development of an oscillating water-column wave-energy device under the supervision of RGU's future energy technology specialist, Professor Mamdud Hossain.
Keir says: "It was a huge highlight of my final year. The project progressed well across both semesters and the findings were presented at a conference by Professor Hossain. This was an achievement that I definitely was not expecting to be part of at the start of the year—and it's something I am very proud of."
With both his grandfather and uncle having careers in engineering, Keir has always had an interest in science and technology, and this influenced his decision to study at RGU.
"I enjoy learning how things work," says Keir. "Mechanical engineering suited my interests and it's hard to imagine myself sticking with many other courses. I chose to study at RGU for its strong industry connections and emphasis on vocational learning—and the campus is also lovely.
"Even while still at school, I already valued the practical aspect that RGU emphasises—the importance of which cannot be understated in the field of engineering. Every year of study had a practical element in some form, with a good blend of both individual and group work. These allowed me to develop key teambuilding skills as well as helping everyone on the course to get to know each other that little bit better."
Prior to university life and in his final year at St Machar Academy, Keir took part in the Access to Engineering scheme, which introduced him to RGU's facilities, staff, and like-minded people from other schools.
Keir adds: "The staff are all very supportive, and never forget to remind you to ask for help when you need it, which they are always happy to provide. They use a variety of teaching methods, which really has enhanced my learning across all the many topics covered. This works alongside some really good real-life examples from industry that have been used as components of assessed coursework—a great way to prepare you for entering industry.
"One of the things that stood out the most for me during my time at RGU was the conversations I had with the very experienced Engineering Applications and Services staff, covering the importance of practical considerations when applying theoretical ideas. This is so important for carrying out any sort of project in industry."
Before graduation, Keir received four offers from four different companies, which he each would consider excellent starts to his career.
"I made great use of the careers services at RGU," says Keir. "Lorraine Aimes was a massive help in bringing my CV up to a high enough standard to use for job applications with confidence.
"RGU has enhanced how I handle problem solving and working under pressure while really building my professionalism. My course was oriented towards the application of theoretical concepts to real-world problems, while also covering wider aspects taught by staff from Aberdeen Business School such as project management, leadership, and socially responsible management.
"I've found these topics to be very relevant when attending interviews. I believe the knowledge gained will stick with me for just as long as all the hard maths and equations, and I look forward to developing this in the first role of my career."
Keir has now accepted a job offer from TechnipFMC to become a Graduate Project Engineer.