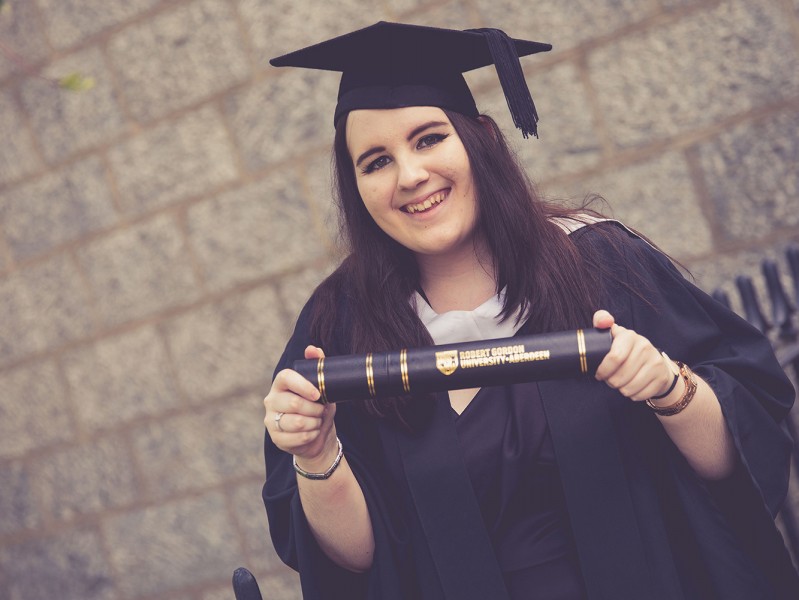 Ashleigh's strive for success has paid off with a First Class Honours degree.
Ashleigh Gall wanted to develop her key skills before heading out into the world of work, to strive to be the best she can be for a company.
She took to the stage collect her well-earned First Class Honours Media degree from RGU on Wednesday, July 10 at 2.30pm at His Majesty's Theatre.
The 21-year-old, from Turriff, decided that university would be a great step to build her confidence before heading into a challenging work place, but also a great place to network with other people with similar goals.
She said: "Initially, I attended NESCol to study computing and games design but ultimately decided I would use those skills and go down a marketing route. I then decided to apply to the Advertising and PR HND after successfully completing my NC in Digital Media.
"From there I decided I would be more suited to the BA (Hons) Media degree at RGU and I have now successfully completed the 2+2 Degree Link route through Degree Link, ending with a First Class Honours.
"I felt that the media degree had the perfect balance between creativity, analytics, practical and theoretical work which have me a wide range of skills which could be applied to the workplace.
"All of the work is pretty much linked together which is great as the skills you learn are very transferable and there was even an option to do a practical research project instead of the conventional research project which was really great to see."
Ashleigh said she has grown in confidence throughout her time at college and university and she looks back on her time at RGU fondly.
"I have made great relationships with prestigious professors and lecturers at university which really helped when it came to coursework as they had been through it before and I feel they knew what we were going through especially coping with tight deadlines.
"I also volunteered with several societies and even obtained an award which was super and it really made me feel that my time and work was valued within the university and that the students really have a voice."
Ashleigh added that the practical elements of the course really helped, commenting: "It allowed me to discover a passion I never thought I would be interested in it felt like we had the freedom to complete the coursework our own way rather than it being really restricted.
"I also found that the teaching methods allowed us to have control over our coursework and if there was anything we had issues with, there was always someone we could easily chat to.
"I think the network connection within RGU have really helped me. It felt comforting to know that lecturers were understanding and so, so helpful and I couldn't ask for more.
"I feel that if I hadn't gone to university, I would be a little stuck with where exactly I wanted to go and I feel that the content of my degree and my new-found confidence has really helped me prepare for the next step."
Ashleigh is considering returning to RGU to study an MSc in Digital Marketing as she feels that is definitely the career for her.