Master's Graduate Exhibition 2023
Gray's School of Art is pleased to present our Master's Graduate Exhibition for 2023. The artists and designers work in this exhibition will showcase their professional practice and work developed over the period of their Master's studies work which supports and embodies their personal research and development as full-time and part-time students here at RGU.
This work is fundamentally individual in nature but explores through various disciplines including sculpture, photography, painting, animation, graphic design and fashion design. Some use common themes addressing personal, cultural or political histories, whilst other work has sought to incite conversations that might address more ethical or ecological practices that ask us all to tread a little more lightly.
The Master's curriculum these students are graduating from is both rigorous and flexible. We offer our students significant latitude for personal exploration and development, while fostering and supporting in these students much greater individual critical perspectives, leading to a much deeper understanding of the histories, issues, cultures, and disciplinary contexts that inform these creative practices today.
This year, we are proud to present the work from the following Master's students:
Hannah Cutt, Iona Dorricott, Christine Fleming, Gill Flett, Sarah Macfarlane, Zara Deary, Julia Poeppelmann, Harry Roberts, Yara Diab, Ronnie Wood, Beric Sharp, Beth Wilson, Bart Grabski, Nicole Paterson and Catriona Clarke.
Graduate in Residence Exhibition 2023
Welcome to BLEND – an exhibition of fresh new work produced during the Graduate in Residence programme (GiR) in 2022-2023. Showcasing the extraordinary talents of nine recent graduates as they commence their professional journey into the art world. The work on show is a celebration of their commitment, determination and resilience in increasingly challenging, unpredictable times.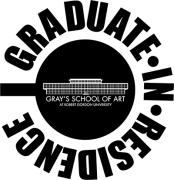 Eligible to students on the BA (Hons) and MA courses, the Graduate in Residence programme enables recent graduates of Gray's School of Art to contribute to the delivery of the Fine Art/Design curriculum and other aspects of the school's activities for a one-year period. The GiR role enables pedagogical exchange of knowledge and experience whilst providing unrivalled access to workshop facilities for GiR's to expand and develop their own creative expertise.
This year, we are proud to present an eclectic blend of printmaking, photography, painting, video, ceramics, animation and design with a spotlight on the work of our talented GiR artists and designers:
Elodie Baldwin, Daniel Bonello, Denise Delaunay-Wood, Sherjeel Hussain, Lauryn King, Joan MacLeod, Annalisa Merrilees, Rod Milne and Sarah May Sanger.
The show took place between Friday 25 August and Saturday 2 September 2023.
Follow the Gray's School of Art event on Social Media:
Read stories from a selection of our exhibiting students: