Students and Our Union Street join forces to come up with fresh vision for city
Thursday 16 November 2023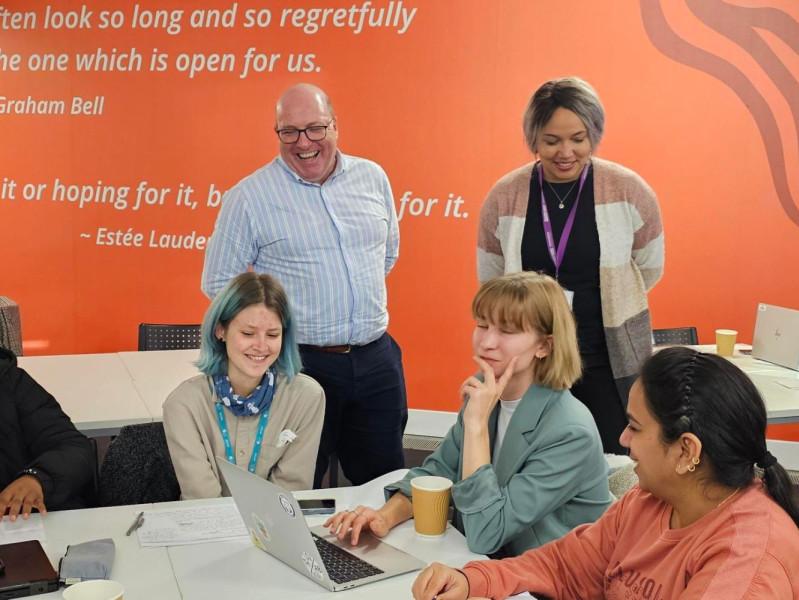 Students at RGU have been working alongside a community project to come up with their innovative solutions to transform Aberdeen's most famous street as part of Global Entrepreneurship Week.
Our Union Street have collaborated with RGU's Entrepreneurship and Innovation Group (EIG) to enable students the opportunity to set out their own unique visions for the future of the Granite Mile.
The event, held on Wednesday 15 November, was chaired by Bob Keiller from Our Union Street, an organisation dedicated to transforming the city centre alongside the council, businesses, and residents.
The challenge is as part of Level 2 of the RGU Innovation Award, an extra-curricular micro-credential programme designed by the University to build student competencies in being able to respond to disruption, participate in the process of innovation, and develop design solutions.
It ties in with RGU's strategic aim on economic, social and cultural development with a particular focus on fostering a vibrant culture of enterprise among our students, staff and wider communities the University engages with.
Teams were tasked with working together to brainstorm and develop ideas before presenting to the rest of the group and Mr Keiller.
Visual water displays, interactive tourist information and a virtual showcase of Scottish landscapes, gardens, and plants were among the ideas students came up with to revitalise Union Street.
Startup Manager at the University's Entrepreneurship and Innovation Group, Aisha Kasim, said: "This was a brilliant event and the ideal opportunity for our students to apply their ideas to helping revitalise an area of Aberdeen. It was so exciting to see the enthusiasm from the groups about the possibility of transforming the city centre and it was great to work alongside Our Union Street on this project."
Bob Keiller, from Our Union Street, said: "Collaborating with RGU on the Our Union Street Innovation Award Level 2 workshop was a fantastic exercise. Over the course of just an afternoon, the students generated some exciting and diverse ideas on what we may be able to show on Our Union Street. We have everything from forests to oceans to local attractions to showcasing the world's best books."
Jair Detsch, Student Enterprise Coordinator, added: "I was delighted to see the cross-disciplinary working between the teams on this community focused challenge."
The RGU Innovation Award is open to any student and split into 3 levels with participants able to start and stop at any time. Those who complete the award gain a full award certificate which will be noted on their Higher Education Achievement Record (HEAR).
Students can find out more about the RGU Innovation Award here.
If your organisation would like to be involved in future RGU Innovation Award challenges, please contact innovation@rgu.ac.uk.
Main image shows Bob Keiller from Our Union Street and Aisha Kasim, Startup Manager at RGU's Entrepreneurship and Innovation Group, speaking to students about their ideas.