Two RGU entrepreneurs triumph at national Converge Challenge Awards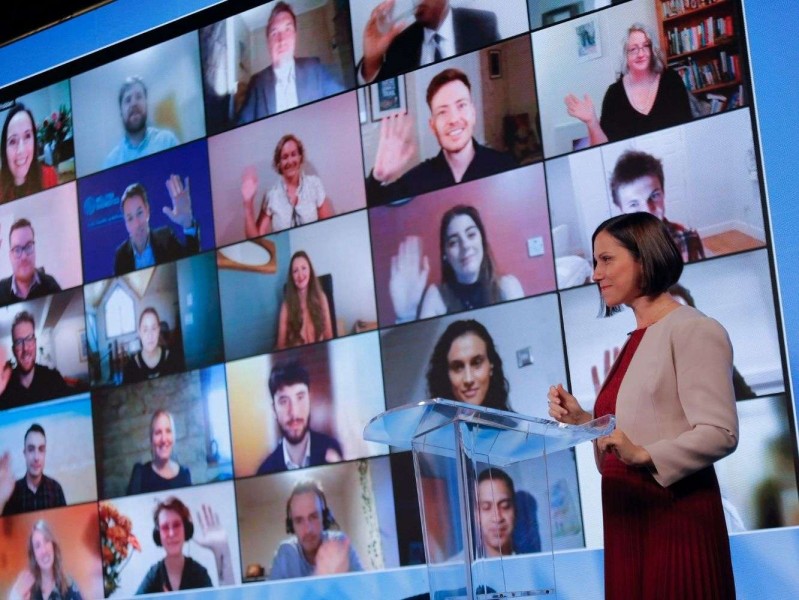 Two RGU entrepreneurs triumphed at the 2021 Converge Challenge Awards, taking home a total prize pot of £60,000 for their innovative business ideas.
Broadcast online, the Awards – Scotland's annual celebration of academic innovation and entrepreneurship – showcased finalists of breakthrough projects in a range of sectors.
Lucy Fisher, a graduate from RGU, won the Creative Challenge Category with a prize package of £40,000 for Knit It, an innovative platform which offers digital knitting patterns, tools and tutorials, which went through RGU's Startup Accelerator programme in 2020. Lucy hopes through Knit It, to create a global community of knitters by revolutionising the knitting industry. Lucy's successes have included: winner of Most Improved Start-Up Award at the RGU Start-up Showcase event 2020; Creative Edge and Young Edge winner at Scottish Edge Awards 2020; and winner of a Young Innovators Award 2020/21, funded by Innovate UK and Princes Trust and recognising future leaders in innovation.
RGU alumni, Ken Morrow, took home one of the night's special awards, the SSE Net Zero Award, for Hydrowheel, the world's first inflatable waterwheel. Designed for easy installation across the developed and developing world, the technology generates affordable, accessible, renewable energy without causing harm to local ecosystems. The prize, sponsored by energy company, SSE and presented on the night by SSE Chief Executive, Alistair Phillips-Davies, included £20,000 in cash plus a package of in-kind business benefits. Ken was on the RGU Startup Accelerator in 2020.
Jo-Anne Tait and Barry Robertson, both RGU, were also award finalists. Jo-Anne's business, an immersive technology company creating products to support engagement in the arts, has developed 'SeatViewer,' an online app enabling people with access issues to see the view from any seat, in any venue, helping them to plan ahead by choosing a seat appropriate for their needs. Meanwhile, Barry Robertson has created 'The Grey Hill,' a multimedia tech-based company providing international audiences with accessible theatre content.
Commenting on their success, Chris Moule, Head of Entrepreneurship & Innovation at RGU, said: "We are delighted with Lucy and Ken's success and are very proud that we were able to support them on their journey. It is a fabulous endorsement for both entrepreneurs who came through our Startup Accelerator programme and hopefully encourages staff and students to have a go in the future. The fact that RGU had four excellent finalists, demonstrates the University's approach and commitment to entrepreneurship, both for the individual and within the wider curriculum."
Claudia Cavalluzzo, Director of Converge, said: "Our university sector has experienced a difficult year with uncertainty regarding return to campus and budgets, international students and research projects.
"However, despite all the odds our institutions have risen to the challenge with ingenious ideas and ground-breaking innovations that have the power to transform not just our economy but people's lives and also the planet.
"The sheer ingenuity and creativity of this year's Converge winners and finalists show just how innovative we can be as a nation which gives me great hope for our post-pandemic recovery."
Converge is funded by the Scottish Funding Council, all 18 Scottish universities, Creative Scotland and a roster of partners and sponsors – all of whom lend their invaluable expertise and knowledge in helping Converge alumni businesses on their journey to success. They include Cisco, SSE, The Royal Bank of Scotland and CPI Enterprises.