Innovation drive as RGU announces startup teams in entrepreneurship accelerator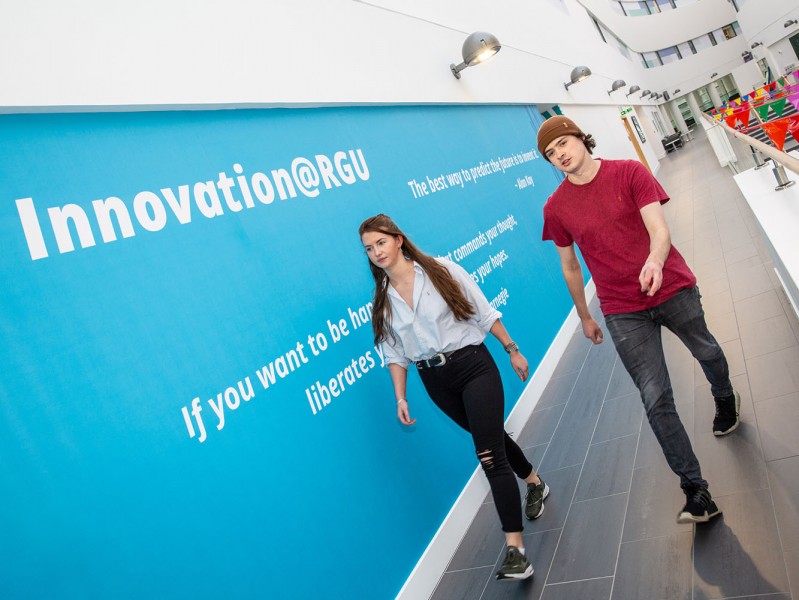 Twenty-eight startups have been selected to join RGU's new Startup Accelerator, the first funded programme of its kind in North East Scotland designed to help entrepreneurs execute business models, deliver valuable products or services and create local jobs.
The chosen startup teams cover a range of industries including healthcare, digital media, education technology, energy, food, fashion and textiles, financial technology and retail, with business applications for physical products, software, sustainable manufacturing, autonomous vehicles, mobile health, virtual environments, blockchain, mobile apps and online platforms.
The RGU Startup Accelerator, which is part of the university's innovation and entrepreneurship initiatives, will support the entrepreneurial teams of students, staff and recent alumni from RGU and North East Scotland College (NESCol), with the aim of helping the region's entrepreneurs and innovators to create new businesses.
Over 160 teams entered the application process and from that 103 teams entered the main competition phase of the accelerator programme and were judged by 40 judges including 30 international industry experts. The 28 successful teams will receive training, mentorship and development including up to £10,000 of funding each, leading to the creation of new businesses to support the region's economic development.
"The new startup accelerator is just one of the many ways in which RGU is offering students a way to develop their careers while still in university," said John Harper, Principal and Vice Chancellor of RGU. "By opening access for staff and alumni from both RGU and NESCol, the university is building an open and inclusive innovation ecosystem that will have long lasting impact on the wider regional economy."
The Startup Accelerator, which is funded by the Wood Foundation, is based in the 'Innovation Station', a new on-campus innovation and entrepreneurship space in the university's Sir Ian Wood Building, and will also have a home in the recently announced ONE Digital Entrepreneurship Hub, which is located at the historic RGU Schoolhill site.
"The teams have been chosen through a rigorous judging process," said Gordon McConnell, Vice-Principal of Commercial and Regional Innovation. "Now the real hard work begins as the teams go into an intensive mentor-led accelerator process designed to help them develop their value proposition and lead to the establishment of operational companies."
The startup teams will also be supported by the Aberdeen Innovation Mentors (AIM), a newly announced volunteer group which has already gained over a dozen members and is projected to grow to over 50 in the New Year to support company creation and scale up in a number of industries to drive economic development.
The Startup Accelerator competition runs each year and is open to undergraduate, post-graduate and doctoral students enrolled in any RGU or NESCol programme, as well as full-time or part-time staff and recent alumni. While at least one member of the team must be from one of these groups, teams also include external individuals.
RGU's Startup Accelerator and Innovation Skills programmes are just the first of a series of new initiatives in the areas of skills, employability, innovation and entrepreneurship being developed by the university which will be launching over the coming months.