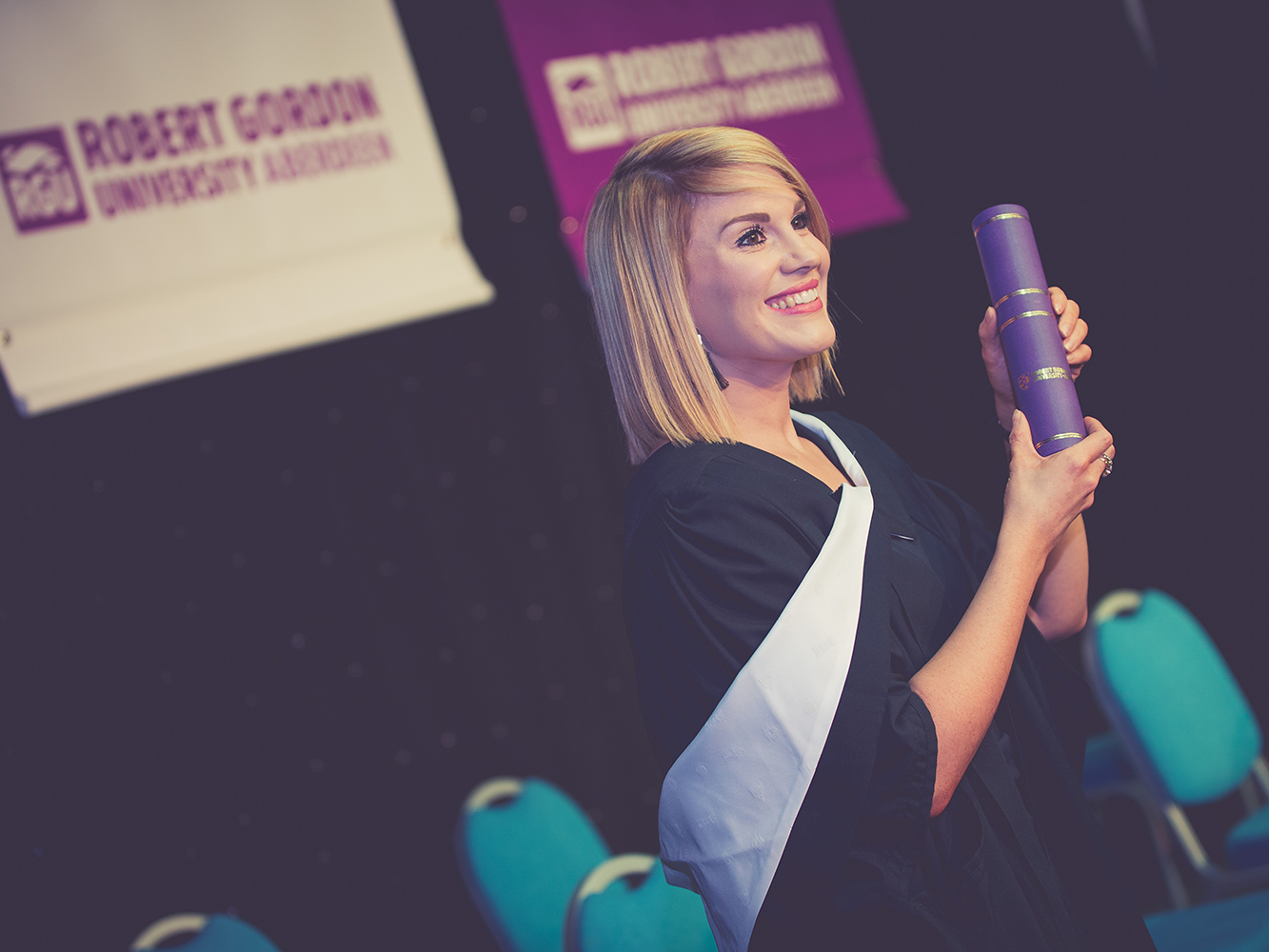 An Aberdeen-based nurse has spoken of her immense pride after returning to RGU and graduating with the second of three potential qualifications.
Amy Duthie (31) graduated with a PgDip Advancing Nursing Practice at a ceremony at Aberdeen's Beach Ballroom on Wednesday 5 December.
After working as a nurse for 7 years, following her undergraduate training at RGU, Amy chose to return to university to fulfil her ambitions to specialise in her profession.
She said: "Since starting my nursing training, I always wanted to go down the district nursing route and started moving towards that by working as a community nurse. When I heard that the NHS were offering partial funding for this course, I jumped at the opportunity – I had a very good experience the first time round at RGU and couldn't wait to develop my nursing skills with advanced practice.
"As clichéd as it sounds, I originally chose nursing because I have always wanted to help people and I really believe that this is more of a vocation than a job. The fact that RGU's Advancing Nursing Practice programme would give me further development and make me better at providing care just made it a natural progression."
RGU's School of Nursing and Midwifery puts a heavy emphasis on addressing the current and future needs of its partners in the health service, with a number of dedicated post-graduate programmes and short courses available for practitioners.
It has been this professional-minded approach which Amy feels has had the biggest impact on her time in higher education.
She said: "After completing my PgDip, I am absolutely delighted to have fulfilled my original ambitions and am now in post working as a district nurse.
"There's no rest for the wicked though – I'm actually already back at RGU studying towards getting my Non-Medical Prescribing qualification."
While her professional development will continue, Amy's graduation marks a significant achievement for her and one which brings a real smile to her face.
She added: "I'm immensely proud of myself for making it through the past two years, as there were a few times where I didn't think I would be able to achieve what I'd set out to do.
"As a single mother to a four year old, it took a fair amount of juggling – with work, parenting, studying and everything else life throws at you in between – but I pushed through and got there. I am very grateful to my family for their support throughout everything, as they were with me every step of the way.
"I think I'm an advert for 'If you set your mind to it, you can achieve anything'. Or maybe I'm just stubborn!"