RGU Professor and students triumph at Aberdeenshire Design Awards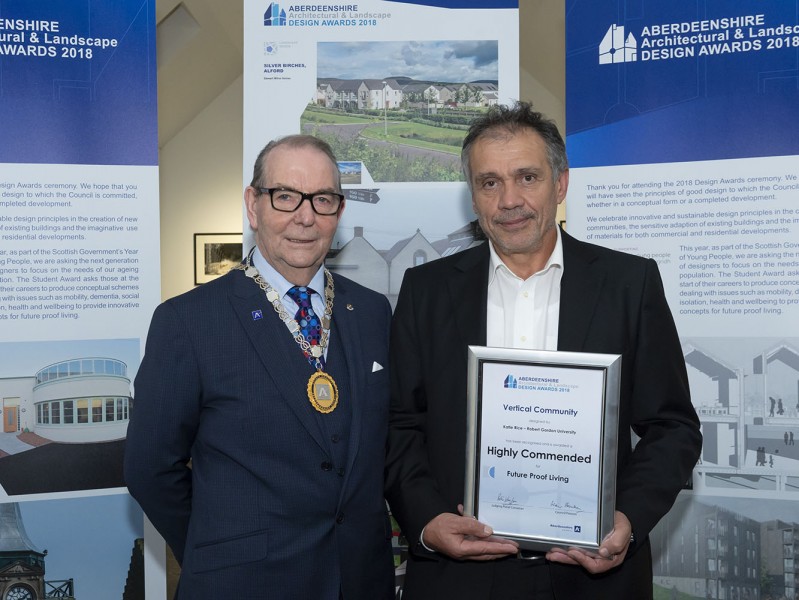 An architecture professor from Robert Gordon University (RGU) and three final year students have triumphed with their innovative approach to design at the Aberdeenshire Architectural and Landscape Design Awards 2018.
Students Sophie Houston, Sophie Perrot and Katie Rice were all competing in the 'Future proof living category', which focused on design solutions to meet the changing demographics of Aberdeenshire, looking at areas such as ageing, mobility, social isolation, wellbeing, health and dementia.
Sophie Perrot and Katie Rice's projects were both highly commended, sharing the winning honours.
Sophie's innovative resomation complex and memorial gardens project proposed a sustainable and respectful solution to the increasing issue of funeral poverty, while Katie's 'Vertical Community' explores the concept of co-housing in the reconfiguration of a post-war multi-storey housing block.
Sophie Houston picked up the commendation award for her project 'A Whole of Parts – Dementia and the public realm', which proposed a new typology for health and social care for the elderly and ultimately aims to integrate people with dementia into the wider community.
Professor Gokay Deveci won distinction in the 'Building for communities' category for his affordable, low-energy housing development in Fraserburgh, 'Heritage Way', which was opened last October by the Housing Minister.
The project, which was a collaboration between Aberdeenshire Council and RGU's Scott Sutherland School of Architecture and Built Environment, features 30 properties in a mixture of flats and houses, three of which have been designed for people with physical disabilities.
Prof Deveci commented: "I am very proud of our students for their innovative and creative design ideas which have been recognised at the Aberdeenshire Design Awards.
"A lot of the work we are involved in here at the Scott Sutherland School is about how we can help and have an impact upon the communities in which we operate and the innovative designs by these students all offer viable solutions to the problem of changing demographics in Aberdeenshire.
"It was an added bonus to be awarded the distinction for Heritage Way, which has been a truly collaborative project between RGU and Aberdeenshire Council. We are currently monitoring the energy use and completing a Post Occupancy Evaluation (POE) and the findings which will be incorporated in the design of future housing in Aberdeenshire and beyond."
The eleventh biennial Aberdeenshire Architectural and Landscape Design Awards (AALDA) ceremony took place at The Barn in Banchory on Thursday, October 4.