Emily Smith - MSc Project Management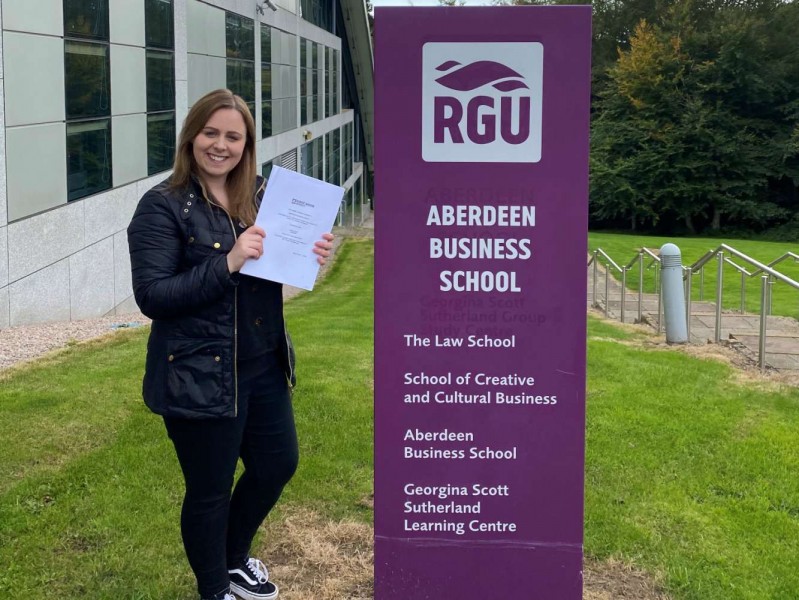 A dedicated Project Management student from Aberdeen Business School has juggled a full-time job as a key worker in retail while completing her Master's degree, all during a global pandemic.
Emily Smith, who is from Nairn, will graduate with an MSc in Project Management at a virtual graduation ceremony on Friday, December 4. Her journey at RGU began with a BSc in Architectural Technology.
"I wanted to continue to learn and my interest of architecture helped me choose Architectural Technology. After completing that degree, I spent a few years working at Marks and Spencer's and then I decided to go back and complete my Master's as I enjoyed the project side of my undergraduate degree and working in a team."
Emily's continued passion for architecture and a new-found interest in management from her time in retail led her back to RGU where she was thankful of the support the university offered after her time away from education.
"After not studying for 2 years, I certainly needed help with my presentation skills. Luckily in many of my classes, we had to present and that has definitely helped my confidence.
"Throughout my Master's, there were many presentations from external companies which were very interesting and gave a good insight into where we could go with our course after completing it."
With the onset of the pandemic and the move to a blended learning approach, students across the country had to adapt in the face of extremely challenging circumstances.
"RGU has been incredibly supportive through this tough year. Everything I needed was available through Moodle, all my lecturers were very supportive and helpful as I worked up to 45 hours some weeks while also trying to get my university work done. My course leader and dissertation supervisor Sheonagh Rowley was incredibly understanding and helpful and I can't thank her enough."
Emily is now looking forward to the next chapter, after a tough year.
"It has been a stressful year balancing working through lockdown and completing my Master's, but I am thrilled to have passed. I have loved every minute of my time at RGU both during my undergraduate degree and my Masters. Every now and then I wonder whether I'd like to go back and complete a PhD.
"However, I think I would now like to begin my career in project management. I feel I am ready. I think I'd like to stay in Aberdeen as I have met so many great people who are here, both from RGU and work."