Scott Russell - BA (Hons) International Hospitality Management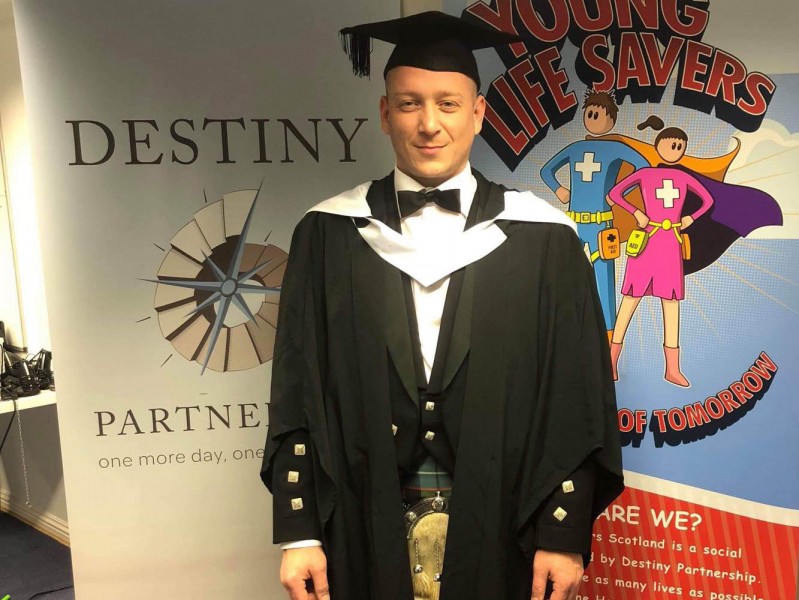 Scott Russell balanced his full-time degree with running his own business, taking part in the first RGU Startup Accelerator programme, and raising his three-year-old son.
Scott, 37, took to the stage at The Music Hall on Tuesday, December 10, at 2.30pm to collect his hard-earned International Hospitality Management degree. During his studies, Scott continued to run his business while balancing business and family life, which he said wouldn't be possible without all the support from his partner Jessica.
However, he said he gained much more than a degree during his time at RGU.
Scott, from Buckie, was part of the first RGU Startup Accelerator, which is the only funded programme of its kind in the north-east. The accelerator supported Scott throughout the creation of Destiny Partnership with essential funding, expertise and mentorship to shape the commercial side of his business.
"The experience with the accelerator was, and continues to be, amazing", Scott said. "I plan on taking our new enterprise Destiny Partnership and other companies to higher heights in 2020. It certainly looks like it's going to be a busy year already."
Destiny Partnership was founded by Scott and Jessica Young. They created Young Life Savers Scotland – a non-profit organisation which is now Destiny Partnership's first social enterprise. Young Life Savers Scotland teach first-aid and life-saving skills to children throughout Scotland. They also host multiple classroom-based courses for children in subjects such as mental health, drug and alcohol abuse, child abuse, bullying.
Young Life Savers Scotland was selected to take part in the first RGU Startup Accelerator programme, which enabled Scott and Jessica to build Destiny Partnership as a charitable organisation, set on becoming a charity and accredited awarding body to deliver qualifications.
Scott added: "The RGU Startup Accelerator is a fantastic platform for entrepreneurs, and those with valuable ideas and products to gain the help they need to succeed.
"Without it, lots of new undiscovered talent would certainly remain unseen and I thoroughly enjoyed every moment."
Scott also suffers from both hidden physical disabilities and dyslexia, which he didn't come forward about until he started at RGU.
"The student disability centre was a great help. Having hidden disabilities, or any disabilities, should never hold you back. Nor should conditions such as Dyslexia."
Scott added that his time at RGU has not only given him a professional qualification but insight into modern higher education, networking opportunities and more. Infact, he enjoyed RGU so much, he said he will start another degree a few years down the line.