Leanne Park - MSc Construction Project Management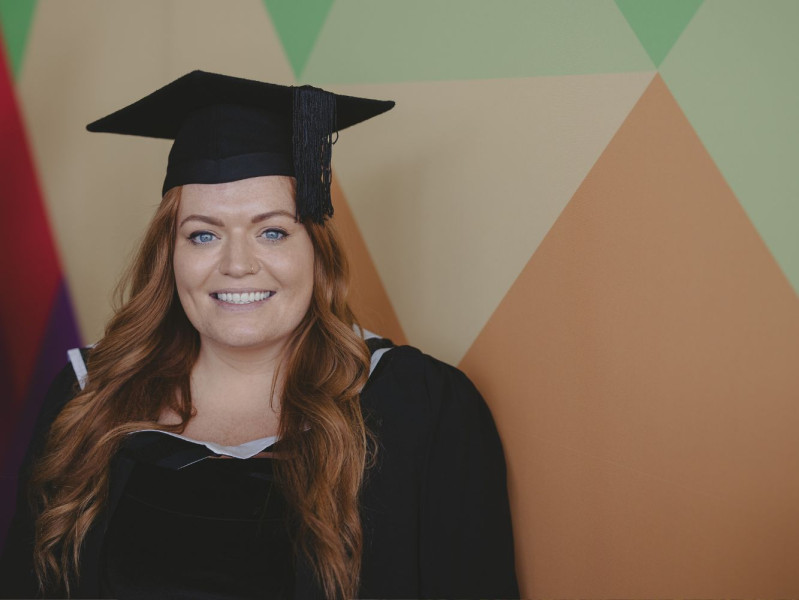 A qualified Digital Consultancy Lead, with an impressive track record in industry, chose to upskill further, and is graduating with a MSc in Construction Project Management.
At the age of 17, Leanne Park left Mintlaw Academy, to work for the global consulting and engineering company, Wood, as part of their apprenticeship scheme. This led to her first job as a structural engineer which gave her a real taste for working in industry.
Leanne wanted to expand her skill set and applied to do a HND in Mechanical Engineering at North East Scotland College (NESCol), studying on day release whilst working a full time job. With an appetite to learn, Leanne wanted more, and applied to study a BEng (Hons) Mechanical Engineering degree at RGU's School of Engineering.
She was impressed by the flexibility of RGU's BEng (Hons) Mechanical Engineering degree, which gave her the option to study part time, via night classes, whilst working full time. Despite the challenges of juggling full-time work and study, Leanne says the lecturers at RGU were really supportive, and she benefitted from the Support & Advice Services at the University.
After obtaining her BEng, Leanne's career flourished. She moved to Optimus Engineering to become a graduate structural engineer before heading back to Global E&C to become a designer again. As she built up her experience at Global E&C, she realised she wanted to expand her skillset further and took the decision to go back to RGU to study a Master's in Construction Project Management at the Scott Sutherland School of Architecture & Built Environment.
She'd already seen first-hand the quality of the facilities and valued commitment of the teaching staff at RGU whilst studying her first degree in mechanical engineering and was keen to build upon this experience a second time round.
"I was attracted to the Construction Project Management course at RGU because it gave me the opportunity to upskill and to learn more about project management principles and their application. As the degree was very industry specific, it meant I could also relate those learnings to my career.
"The fully accredited MSc would also equip me with the necessary technical, managerial, and interpersonal skills to manage complex construction projects which would really help my career which was something I strived for."
Reflecting on her experience working in engineering, widely considered a male-dominated field, Leanne said: "For a long time, construction has been perceived as a male dominated field which can be intimidating but I haven't experienced any blockers to my progression from being female.
"I believe things are changing and there is now more of a focus on diversity, equity, and inclusion in the sector to help women navigate their careers. By upskilling with my Master's in Construction Project Management from RGU, I have even more confidence to advance in my field."
Looking back on her experience at RGU, Leanne says she has really benefited from the flexibility of distance learning which has enabled her to develop her professional skills whilst enhancing her career prospects.
"As someone who has pivoted through many different careers since leaving school at 17, I continually strive to develop and believe learning is key to finding new opportunities such as my masters degree.
"As my degree was distance learning, I found that the course materials for the Construction Management Masters at RGU were well executed and industry related. The expectations were very clear, and the support from all the tutors, industry professionals and other online students, was available when I needed it. I believe this will help me on my journey to one day becoming a chartered project manager through the Association of Project Managers (APM).
"Whilst it has been hard work combining full time work and study, the rewards are definitely worth it. I would recommend anyone wanting to upskill to just go for it.
"I am incredibly proud of achieving not only a BEng, but also the masters while working full time. I am now working full time for Global E&C, project managing their digitalisation journey as they aim to become the most digitally enabled EPC contractor in the market. I would encourage anyone considering re-skilling or upskilling to take the next steps and to study at RGU."