Jeanette Forbes OBE - Doctor of Business Administration (DBA)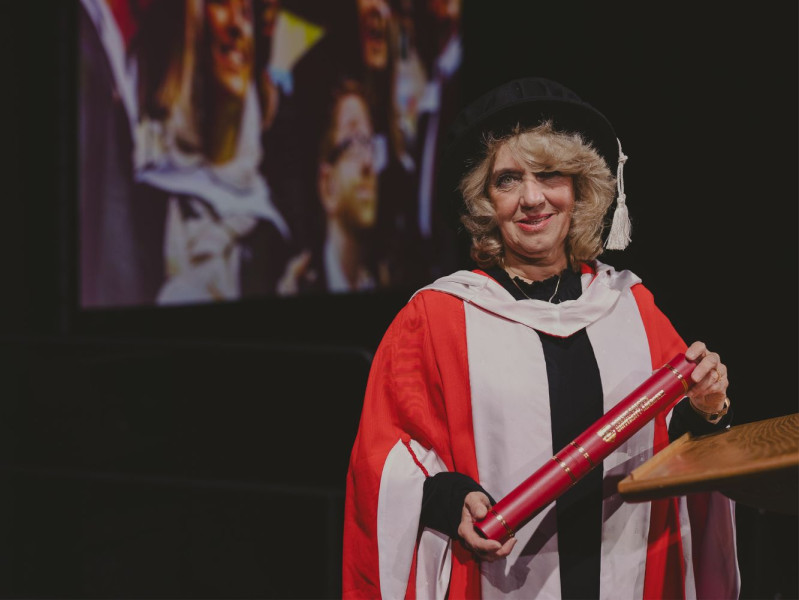 Jeanette Forbes OBE, recognised as a leading businesswoman in the fields of science, technology, engineering, and maths (STEM), has been awarded an Honorary Degree from Robert Gordon University (RGU) at their graduation ceremony on Wednesday 5 July.
The founder of PCL Group, which boasts global clientele in information technology services, was present at Aberdeen's P&J Live to receive a Doctor of Business Administration (DBA) award.
Professor Steve Olivier, Principal and Vice-Chancellor, said: "Jeanette is a fantastic role model to students of someone who has worked incredibly hard throughout her career and overcome setbacks to become a leading example in this city and beyond of what can be achieved in business.
"Not only a founder of several successful businesses, she is also a regular supporter of entrepreneurship in the North East and helping to elevate our region - something that is great testament to both her character and work ethic."
Having been established from Jeanette's home in 2000 after working in the oil and gas industry, PCL Group has grown substantially ever since and now transcends sectors.
More recently, the businesswoman diversified and opened Grape and Grain in 2017 - an upmarket wine bar in Aberdeen city centre. She's also heavily involved with three further companies which aim to make great impact in their respective industries.
Blue Gentoo Limited, a further Aberdeen-based business, focuses on developing ground-breaking technology in the energy sector to cope with a future dominated by net zero targets and emission reduction.
Another, OMMICA Limited, provides chemical testing kits for detecting the concentration of methanol or monoethylene glycol (MEG) in oil and water.
Jeanette is also active in the business community. Previously a Board Member of the Scottish Government's Enterprise and Skills Strategic Board, she is a regular supporter of entrepreneurship and was a recent judge at RGU's 2023 Startup Accelerator Showcase.
In 2010 she was recognised as Burgess of the City of Aberdeen before 12 years later being honoured with an OBE for her services to business, technology, and charity in the North East. Jeanette was at Buckingham Palace to receive the accolade, calling it an "incredible privilege".
Her award from Robert Gordon University was presented to her by Veronica Strachan, University Secretary and Vice Principal Corporate Services.