Daniel Wisely - BSc Construction Management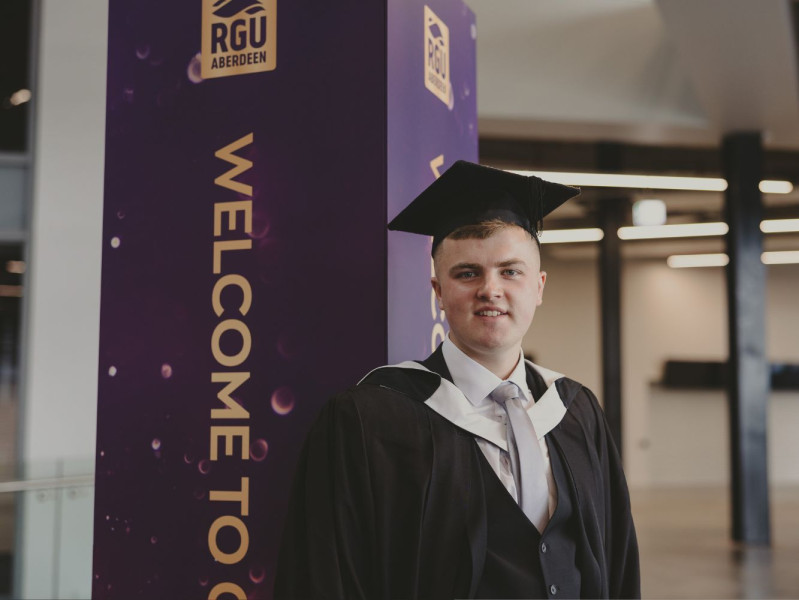 With a keen interest in construction, Daniel created a proposal for the new Aberdeen FC Football stadium as part of his degree and is looking forward to building on experience gained on an industry placement with Dandara, in his future career.
Having always had a strong interest in construction, particularly housebuilding, 21-year old Daniel from Portlethen, had known from an early age that he wanted to work in the construction industry.
Upon leaving Portlethen Academy, he headed to the North East Scotland College (NESCol) to study a HNC in Construction & The Built Environment. This gave him the foundation he needed to apply to the Scott Sutherland School of Architecture & Built Environment at RGU and he is now graduating with a BSc in Construction Management from the Scott Sutherland School of Architecture & Built Environment.
"I wanted to further my knowledge regarding construction as I saw myself having the capability to become a construction manager further down the line in my career. I have always had strong leadership and people skills which I believed, added to a wide range of construction management knowledge, would help me on the path to becoming a Construction Manager.
"I was impressed by the Construction Management course at the Scott Sutherland School which would give me a strong understanding in management, procurement, construction law, contracts, estimating, engineering, and the construction sector as a whole."
Daniel says he is delighted with his achievement and says graduating is the pinnacle of four years of hard work. He points to the experience he's gained on placement as being a real highlight from his degree.
"I enjoyed my time at University, and even though it has been challenging at times, I feel it has made me a more confident person within the industry and the role I see myself going into.
"The highlight of my University degree has definitely been my placement as an Assistant Site Manager with Dandara during my third year. The placement really boosted my knowledge of construction projects, specifically for housebuilding developments and I gained a lot of confidence in this role as a result of the hands-on experience. I was also fortunate enough to have my placement extended until the beginning of my fourth year, gaining eight months of valuable experience. This built up my understanding of the construction sector and supported my academic studies."
As a Dons fan, Daniel says another highlight from his course was creating a project proposal for the new Aberdeen FC Football stadium as part of the student led integrative studies module in his fourth year.
"We were expected to use the knowledge gained over our course, to create a project proposal for the new football stadium. In the proposal, I highlighted the demand for a new stadium for Aberdeen FC, suggested a design proposal, a procurement method and proposed programme of works. This gave me a great insight into each stage of the construction project and allowed me a platform to demonstrate the knowledge and skills I'd developed over my studies. As a fan of Aberdeen Football Club, I loved this project and it felt great to be using my skills to bring to life a stadium for a club I am a big fan of."
Now that Daniel is finishing University, he's keen to join a graduate trainee programme within the construction industry. Looking back on his time at RGU, Daniel says he feels well prepared for the next steps on the career ladder.
"My time at RGU has prepared me greatly to begin my career within the construction industry. I leave University with a great deal of knowledge which will set me in the right direction as I progress in my career. The placements I've done as part of the course have had a large impact on my development and given me a strong insight into the working life of a Site Manager.
"I would really recommend the Construction Management course to anyone interested in this sector. The tutors at the Scott Sutherland School of Architecture & Built Environment are really supportive and you gain a huge amount of industry experience which helps build up your CV and future employment opportunities."