Billie Redgate - LLB (Hons) Law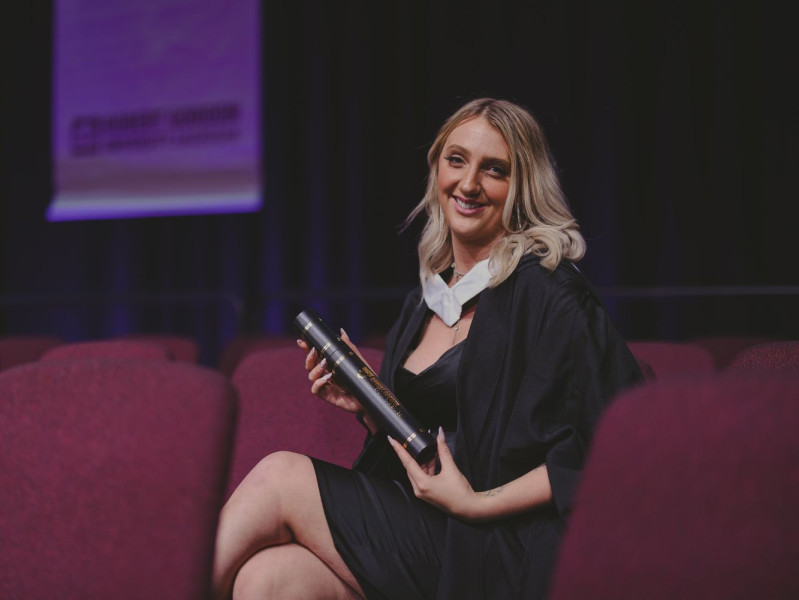 A mother from Kirriemuir who had already achieved one degree is graduating once again having been lured back by her long-time fascination of law.
Billie Redgate, from Kirriemuir, was inspired when having her daughter to visit university and obtained a degree in International Tourism Management before enrolling on RGU's LLB (Hons) Law course.
"When I had my daughter I was just 17 and it reaffirmed my desire to go to university and build a career for myself and for her".
And having taken that first step so soon after, Billie returned to RGU to this time succeed in her long-held ambition of becoming a solicitor.
"I knew from a young age that I wanted to be a solicitor. I have enjoyed the concept of law since I was about 13 and was fascinated by how much there is to learn.
"I hope to complete the diploma in legal practice this coming year and then proceed to a traineeship after that in order to qualify as a solicitor, something which has always been my goal."
Billie is one of so many students who are graduating this summer having endured university life altered by the pandemic. Like so many of her peers have echoed while summarising their years at RGU, she's extremely grateful for the support they've had. Billie in particular lent on Course Leader, David Hill, and his colleagues across the school.
"The facilities and the way the lecturers have dealt with the implications of Covid have been second-to-none and I would say they maintained an excellent level of education throughout the entirety of the course.
"When I have had issues with funding and challenges in my personal life I have been able to turn to them and receive practical and emotional support to continue my studies.
"The support given to students who are parents and are struggling to balance work, life, and university, as well as suffering financial hardship, which so many of us are at this time, has been an essential lifeline for me throughout my time at RGU.
"There has not been a time where I haven't felt supported, and I have always felt able to reach out to my course leader or lecturer and ask for help when I needed it most. I truly would not be graduating without the support they have given me."
Billie hasn't let the tough times dampen the memories of her time at the Law School and is looking forward to the future having learned valuable practical and theoretical skills during her time.
"The Law Clinic was a great resource for additional learning and some practical experience. I really enjoyed my time there during the first two years of my course and the experience has been so valuable for my career prospects.
"The qualification itself is the first step to becoming a solicitor but in addition to that, the extracurricular activities have given me something valuable to put on my CV alongside my degree. The careers service has also been an excellent resource for researching traineeships and graduate positions.
"I am very proud of my achievement and my time at university has been a wonderful experience. It hasn't been without its adversity but ultimately, I feel I deserve the qualification I have gained and I wouldn't change the experience at all."