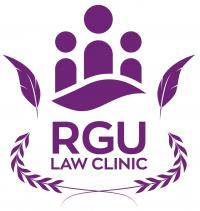 The Law School at Robert Gordon University launched its own Law Clinic in November 2013.
Our student members, who work under the supervision of the Academic Director who is a qualified solicitor and a Law School academic staff member, provide free, confidential and reliable legal advice to members of the public who might not be able to afford it, while enhancing their skill set with real life situations beyond the classroom.
The Law Clinic operates on an appointment-only basis whereby one of our student volunteers will speak with you to confirm that your matter falls within the range of areas that we are able to advise on.
Though this should not be regarded as an exhaustive list, our main areas of competence are:
Housing
Immigration
Debt
Benefits
Mediation
Employment
Community Disputes
Consumer Rights
Consumer Issues
If your matter is not one that we are able to advise on, either at the initial appointment stage or subsequently, we will try wherever possible to refer you to an appropriate alternative source of advice.
Additionally, you must meet our financial eligibility criteria in order to qualify for free legal advice from RGU Law Clinic. You must be able to demonstrate:
Evidence of earning £25,000 or less per year, and
Evidence that you have no more than £2,000 in savings
At your appointment, you will meet with two student volunteers who will be responsible for handling your case along with the Academic Director. During the initial meeting, the students will note down important information relating to you and your matter that you provide. Afterwards, the volunteers will conduct research, gather any additional information, and draft up an advice letter which is sent to you once our supervising solicitor has approved it. You are welcome to contact us for further advice or if no further action is needed, we will regard your case as closed which can be reopened upon making contact with us again.
We welcome any feedback that you would like to give regarding your experience with RGU Law Clinic.
We are still operating during COVID-19 restrictions with the change that most of our work is now conducted online. There are opportunities for a face-to-face meeting, ensuring strict social distancing and health measures are in place. Please contact us via email for further information on how we can best advise you during these times.
Contact Us
For further information or to book an appointment please contact us:
Email: thelawclinic@rgu.ac.uk
Phone: +44 (0) 1224 262394
Address: The Law School, ABS405, Level 4, Aberdeen Business School Building, Robert Gordon University, Garthdee Road, Aberdeen AB10 7QE
Follow us on Social Media
Supported by The Faculty of Advocates