Sylvia Halkerston - Doctor of Business Administration (DBA)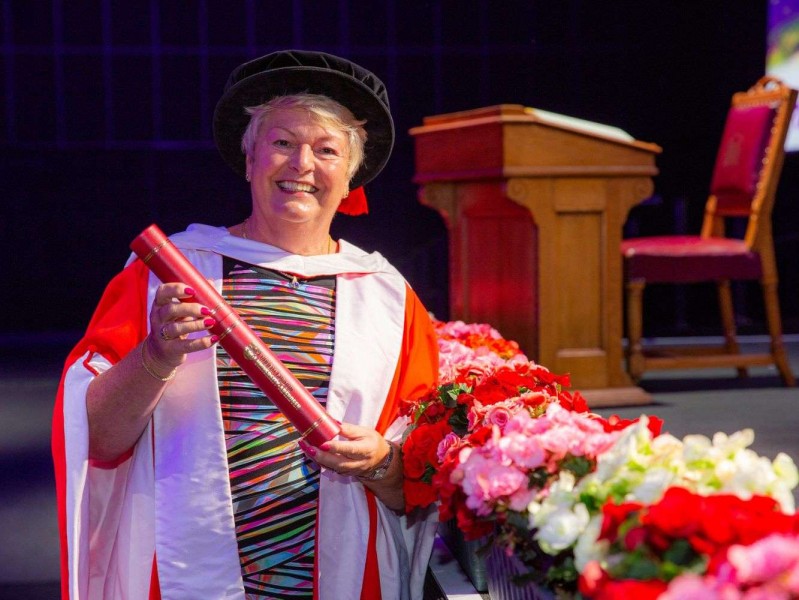 The first woman to be appointed as Lord Dean of Guild of the City of Aberdeen since its establishment in 1214 has been recognised by Robert Gordon University (RGU) with an honorary degree.
Sylvia Halkerston has been awarded a Doctor of Business Administration (DBA) by the University in recognition of her commitment to the city of Aberdeen and her contribution to private and public sectors throughout her longstanding career.
Sylvia was appointed as the Lord Dean of Guild of the City of Aberdeen on 10 May 2022, having been a Burgess since 2009. The Lord Dean of Guild is the senior official that represents the Guildry of Burgesses, responsible for upholding the laws and customs of the burgh.
Prior to her appointment, Sylvia celebrated a long and successful career in Human Resource Management – working with organisations across many sectors. Since retiring from her role as Human Resources Director of Macphie of Glenbervie Ltd, she has carried out consultancy work in numerous aspects of business.
She was the first recipient of the Top CHeRry award for Outstanding Contribution in the field of HR. She is also a recipient of the Regional Director of the Year Award presented by the Institute of Directors Scotland, and has been recognised by the Association of Scottish Businesswomen for Outstanding Contribution to Business.
Throughout her career, she has been responsible for developing and delivering numerous award-winning business initiatives with a particular emphasis on supporting young people.
A former Governor of RGU, Sylvia has also served on a range of Boards, including Abertay University's and the Scottish Government's Developing Scotland's Young Workforce Commission.
Professor Steve Olivier, Principal and Vice-Chancellor of RGU, comments: "Sylvia is an ardent ambassador of the North East of Scotland and the work of our region's private and public sectors. She has contributed significantly to both sectors throughout her long and successful career and continues to play a key role in the region's business and civic community.
"Sylvia retired from the University's Board of Governors after eight years serving as a Governor and during that time helped to steer the strategic direction of the University in making a significant contribution to economic, social and cultural development in the North East of Scotland. I am delighted that she is now continuing to make a positive impact in our region which we are recognising with an honorary degree."