Roan Ferrier - MSc International Marketing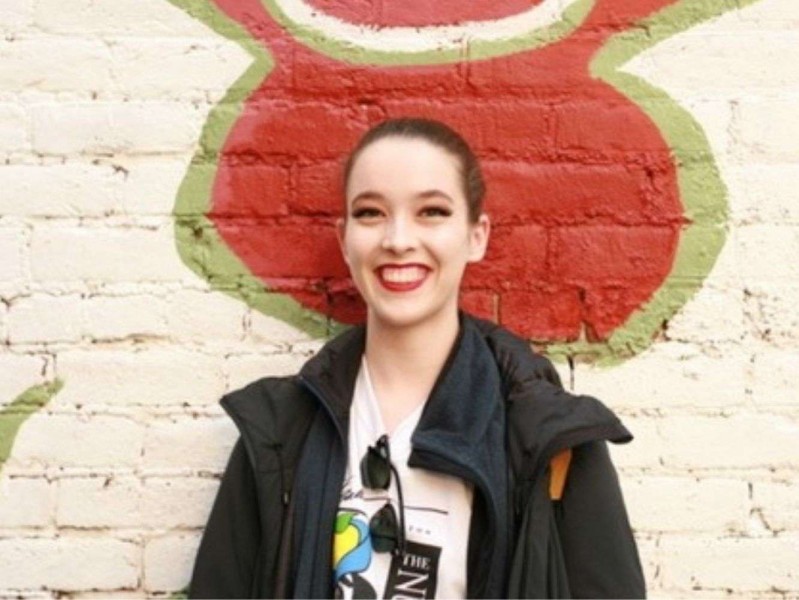 Roan Ferrier had to tackle some unique circumstances during her time at RGU, including a global pandemic, a once-in-a-lifetime freeze and being diagnosed an autoimmune disease, however she did not let that stop her achieving a Masters degree.
The 23-year-old, who is from Aberdeen but is currently living in Houston, has been faced with some unique circumstances in the past year however through determination and commitment – and waking at 2am and 5am to take part in online classes – she has now graduated from Robert Gordon University's School of Creative and Cultural Business with MSc in International Marketing.
Roan, who previously completed a BA in Media Production at the University of Houston, decided to continue her education further as she wanted to specialise more in what she was interested in.
"Both my Mother and Father went to RGU and recommended it. After graduating with an International Baccalaureate diploma from ISWA in Perth, Australia, I moved back to Houston, Texas, where I took some classes at Houston Community College. After a year, I transferred to the University of Houston where I completed my major in Media Production and Minor in Dance. Due to my time growing up in different countries, and having the chance to experience different cultures, I have a very strong interest in anything international. The International Marketing degree was a perfect for me!"
"Moving back to Aberdeen in January 2020 to complete my Masters degree was the first time I was leaving my family and living on my own. Naturally, I was very excited. It was a start to a new chapter in my life, and I was ready to get a crack on.
"Everything was going well the first couple of months. I had moved into my flat, met some friends, attended my classes and started getting into the swing of things. Then a week before my first assessment, COVID-19 hit. Not just mine, but everyone's way of life was changed dramatically around the world. I went from going to university classes and seeing friends every day to being stuck in a tiny dorm room for 20 days straight.
"After a few months, I was able to get a flight back to Houston in July. I flew back, quarantined in a room above the garage for two weeks, and then was able to see my family and I've been home ever since.
"There was so much going on at once and I know that I was not the only one going through similar experiences. I am truly grateful for the flexibility of the staff and how helpful everyone was at RGU. I honestly couldn't have done it without them.
"After moving back to Houston, my daily schedule changed a little bit. I would wake up at 2am and 5am depending on the day to take part in the online classes. Then, I would sleep until around 9am when I would get up and work on coursework. At the end of the day, I would go to ballet rehearsals at my company for around four hours. I'd come home, have dinner at 10pm, get to sleep at around midnight, and then repeat my day again."
Covid-19 wasn't the only change going on in Roan's life however, as she was recently diagnosed with an autoimmune disease.
She said: "I began feeling severe pain in my hips and spine and started experiencing extreme fatigue. I put it down to overworking myself, but after a few weeks, I went to the doctors to get things checked out. I went through a variety of tests and doctors appointments which concluded with me being diagnosed an autoimmune disease. I am still going through tests for other medical issues that will no doubt take a couple of years. Due to having these medical conditions, COVID-19 is especially frightening, even if I am vaccinated.
"Considering the current global situation, and my new medical issues and concerns, I think I have done well. I am so grateful for all the people that helped me not only professionally, but personally as well. My family, friends, and the staff at RGU went above and beyond to get me through this and I really cannot thank them enough. None of this would have been possible without them."
While Roan was in Texas studying, she experienced a "once-in-a-lifetime" freeze. Speaking of the experience, she said: "Texas as a whole is known for its unbearable heat, hurricanes, and tornados however, in a matter of weeks Texas was on worldwide news for temperature drops of up to -17 C which to Scotland doesn't seem terribly cold, but for Texas, it is detrimental.
"The infrastructure is not built to withstand temperatures that low and as a result, water pipes burst, and many people's houses were damaged. Around 4.5million people were left without power, including our family. There was power outages, food and water shortages, and infrastructure damage. The health concerns that added onto COVID-19 was hypothermia and carbon monoxide poisoning from people trying to warm up in their cars."
Being thousands of miles away didn't stop Roan from taking part in any of the experiences RGU had to offer, including a virtual placement.
She said: "The placement opportunities that were available to the students were amazing. I was able to undertake a four-week virtual placement that helped me develop my skills further and experience working from home. "I also had access to SISA which helped me make important connections with like-minded people from around Scotland and around the world. I was able to work collaboratively with people and pull apart different current topics such as climate change."
"My time at RGU, although most of it virtual, has really helped me prepare for the next step onto the career ladder. I have been able to make connections with people from all around the world, and the knowledge that I obtained from the courses has helped propel me into the next chapter of my life and will help me keep growing both professionally and personally."