Nicole Menzies, Digital Media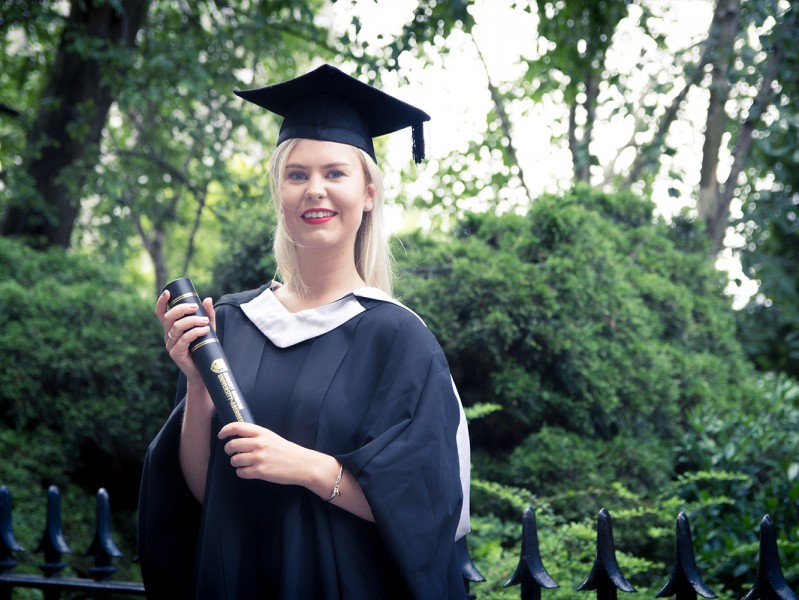 A dream career in film production is another step closer for Nicole Menzies after achieving a first-class degree from RGU.
She graduates with a first class degree in Digital Media at a ceremony held on Friday 12 July.
Originally she started her studies at the University of Strathclyde where she studied French and Spanish, however she soon realised her real passion lay with more artistic subjects and decided to make the move to RGU.
"I am over the moon with my results this year, I still can't quite believe it," said Nicole. "I am really glad I trusted my own judgement when I decided to switch courses and move from Glasgow up to Aberdeen. I did not feel settled there so I knew the course was not for me. The process to reapply was extremely easy and RGU was very supportive, so it is such a great reminder that it is never too late to have a change of heart."
"I have always been very interested in computer arts, working with Photoshop was my favourite thing to do at high school. I always felt completely in the zone in my Graphic Communication and Art classes and so I thought the Digital Media course at RGU would help me to strengthen my knowledge and skills in this area. The course offered graphic design-related topics alongside film development, animation, and web design. I think this mixture of modules has prepared me really well to pursue a career in the film production industry."
"Now my course is over I am planning on going travelling for a few months. It will be nice to have a break from studying and really enjoy the summer before coming back to start my career. RGU has a great reputation for graduate employability and their careers office is always open for a chat so I am confident I will find the right job for me.
"When I compare myself now to when I started studying at RGU I could not have pictured doing so well. My attitude and work ethic has completely transformed, and my confidence has grown massively as I branched out from my small village to experience life by myself in the city. I am extremely thankful to everyone, particularly my lecturers, who has supported me along the way, I could not have done it without them."