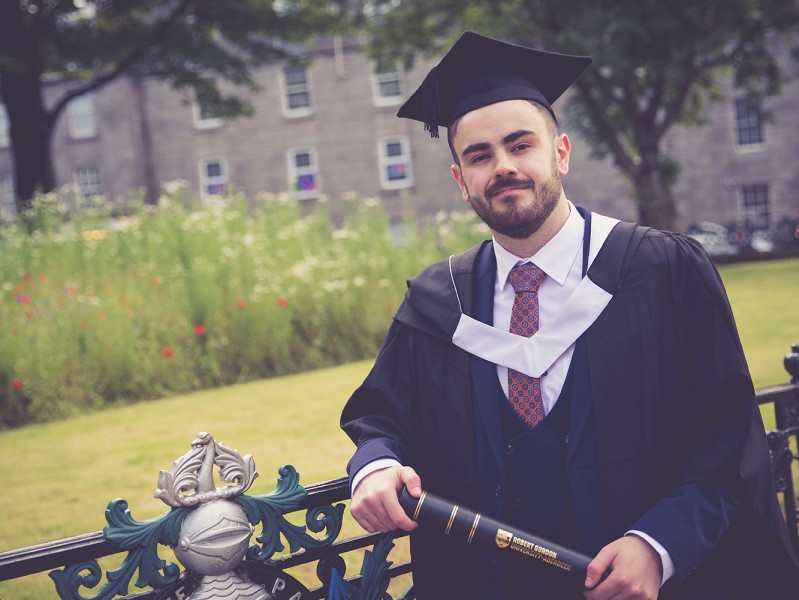 Hal turns his passion for film into a career. His journey with RGU doesn't end after he graduates with a First Class Honours degree this summer, as he's secured a full-time role within the Marketing team after successfully turning his passion into his career.
Hal McCorry, from Aberdeen, collected his First Class Honours Media degree at His Majesty's Theatre on Wednesday, July 10 at 2.30pm.
The 25-year-old said he struggled to find an academic subject that suited him but TV, film and storytelling were his passion. He originally attended NESCol to study Creative Industries: TV Production and progressed onto RGU through the Degree Link route which he described as "one of the best choices he ever made".
"My time at university has been life changing and I don't say that lightly," commented Hal.
"Two years ago I was happy to call it quits on making video production my job and keep it as a hobby. I came into media with the hope it might open up different paths, which it did, but ultimately they all led me back to video production.
"The journey throughout allowed me to learn so many other skills, not just practical ones but other skills which are needed in industry such as working within a team and leadership.
"Achieving a first class honours is something I am very proud of, but I think I might be more proud of how much knowledge I am taking away from this course."
Hal said the highlight throughout his time at RGU was the quality of the teaching staff.
He said: "More often than not I found myself fully engaged in what I was learning and I was motivated to go off and read more into the subject – which is something I've never done before in education. I think this comes from the sheer passion the lecturers have for the subjects they speak about, whether it's from an academic standpoint or from industry, they really know how to engage their students.
"Everything you learn in the Media course is entirely focussed on industry whether that's practical skills or from the academic side of things. RGU is largely focussed on Entrepreneurship which really motivates its students to believe in themselves which is something essential to the creative industries. I know if I ever want to head down that path in later life RGU will always be there willing to help."
Hal's ultimate aim has always been to be in a position where he enjoys work and he is now in that position as he embarks on a full-time career with the Marketing team at RGU, where he will be responsible for producing videos for the university, while being able to learn some additional marketing skills
He said: "I did a placement in third year where I was part of a group to make videos for the School of Health Sciences at RGU and the Marketing team saw the video and as a result I joined the department in a part-time paid position over the summer. I continued to work in the department throughout my whole fourth year as their video resource. This not only allowed me to use my practical skills in industry but it allowed me to leave my retail job at the time to fully concentrate on finishing my degree which is something I will be forever grateful for."