Dionne Milne, Applied Biomedical Science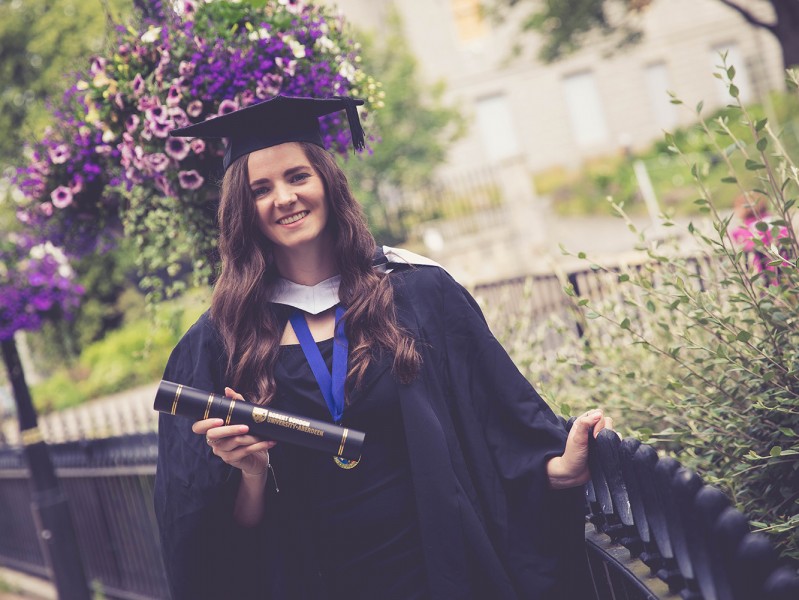 An Applied Biomedical Science student from Fochabers, who is also a record-holding athlete, has thrown herself at multiple learning opportunities and graduated from Robert Gordon University (RGU) with a first class honours degree.
Dionne Milne (21) collected her BSc (Hons) in Applied Biomedical Science with first class honours on stage in His Majesty's Theatre on Thursday 11 July.
"I'm still in shock about my results," said Dionne. "I've never considered myself to be the best at biology, and in no means have my grades been perfect throughout university, but I am so proud to have pulled it off when it matters most. My time at university has been a bit of a rollercoaster, but I am going to miss it.
"RGU has set me up for my career. Placement has been such a huge help in giving me insight into working life. I was offered three jobs upon graduation, and I feel like this is all down to the reputation of RGU and the huge help it's given me – be it the teaching, extra-curricular events, careers services or sporting opportunities."
Dionne is a highly talented athlete and was able to attain a sports scholarship for the first three years of her course, tailor-made to help her in pursuit of sporting excellence. For Dionne, it included free gym membership as well as strength and conditioning training.
"This was really beneficial to me as my coach wasn't local," said Dionne. "During my time at RGU, I received a full blues award for my sporting achievements, specifically in discus where I hold the Scottish Universities and Colleges Association (SUCA) record."
A blue is sporting award earned by athletes at some universities and schools for competing at the highest level.
Dionne adds: "I've won at SUCA four years in a row, been selected to represent the association in discus at the Celtic Universities International for four years also – and won twice there when I was available to compete."
Not just a talented athlete, Dionne has proven herself more than capable of succeeding in her studies by achieving first class honours on a path which she has always wanted to pursue.
"I always knew that I wanted to go into a health profession," said Dionne. "I started looking at university courses online and I came across Biomedical Science. The more I researched, the more I found out how beneficial courses accredited by the Institute of Biomedical Science (IBMS) and the Health and Care Professions Council (HCPC) are. RGU ticked both of those boxes.
"When I came to the open day, I wasn't really that keen as it was so close to home, but I fell in love with the campus and facilities."
Focusing on her future, Dionne made sure to take advantage of many volunteering and placement opportunities, including time with ResLife, RGU's student accommodation team, and placements at Aberdeen Royal Infirmary (ARI).
"My absolute favourite experience was placement at ARI," said Dionne. "We got to see so many real-life cases, which really opens your eyes to everything that goes on in laboratories. We also gained a lot of practical experience and learned a lot of theory behind the tests and various conditions.
"I felt so much better equipped after completing placement and, by the end of it, I had full IBMS registration portfolio verification."
The Employability and Professional Enrichment Hub at RGU supported Dionne with career advice, CV tips and interview insight to help her secure the next role in her career journey.
"They were an amazing help," said Dionne. "They helped me to write a personal statement and read over my application before I submitted it. When I got offered interviews, they went through a wide variety of questions that NHS candidates could be asked. The whole process made it seem unique and personal for each student."
Dionne has accepted a role with NHS Grampian in the Microbiology Department at ARI. She will soon begin working towards her IBMS Specialist Diploma.