Dayna Ransome, Applied Social Sciences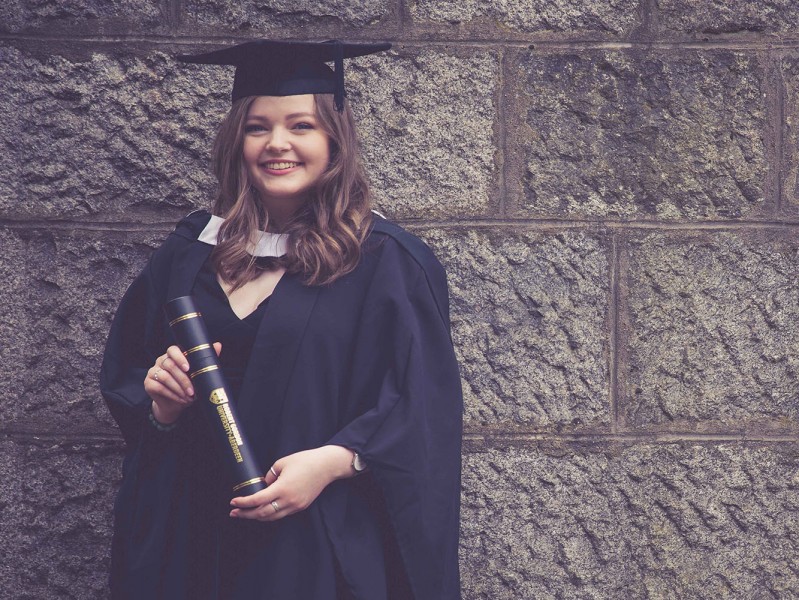 Setting herself up for a career in research, an Applied Social Sciences student from Turiff celebrated her graduation as well as the experiences and professional skills she has gained in the last four years.
Dayna Ransome (22) was on stage to accept her BA (Hons) in Applied Social Sciences from Robert Gordon University (RGU) at His Majesty's Theatre on Thursday 11 July.
"I believe a degree is more than an academic achievement," said Dayna. "The experiences I've had as a student over the last four years will help me to make decisions in other areas of my life and in my future.
"I wanted to continue my studies and put myself in a better position to begin my career. I've used my time at university to improve my set of personal and professional skills, and I'm proud the work I've done in the modules I've chosen."
After secondary school, Dayna was exploring career paths and opportunities. She wanted to choose a course that would not dictate that path for her. She appreciated the student-centred approach to curriculum design and delivery that RGU offered as part of the student experience.
"RGU was my first choice," added Dayna. "The course was the only one that allowed me to tailor my studies to what I was most interested in, which was a big draw for me. This meant I could continue to think about my options as I studied."
Originally from the smaller setting of Turiff, Dayna was looking forward to experiencing life on a university campus and in a busy cosmopolitan city.
Dayna said: "Coming from such a small town, I believed that independent living and a more fast-paced, challenging environment would be good for me.
"A standout moment from my time at RGU was the BP Student Tutor programme, run through The Employability Hub. My skills developed on a weekly basis in a novel setting, giving me confidence in my ability to adapt and cope with uncertainty."
It was the inclusion of both psychology and sociology modules that drew Dayna's attention to the course.
Dayna said: "Psychology and sociology are very theoretical areas of study, but the modules on this course allowed an insight into how they can be implemented in society in terms of health, social care and the criminal justice system.
"For the modules and in my dissertation, conducting research was what I enjoyed the most, and that's what I'd like to continue to do in whatever capacity I can."
Dayna will be looking to further her studies with a post-graduate degree in the coming years to help begin her career in research.
She added: "I believe RGU has given me the forward thinking and practical skills to do so."