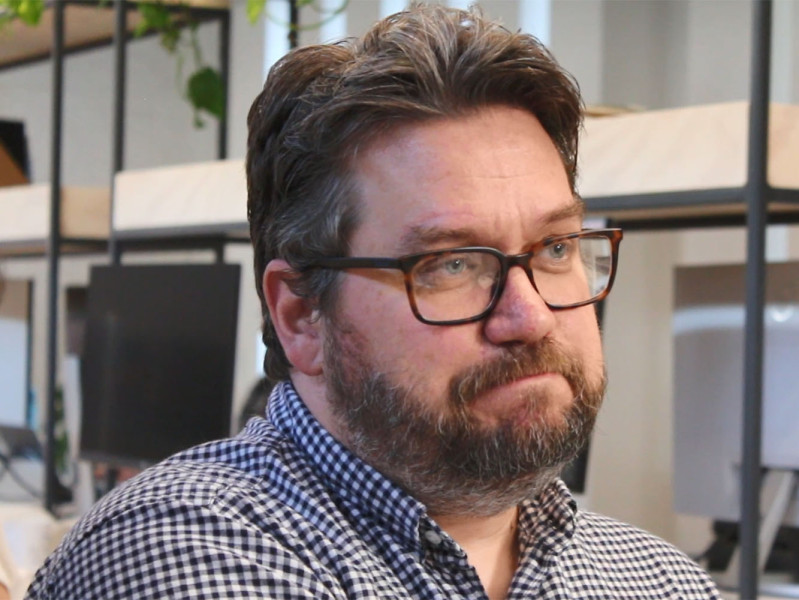 In any industry, change is inevitable and how you react to change can either make or break a business. Mark Kemp shares the opportunities evolving industries and careers can bring.
"Things are much different from the days of searching for opportunities in the Yellow Pages", the 1996 Gray's graduate shared. Looking back at his two decades working in the industry, Mark notes that the power of people is crucial in keeping ahead of the shift.
From placement opportunities to mentoring and talks, working closely with education providers is at the core his work at FortyTwo Studio and something he believes should be at the core of the industry too.
He said, "Times change, the needs of clients change, the needs of the economy and the communities we work in all change. Those changes need to be reflected in education, in the courses and in the industry they align to. And it can't happen independently, we have to work together in some capacity.
"We need to do our upmost to make sure we're communicating together and working together to marry up development stages.
"I've been in this industry 20 odd years now and if I want FortyTwo to carry on for the next 20 years, there has to be generations of new designers and digital marketeers coming through the door. Continuing to work with new talent is key and evolving our practice within the industry will ultimately help grow the economy.
"The creative sector in Scotland is huge and generates £6billion a year. It's a massive economy. It offers a huge potential for talented people with a variety of skills to flourish but as an industry, we have to make sure that we play our part in making that happen. You can't just stand back and wait for things to happen, you're in it and you have to do your part.
"It's always been a huge motivation for me to stay in touch with students at college and university, because if the industry isn't going to do it, who else is?
"Working with the future generation of creatives ahead of entering the industry gives us a sneak peek into what they're doing, how they're working and what they want to learn. That's great for us in our learning of how we grow and develop as a business to align with them."
Something becoming more prevalent in the industry is the fast pace of AI developments and its potential impacts. Despite AI advances causing concern for job redundancies and security, Mark believes AI is not to be feared but welcomed.
"Whether it's a positive or negative, it doesn't matter, AI advances are here and there will be more to come. Like any technological advance, we have to look for the benefits and how we can work with it.
"We don't know where AI is ultimately going to take us but it definitely provides huge opportunity. Whenever there is a technology advance, there's always talk of how it's going to kill one industry. When desktop publishing became a thing in the 90s, it was going to be the death of print – yes, newspaper print has suffered but outside of that, there's never been more books printed than there are now. It's all about moving with change.
"In terms of Chat GPT, we're only seeing a small part of its capabilities and for us it can speed up processes significantly and free up more time to be more creative and strategic. And that time is gold dust. So, we're asking the question 'how can we utilise apps like these to improve the service to our clients?'
"Who knows what else will come but AI is certainly something that we can't be scared of. We need to learn how to work with it, not against it."
The conversation soon moved from advances in technology to advancing opportunities for creatives in Aberdeen. The lack of creative spirit in the city is a common perception Aberdeen faces and something Mark puts down to "short sightedness".
"We're all guilty of it, we can diminish all the good things we have going on in the city. People make quick judgements on what they see but it's down to us to better communicate and say 'we do actually have a creative culture here in the city'.
"Like any city, things could be better of course. We need more people being creative and more of our work being recognised across the country. To do that though, we need to be talking about the things that are happening. Because if we don't, no one else will.
"If we have something to shout about, it's up to us to shout about it, share it and not be too scared to do so. Our new creative hub is to shine a light on the creative community in Aberdeen and say 'see, things are happening'. It's a small part, but an important part."
To find out more about the creative hub at FortyTwo Studio and Mark's career journey, watch his Alumni in Focus interview: