Quality Management
PgCert | PgDip | MSc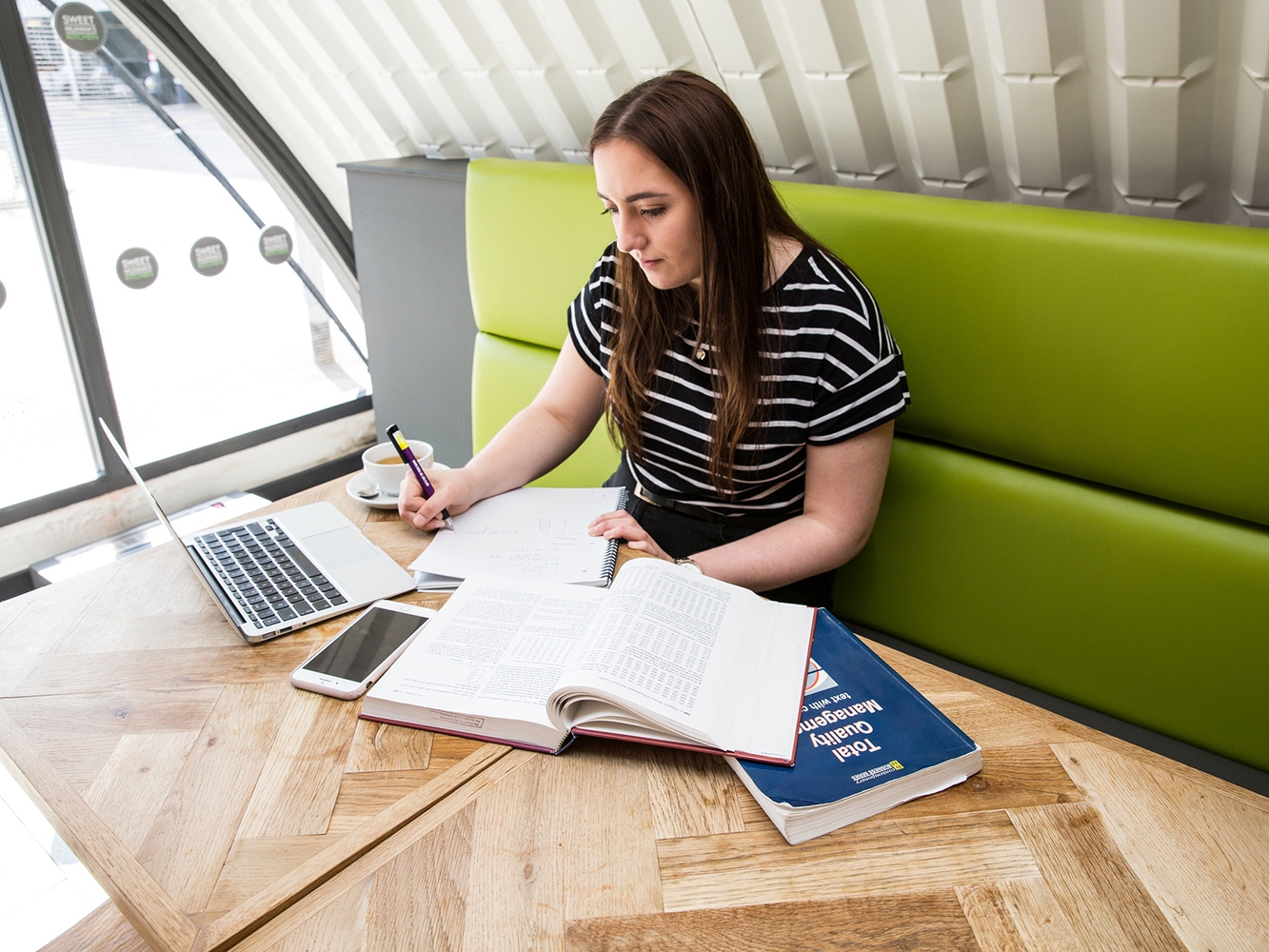 MSc Quality Management is an online degree with multiple study options, enabling you to undertake the course at your choice of pace and without taking a career break. You will explore this dynamic discipline through theoretical and practical learning and discover how quality management can be applied to the work environment and add value to an organisation.
You will learn to analyse risk at a strategic and operational level and identify suitable controls to eliminate, reduce or transfer such risks.
The course will provide you with a comprehensive underpinning on the areas required to manage quality in contemporary organisations, including Total Quality Management (TQM), Strategic Quality Management, Quality, Environmental and Sustainability Systems and Performance Management.
At Aberdeen Business School, we are in the business of changing your tomorrow.
stage 1
You will develop the knowledge and skills essential for quality management, including professional and critical reflection skills; people and communication, business and commercial skills; operations management and autonomy (independent), accountability, governance and leadership at Masters level.
stage 2
You will continue to develop your knowledge in further key areas of quality management including quality, environmental and sustainability systems, risk management, health, wellbeing and safety and planning and decision making scenarios.
stage 3
The Capstone module is designed to provide you with an opportunity to integrate Masters level knowledge and skills by independently working on an applied academic study, a professional dissertation or, where appropriate, business consultancy project from a degree related discipline. Personal and professional skills such as research, oral presentation and teamwork will be developed.
---
Modules
Modules and delivery order may change for operational purposes. The University regularly reviews its courses. Course content and structure may change over time. See our course and module disclaimer for more information. 
Detailed module information
MSc Quality Management is an online course taught through CampusMoodle, the university's Virtual Learning Environment (VLE) which offers you flexibility of where and when you can study.
CampusMoodle provides you with full open access to tutors and other class members. You will have the benefit of being part of a group of learners with the invaluable opportunity to participate in active, group-related learning within a supportive online community setting.
The interactive virtual learning environment provides you with lecture and course materials including:
Virtual tutorials
Live chats
Discussion forums - student and tutor led
Up-to-date web technology for delivery methods
User friendly material
Activity Summary
The options below represent full-time distance learning delivery, part-time distance learning may differ.
Lectures - 10-30 students per group, 96 hours per semester
Tutorial - 10-30 students per group, 48 hours per semester
Project Supervision - 1 student per group, 12 hours per semester
Independent Study - 456 hours per semester
Independent Study
The course requires you to become independent 'open learners' and take responsibility for when, where and how your learning occurs. You will spend approximately 8 hours per module per week working on your own, undertaking prescribed reading, preparing for group activities and researching and writing course reports.
Staff Delivering on This Course
Academic staff who teach on this course have worked in a range of professional backgrounds, are 'business-connected' and use professional networks and their academic research to ensure teaching is professionally relevant.
Our staff have either achieved Fellowship of the Higher Education Academy, or are working towards this.  This is a professional recognition of lecturer practice, impact and leadership in teaching and learning. In addition, many have featured in the annual Support and Teaching staff with Appreciation and Recognition (STAR) awards voted by the students and organised by RGU:Union.
Assessment
Please note the below represent full-time distance learning delivery, part-time distance learning delivery will differ.
3 written assignments, including essays
2 reports
1 dissertation
2 practical skills assessments
1 presentation
Feedback
We aim to provide you with feedback within 20 working days of hand-in for all written exams, coursework and practical exams.
---
Academic Support
The Disability & Dyslexia Centre advises and supports students who disclose a sensory or mobility impairment, chronic medical condition, mental health issue, dyslexia and other specific learning differences. Applicants are encouraged to arrange a pre-entry visit to discuss any concerns and to view the facilities.
Study Skills Support
The Study Support Team provides training and support to all students in:
Academic writing
Study skills (note taking, exam techniques, time management, presentation)
Maths and statistics
English language
Information technology support
Job Prospects
Quality management is a skill which is sought after by industry globally and this course will equip you with the knowledge and expertise for a career as a leading quality professional. The course is designed to enable you to add value to an organisation, in terms of developing and influencing strategy whilst understanding processes, performance measurement techniques and benefits management.
Our graduates have gone on to have successful careers in a variety of industry sectors including energy, built environment, engineering, manufacturing, health (NHS), banking, supply chain and finance. Roles they have moved into include Quality Manager, Reliability Manager, Project Quality Controller, Data Manager, Lead Auditor and Quality Auditor.
Applicants normally hold a 2:2 undergraduate honours degree or its equivalent in any subject discipline.
Applicants with a lower degree classification and/or relevant work experience will be considered on a case by case basis.
English Language Requirements
Applicants whose first language is not English should have an IELTS of 6.5 overall, with no component lower than 5.5, or an equivalent.
We accept a variety of in-country and secure English language tests, find out more:
* All entry requirements listed here should be used as a guide and represent the minimum required to be considered for entry. A small number of courses require higher levels, but this will be stated explicitly on your offer letter.
For Academic Year 2018/2019
All Students
Distance Learning Full-time
Distance Learning Part-time
£3,410 Stage 1 (Course over 3 years)
£3,410 Stage 2 (Course over 3 years)
£2,280 MSc Dissertation stage (Course over 3 years)
£4,550 Year 1 (Course over 2 years)
£4,550 Year 2 (Course over 2 years)
Additional Costs
The following course-related costs are not included in the course fees:
Alumni Discount
Robert Gordon University is delighted to offer a 20% loyalty discount on course fees for all alumni who have graduated from RGU.
Student Funding
Postgraduate students will normally make their own arrangements for payment of fees. However, there are a limited number of SAAS funded places on certain postgraduate courses.
There are also sources of funding that are applicable to categories of student.
Postgraduate Students' Funding
Scholarships and Financial Awards
You may also qualify for a scholarship or financial award:
SCHOLARSHIPS AND FINANCIAL AWARDS
DISCLAIMER
For new intakes course fees are reviewed and published annually for each mode of delivery. Tuition fees are fixed for the duration of a course at the rate confirmed in the offer letter.  For further information see:
Have a question about the course? Get in touch with PG Admissions and we'll do our best to help.
+44 (0) 1224 262209
My experience studying MSc Quality Management gave me the opportunity to both further my education and also broaden my outlook in a field that I can apply in my career. I found all the modules to be stimulating and I particularly welcomed the engagement and camaraderie of course leaders and fellow students.
PAUL WELSH, MSC QUALITY MANAGEMENT GRADUATE
Enquire Now
Have a question about our courses or would like to keep up to date about open days, scholarships and other news? Fill out our online enquiry form.
Apply
We've got a few options for applying to our postgraduate courses for UK, EU and international applicants.
All applicants to postgraduate courses can apply direct to the university using our online application form.
All applicants can apply direct to the University with our PDF form.