RGU Professor crowned Academic of the Year in national awards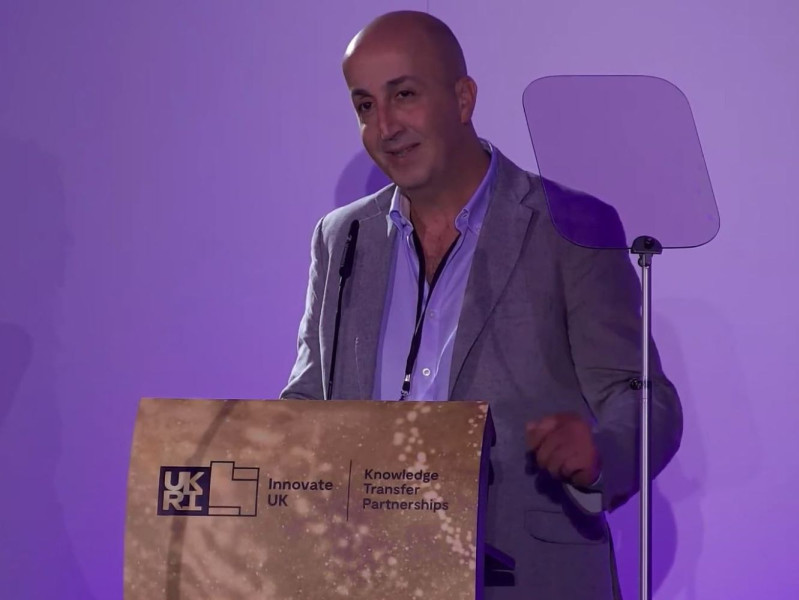 A Robert Gordon University (RGU) professor who specialises in Artificial Intelligence and machine learning has been named Academic of the Year at an esteemed UK-wide awards ceremony.
Professor Eyad Elyan of RGU's School of Computing won the national accolade at the Innovate UK Knowledge Transfer Partnership (KTP) Awards 2023 for his role in leading a transformational KTP project with Aberdeen-based inspection specialists AISUS Offshore.
RGU and AISUS' collaborative approach has reimagined the traditional method of assessing the structural integrity of offshore assets which usually rely on remotely operated vehicles and engineers. The partnership has digitally transformed this existing practice by utilising state-of-the-art machine learning and deep learning methods to significantly enhance operations.
Entrants for the Academic of the Year category had to demonstrate exceptional skills and commitment in knowledge transfer, leadership, team building and mentoring. Professor Elyan has not only demonstrated this in this particular project, but also in all the many KTP projects he has been involved with over the years.
Donella Beaton, Vice Principal for Economic Development at RGU, said: "Supporting organisations to be more successful is a key objective within RGU's strategy, and knowledge exchange is one of the most impactful ways to do this. It not only helps businesses to overcome challenges and grow their business but also helps advance research and innovation within the University.
"Eyad really champions and exemplifies the value of knowledge exchange, using his expertise to help companies to realise their ambitions as well as mentoring and supporting early career professionals and researchers to achieve their potential. We're all delighted to see Eyad's work and commitment being recognised in this way – it's so well deserved!"
Commenting on his awards success, Professor Eyad Elyan said: "Being selected as a finalist in the first place brought me immense joy, so achieving the award is truly astonishing; words can't describe my feelings for how happy I am with this award. The collaboration with AISUS Offshore exemplified innovation, knowledge exchange, and associate development.
"I had the honour of leading the project and serving as the academic supervisor, and I'm delighted to see the team's dedication resulting in the delivery of a state-of-the-art AI-driven solution to enhance and expand remote inspection procedures within the company. The support I received from the North of Scotland KTP Centre and colleagues from RGU for this KTP project proved to be indispensable; they share a major part of this award."
Kelly Fraser, KTP Centre Manager for the North of Scotland, said: "This is a tremendous accolade for Eyad and everyone associated with the KTP project. It demonstrates the advantages of companies collaborating with academic partners to develop innovative solutions underpinned by specialist expertise and knowledge."
There are a number of ways in which businesses can engage with universities in knowledge exchange activities including through funding by Innovate UK's Knowledge Transfer Partnerships, a UK-wide programme that has been helping businesses for almost 50 years to improve their competitiveness and productivity through the better use of knowledge, technology and skills that reside within the UK academic sector.
KTPs often deliver significant increased profitability for business partners as a direct result of the partnership through improved quality and operations, increased sales, and access to new markets.
The Innovate UK Knowledge Transfer Partnership Awards 2023 was held in Cardiff on October 18 with speakers Vaughan Gething, Minister for Economy, Welsh Government; Steve Welch, Director of place, skills and knowledge transfer, Innovate UK KTN; and hosted by Suzannah Lipscomb.