RGUHack returns to challenge budding computer programmers
Wednesday 15 February 2023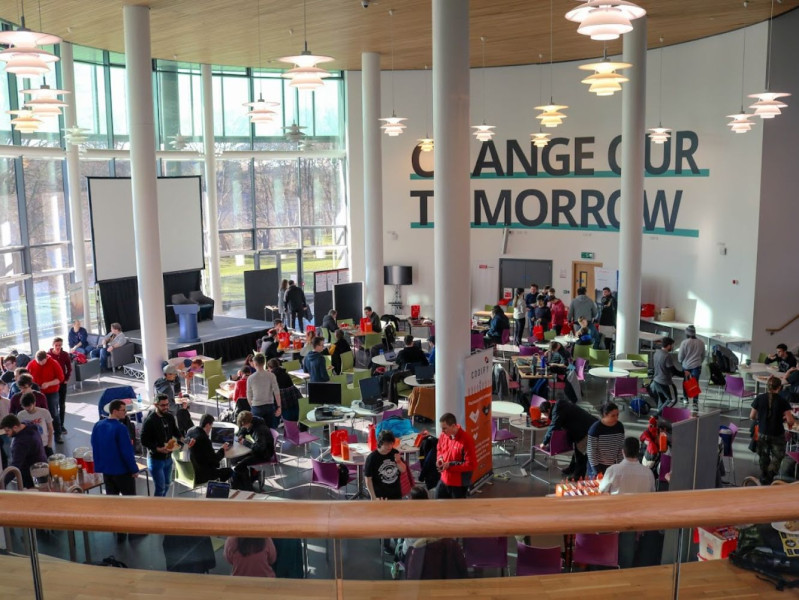 RGU's largest programming event of the year is back—made by students for students of all ages—inviting tech enthusiasts from any college or university to complete its 24-hour challenge in hopes of winning a prize from the event's swathe of generous and renowned sponsors.
Throughout Saturday 25 and Sunday 26 February, students from across the region will take part in workshops and challenges with the chance to win huge prizes by creating improvised solutions—commonly known as hacks—to programming or computer hardware problems.
RGUHack has gained several sponsors of both national and international distinction, including Core29, Aize, Sword Group, Global E&C, Leonardo, OPEX, Capgemini and the University itself.
RGU Computing Society Co-Presidents Laura Mckell and Calvin Park said: "Our RGUHack event is free, inclusive and open to any current student, or those who have graduated in the last 12 months. You also don't have to be a computing student to contribute, learn, and have fun—we're welcoming anyone with an interest in programming.
"With thanks to our amazing sponsors this year, there are amazing prizes to be won and even the opportunity for us to reimburse a limited number of journeys up to £25 to help you get here."
The range of prizes has been tailored to be of interest to the tech-savvy attendees. Our biggest prize this year being a Nintendo switch Lite with Minecraft for each member of the first overall award! There is a myriad of other prizes to be won including Amazon vouchers, drones, drawing tablets, speakers, backpacks, Arduinos and much much more!
John Isaacs, Dean of RGU's School of Computing, said: "RGUHack is one of the highlights of the year. It's a great experience for students across Scotland to develop prototype solutions to real industry challenges in a fun environment. We will be running workshops throughout the weekend so the students can learn new skills which they can apply long after the event is finished. It is a fantastic opportunity for young people with an interest in technology to show what can they do in a short space of time.
"The hack is a real collaboration between our staff and students to create such a collaborative event for their fellow digital technology enthusiasts and they have done a brilliant job in pulling together what will be a brilliant weekend."
With 24 hours of in-person activity to complete, attendees should consider a phone charger, warm and comfortable clothes, and a fresh set for the final presentations. They will also need a laptop and its charger. To be as inclusive as possible, a laptop could be provided for the event for those without one by getting in touch in advance.
RGUHack will be held at Robert Gordon University, Aberdeen, within the atrium of the Sir Ian Wood Building. For more information, visit RGUHack's webpage.