'Study Abroad' exhibition highlights work of talented Gray's students
Thursday 10 November 2022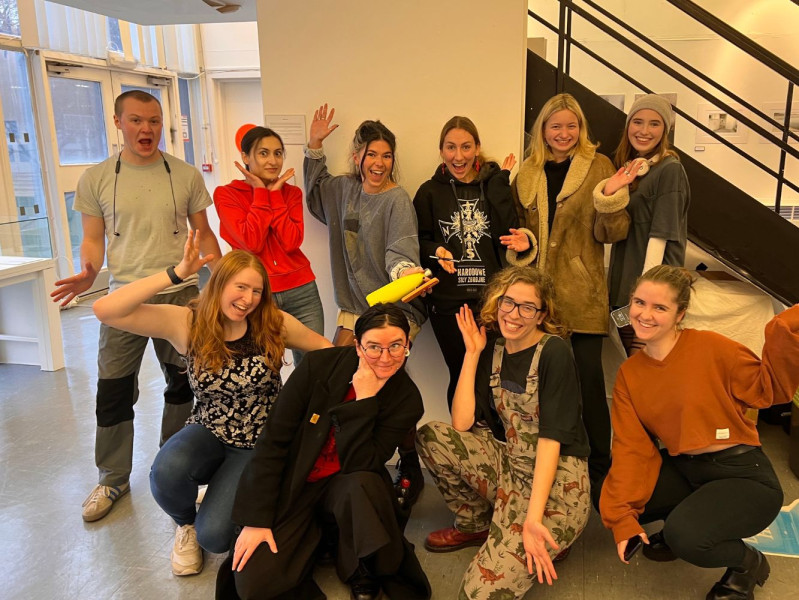 A group of Fine Art and Design students from Gray's School of Art at Robert Gordon University (RGU) present 'aBROAD HORIZONS', a multidisciplinary student led and curated 'Study abroad' exhibition, that celebrates their experiences in a different country.
This weeklong exhibition, which is the first of its kind since Covid, takes centre stage in Gray's School of Art's upper and lower foyer, from Monday 14 November.
The exhibition showcases an eclectic range of work across Fashion & Textiles Design, Three-Dimensional Design, Communication Design, Painting and Contemporary Art Practice, from fifteen talented artists and designers from Gray's School of Art, who travelled abroad to develop their practice in a different cultural setting at various locations around Europe and Canada.
The 'Study Abroad' programme allows students from RGU to spend an entire semester studying at one of Gray's School of Art's partner Schools, giving them the opportunity to expand their network of contacts and develop their chosen creative practice. These partnerships have been built up over a number of years through academic relationships and collaborations and extend to many corners of the world.
International Coordinator and Gray's lecturer, Cameron Campbell, said: "I've been involved with the School's Study abroad programme for over twenty years and worked closely with RGU's Study Abroad team, curating many of these exhibitions however this year's 'aBROAD HORIZONS', is a bit special as it's the first of its kind since Covid. This marks a rebirth for the Study Abroad programme, and it is hugely rewarding for the students to come together again to showcase their work.
"The exhibition and the quality of work on show is a credit to the students involved and it is clear that they've really benefitted from their time studying abroad a partner institution."
Emily Kerr, an Honours year Communication Design student, travelled to study in Hannover, Germany, and highlights how much she enjoyed the experience.
"During my time in Hannover, I studied a wide range of different courses which broadened my knowledge and skill base. I loved university in Hannover. It inspired me and motivated me to follow different paths I didn't know I could take. I took this opportunity to widen my horizons and find motivation within my work as I'd felt a bit lost before.
"It's now nudged me into a direction of mixed media design, collage and animation and I would like to produce work that takes elements from different mediums. I left the university feeling confident and excited for my future in the creative field and I look forward to applying the skills I have gained there now that I am back at Gray's. I would highly recommend going abroad and experiencing the different culture of Germany."
Another student, Adriana Sarmiento Navarro who specialised in Communication Design, studied abroad at the Politecnico di Milano in Italy.
"My semester in Milan was about adapting. About adapting to a new city, new people, a new language and new ways of living and learning. It didn't take me long to feel comfortable in that huge metropolis though, and I learned so many things. In Milan I learned how to invert my creative thinking, how to design things aimed at a select number of people instead of everyone. I learned how to be an esoteric designer instead of a universal one, and although hard at the beginning, once I let myself go, I had lots of fun. It got me out of my comfort zone again and showed me how capable I am of doing anything I want."
'aBROAD HORIZONS' runs from Monday 14 November, with an opening launch at 5.30pm, until Friday 18 November at Gray's School of Art, Garthdee Campus.
Image shows Gray's students from the Study Abroad Programme, exhibiting and curating, 'aBROAD HORIZONS', from left to right: Laurie O'Dowd, Hannah Ramsay, Agnieszka Kubica, Kirsten Richardson, Megan Naysmith, Gabriela Proszowska, Esther Helfer, Maya Wilson, Evie Sneddon, Adriana Sarmiento Navarro.